Ali Chanel is a well-known American model, TikTok celebrity, and Instagram Influencer. She is named the latest playboy curviest model. The fans are eager to know more about her. Today the world is ready to accept curvy models. That is why curvy models are becoming popular. Many people are feeling bad about their bodies nowadays so when they see plus-size models it will increase their self-esteem. It is empowering to see the Curviest model in Playboy magazine. The models like Ali Chanel are quickly becoming more popular because of this.
Find a lot of interesting details about Ali Chanel here.
Know about Ali Chanel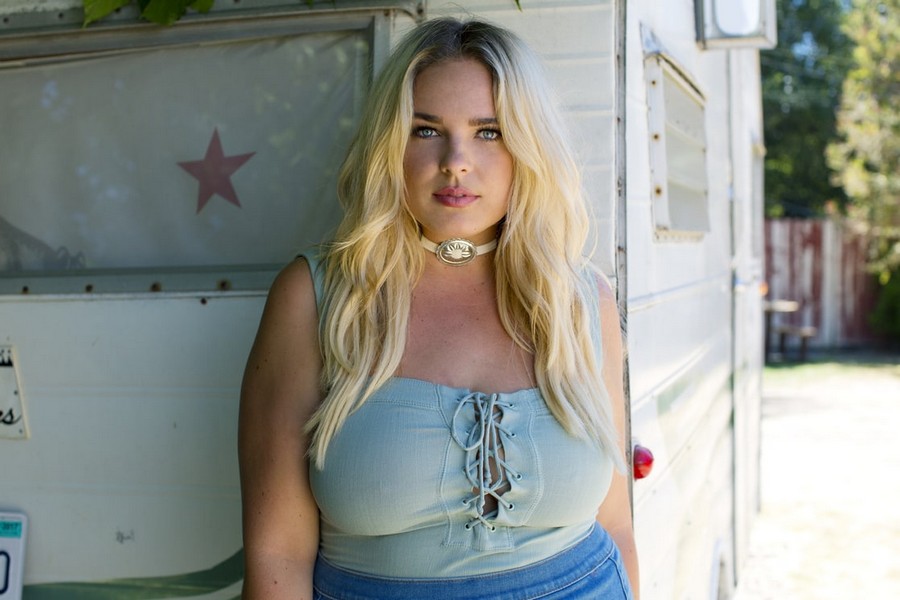 Ali Chanel is a twenty-four-year-old model. She is a mother to a daughter who is three years old. Her name is Arlo and her mother always shares some cute photos of her in her Instagram account. Ali Chanel has an account on Instagram @alichanel which has 85k followers. Her popularity is growing on social media.  She frequently uploads selfies, pictures, and family shots with her boyfriend and daughter. Also, she signed into Natural Model Management.
Further, she started to work for Playboy interviews and she left high school and joined beauty school. She moved to Arizona to join a band. Then she started to work at a school. Finally, she became a model for Playboy.
How did she become a model for Playboy?
Ali Chanel was selected to become a model for Playboy magazine. She shared with the Fox News agent that she got a call from Playboy. She expected the Playboy to be something else but she was surprised to see how different it was. She thought that she will be interviewed by older men who will ask her to show her body. But instead, everyone she met was a woman. So it was comfortable for her to work. Chanel understood why Playboy was a famous brand.
When did she shoot for Playboy?
During the Covid 19 outbreak, Ali Chanel got a call from the Playboy agency. They told her "Playboy wants to see you". It was uncomfortable for her to shoot naked but the Playboy employees made her feel comfortable and relaxed.
She was greeted by two girls of her age who welcomed her. She was happy to stand on the stage and pose for the photos. From that time onwards she enjoyed working for Playboy. Also, she was not nervous at all for she received a positive response. The Playboy took health measures during the shoot because of the Covid 19. Everyone wore masks, was vaccinated and the sanitizers were distributed.
Who encouraged her for her work?
Ali Chanel first called her mother to tell her about her work with Playboy because they are very close. When she got a call from Playboy her mother was the first person whom she called to inform about it. Her mother is a constant source of strength for her. As she respects her mother she always takes care to tell all the things happening in her life. She also wanted to learn the opinion of her mother.
Who was her encouragement?
During an interview, Chanel was asked who her inspiration is. Immediately the image of Brigitte Bardot came to her mind. According to her Bardot is the one who taught her to respect her feminity. Everything about Bardot shows her feminity and strength. So Ali learned this from her. She wanted to recreate the iconic photographs of Brigitte Bardot again.
Why is she a motivation?
Ali Chanel also suffered from self-doubt and body posture like every woman. Many modeling companies do not prefer curvy models. But today the popularity of curvy models is increasing. More than ever they are getting a lot of attention. This is the reason why Ali Chanel is also posing for photos in Playboy. She wants to encourage curvy women to feel confident. She wants to motivate them to believe in themselves. She wants them to showcase their body without any reservations.
How is she as a mother?
As a mother, Ali Chanel feels like a warrior. She has overcome many challenges to raise her child. She wants to set a good example for her daughter. Further, she wants her daughter to grow up into a confident woman. Now and then she shares some pictures of her daughter with her fans.
Is she dating anyone?
Ali Chanel has dated many men in her life. But she has not revealed anything about it. She keeps them private. Currently, she is single and is not dating anyone. She is living a life as a single mother.
What is the net worth of Ali Chanel?
The estimated net worth of Ali Chanel is between $200k to $300k. She earns money through her sponsored post, Instagram, and a lot more. Her net worth may increase up to $1 million in the future.
Conclusion
Ali Chanel is a great model. She is slowly becoming a popular Instagram model.
Also read: Who is Strongest Boy Little Hercules and How is His Life Today