Alison Brie Schermerhorn is a well-known actress, writer and also producer. This thirty-eight-year-old actress has revealed about her relationship with her husband Dave Franco. So how Alison brie and Dave Franco met? Many are eager to know. Brie joked in a video conference with The Tonight Show with Jimmy Fallon that she and Dave made out a lot during their first meeting. The couple first met in 2011. It all started in New Orleans at Mardi Gras where many love stories began. She arrived there with some of her friends and one of her friends became a matchmaker. So she was able to meet Dave at the airport. As her friend was also Dave's friend they invited him also to dinner. This is where Alison brie and Dave Franco relationship began.
How Alison Brie and Dave Franco met?
While at dinner her friends asked her to hook up with Dave. They secretly texted each other under the table as Dave was sitting opposite them. Brie also wanted to go out with Dave so she texted her friends enthusiastically. Franco was also enthusiastic about going out with Brie. Then they hooked up and after forty-eight hours of being together, they really started to like each other.
During that time Franco was acting in a movie and its filming took place in New York and Paris. So he invited Brie to New York where they enjoyed meeting and dining. It was the most romantic part of their relationship. Then he left a secret note in a pocket on the last day in New York that said: "Come with me to Paris".
Dating and Engagement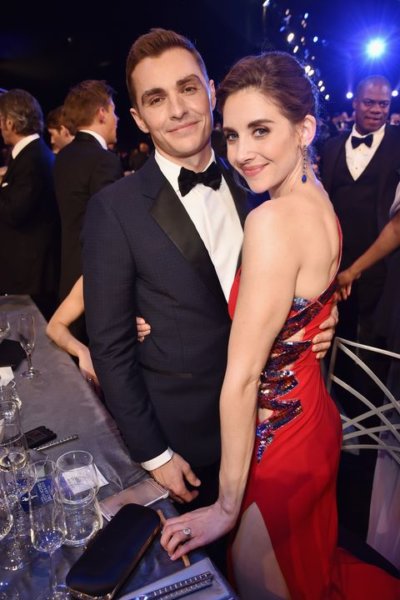 The lovely couple became engaged in August 2015 and then after dating for three years, they married in March 2017. Alison brie and Dave Franco wedding was a quiet affair with family and friends. Franco has shared in many interviews that he never thought about marriage until he saw Brie. So they are made for each other.
Recently the pair completed their work together for the movie The Rental. It is their first movie and also Franco's debut in directing. The story of the movie is about two couples who go on an ocean gateway. But they get very suspicious of their host because they think that he might be spying on them. Some of the other actors in this amazing movie are Dan Stevens, Sheila Vand, Toby Huss and Jeremy Allen White
Franco shared that working with his wife was great. She is a good workmate for him because many times in the shoot he doubted himself. So he needed encouragement in the shoot to continue his work. Then after they go home his wife will always remind him that everything is going well which is a good experience. He accepted honestly that he could not have done this without her help. Their movie is now available in the theatres and select drive-ins.
Conclusion
Brie and Franco are one of the sweetest couples in Hollywood. They look great together and are supporting each other in their careers.
Also read: Love Story of Sunil Gavaskar and Marshneil