How do I know if am I lesbian or straight? Is there any am I lesbian test? Today's generation is entirely open up regarding their preferences and sexuality. You may be into girls. Nothing is wrong with that! You are free to choose whatever you want or are willing to.
You may not be 100% sure regarding your sexuality. Don't worry; there are numerous am I lesbian tests available. It'll help you in finding what you like. However, it may be tough to figure out the question: am I lesbian? But with the help of this lesbian test,it has become easy!
Below, we have mentioned some questions. Answer them to yourself; this will make your mind clear. And after answering all the questions, we are sure you'll feel more confident about your sexuality. You'll be clear with your thoughts about whether you are lesbian or straight. Whether you have an interest in the opposite or same sex. So, answer the below-mentioned questions with utmost honesty, as no one is judging you here!
Answer These Questions to Know: Am I Lesbian?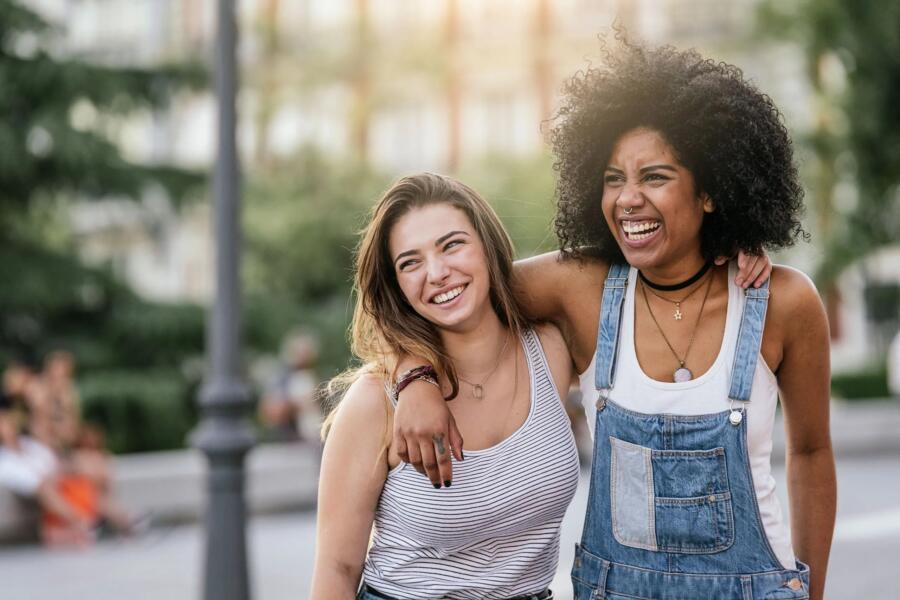 Have you ever had feelings for a same-gender close friend?
Have you ever felt special while being around girls?
When someone asks you who you're crushing on, what name comes to mind? Are you thinking of the name of the girl or the opposite one?
Have you ever kissed or wanted to kiss a girl or your close female friends?
When you imagine your future with a guy, what comes to mind?
Has anyone ever asked you if you were lesbian?
When you imagine being in a relationship, what do you picture?
Have you ever felt attracted to girls?
How would you feel about identifying as a Lesbian?
Do you ever fantasize about being with girls or women?
How do you feel about dating someone of the opposite gender, or say, boys?
If a woman flirted and expressed attraction toward you, how would you feel?
How do you feel when you imagine kissing or being intimate with boys?
These were some of the most common questions you should answer: am I Lesbian or straight? If most of the answers indicate your interest in girls, then there's a possibility that you might be lesbian. So, be very clear about your thoughts.
Sexual Orientation and Gender Identity
What does LGBTQ+ mean? To make it easier for you guys, we have a universal definition for each term. So, with the help of this, you can identify your interest. Let's see!
1. Asexual ("ace")
Asexual means that you lack interest in sexual interaction with other people. These people don't have much interest in sex.
2. Bisexual ("bi")
By Bisexual word, we understand that the person has feelings for the same and another gender/sex. They get attracted to both men and women. In short, both genders can please this kind of person.
3. Lesbian
Women and non-binary people generally use the term Lesbian. It is to identify people who are sexually, romantically, or emotionally inclined to other women. These women have feelings for other women. And they lack interest in men.
4. Gay
Historically, people use the term Gay to describe men who get attracted to other men. However, now people use this term to tell anyone who experiences emotional, romantic, or physical attraction to people of the same sex. Gay usually lacks interest in women. A person of the same sex attracts them more than a woman.
5. Non-binary
Rather than sexual orientation, the term Non-binary is to identify your gender. Non-binary people express their gender and identity in ways outside of and oppose the socially imposed gender binary. People who identify as genderqueer or gender expansive may also fall under this category.
6. Gender identity
It is a feeling of how people perceive themselves as non-binary, genderqueer, male, female, etc.
7. Gender expression
It is the way people express their gender identity. It is done through physical appearance and behavior. This includes speech patterns, body characteristics, clothing choices, etc.
8. Pansexual ("pan")
Refers to people expressing interest in any/all genders. There is no limit or boundary to their attractions. These people think that there should be no limits to love. No one can tell them which gender or sex to love. No limits to their attraction.
9. Questioning
This term is both a noun and a verb. It covers the phases of reflection. And inquiry is part of learning about one's sexual orientation, gender identity, and gender expression. To signify the inclusion of those who are unsure of their identities, it may also be the second Q in LGBTQQ.
10. Sexual orientation
It depends on a person's gender identity and expression. Sexual orientation refers to their inherent romantic, emotional or physical attraction to other persons.
11. Transgender ("trans" or "trans*")
The term "transgender" refers to people whose gender identity and gender expression cross traditional gender lines. Sexual orientation and gender identity are distinct. Further, transgender individuals might identify as bisexual, straight, lesbian, gay, etc. And maybe different from the sex they were assigned at birth. When referring to all genderqueer or broader identities, the spelling trans* is occasionally now in use.
Summing Up
These are some of the basic terms that'll help you in knowing your gender expression, preferences, sexuality, and gender identity. After reading all these terms, you'll be sorted. Also, you'll be clear about the meaning of each word.
If there's a question ever running through your mind, am I lesbian, bisexual, or straight? Then go through these terms.
Also, am I lesbian tests, sexuality tests, and gender identity tests are available. If you are still unsure, then go for these tests. But always remember that you should always follow your heart's voice. And don't give much importance to people's sayings about you! Do what you feel like, and opt for those things which make you happy.
Also read: Am I Gay or Straight: How to Know?