Old is gold, yes, but not every retro game has made it past its peak two or three decades ago… On the other hand, some of the games that changed the industry back then are still available today on various platforms.
Whether it comes to one of the first games you played as a kid, the first game on your computer, or just something that you and your friends enjoyed for years, here are some of the best-rated classic retro games to make your eyes tear with nostalgia.
And believe it or not, classic retro games are still available.
1. Donkey Kong Country, 1994
Donkey Kong Country quickly became one of the most appreciated SNES games out there, mostly because of the long story, different challenges, and unique mechanics. This game never got boring, no matter how much you played it.
You could team up with different characters, ride different animals and fight different kings and their armies.
The purpose of the game never changed, though… Collect bananas, find the KONG letters and kick as many monsters as you can. It's fun, quick, and adventurous, what else can you ask for?
2. Gran Turismo
Gran Turismo takes racing to another level. That's the beginning of a classic series and probably the best formula to try these days. You had not less than 140 different cars and plenty of tracks. Sure, they'll feel a bit outdated today, but back in the day, nothing felt more realistic.
Race against your best friends, try out the cars of your childhood, and swap from one model to another as you upgrade your vehicles. From Dodge Viper to Honda Prelude, you'll find plenty of classics to bring back some good old memories.
Many driving simulators on the market are still based on Gran Turismo, so this is where you want your retro experience to begin.
3. Tony Hawk's Pro Skater 2
Tony Hawk's Pro Skater 2 was a hit for everyone. Back then, it made no difference if you loved or hated skateboarding. This game was a hit, and you had to play it, simple as that.
Despite a few remakes overtime, this version is still among the most popular ones. It's quite simple to find when looking for ROMs online, and it still beats some modern games.
Loads of tricks and an amazing soundtrack. If you remember, you had to restart the game over and over again until your favorite tune came on… It just made the game better.
4. Metal Gear Solid
First, it was the title. Then, it was the character. Then, it was the action. This game impressed players on a gradual basis, becoming one of the best retro games out there. It still has a solid fan base, and people from all over the world still enjoy it, mostly for nostalgia.
The action stands out… If you think running is the key, forget about it. This game will teach you that sneaking and ducking is the way to move forward.
The game is mostly seen from a top down perspective, but then, it's the 3D combat that makes the difference.
The series kept gaining popularity, getting better and better, but the first title is what made the difference.
5. Pac-Man
Pac-Man is the classic of all classics. Everyone knows the character, whether you have played it in arcade games, on your personal computer, or watched the movie. You know how it works, simply try to get all the dots while dodging the enemies.
The game doesn't really need an explanation. Furthermore, it has been through a series of remakes, and believe it or not, there's even Ms. Pac-Man, who shares the same popularity.
The two characters are always featured in best-of lists and have even received their own 3D movie. Yes, this is a legend, and no matter how simple it seems, it can keep you hooked for hours.
6. Tetris
Just like Pac-Man, Tetris is another classic that has made it into numerous remakes. There are more versions out there for pretty much any console or platform. The NES version is probably the most popular one.
Sure, it's not the original, but it's probably the best. It came out about five years after the original Soviet version.
Young gamers may not necessarily be aware of Tetris, but this title is the base of more modern games, such as Candy Crush or Columns. The principle is pretty much the same.
It doesn't have stunning graphics, and it doesn't impress with its levels, but it's a great time killer.
7. Goldeneye 007
Goldeneye 007 is a classic N64 release. It was impressive back then, mostly because of the wide variety of modes and numerous levels. You had lots of deathmatches, facility levels, enemies like Xenia, and impressive guns.
This game had a bit of everything, and while graphics may seem old fashioned, it's still more complete than modern games.
Levels follow the storyline in one of the Pierce Brosnan movies. You end up meeting Natalya, catching up with Trevelyan, and completing different missions together.
As for the graphics, pixelated designs bring back the classic retro appearance.
8. Sonic the Hedgehog 2
Sonic the Hedgehog 2 dominates the series, despite the modern releases with improved graphics. This game is so classic that it can still entice fans of the genre, generations later. Pretty much every successful Sonic game that came later was based on this one.
Save little creatures with Sonic, fight Robotnik, and stack up one ring after another to complete your missions. Despite being more than 30 years old, the game is super interactive, and kids from all over the world can still enjoy it.
9. The Secret of Monkey Island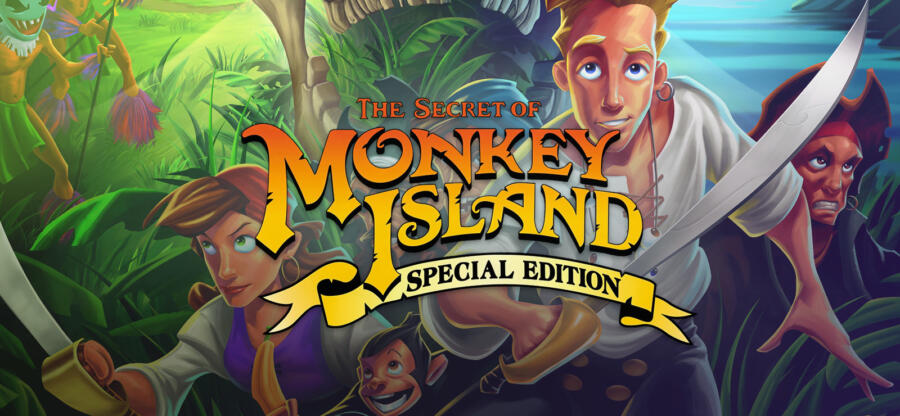 Point and click games were a hit a few decades ago. There were lots of quests out there, and each of them had its own challenges. Solving puzzles was nearly impossible, as you always had to find a walk through solution for certain levels.
The Secret of Monkey Island is one of the classics. Newer versions look better, indeed, but this one is how it all started. Puzzles are more challenging, and each character has its own style.
The game is dominated by impressive one liners, a natural environment, and an authentic open world. To kids today, it may look like an early version of the Pirates of the Caribbean. But to an avid gamer, it's much better.
10. The Legend of Zelda: Ocarina of Time
When people say old is gold, they most likely refer to The Legend of Zelda: Ocarina of Time. It's the most detailed adventure game out there, and it has a beautifully crafted storyline that no modern game can beat.
The game offers an immersive experience. Literally, every interaction in the game will have an impact, from carpenters to guards.
Whether you played it on 3DS or N64, the story is fascinating and connects two different worlds through a single hero.
As a short final conclusion, there are plenty of other retro titles you can try out. There are plenty of ROMs to explore, whether they bring back good old memories or you are up for something new.
Which one is the best depends solely on your preferences, but the above list will most likely give you a unique experience.
Also read: Fun Websites You Can Visit When You're Bored