The anime trap characters are common in anime because the creators develop them as they aim to confuse the viewers. They deliberately create a male character with feminine features to make the audience guess and wonder. Sometimes the character may look soft and quiet but they are opposite to what they appear to the eyes. They can be very intelligent and charming too.
Then you may have come across some characters in anime who may look fine at first but they are different from what we imagined or thought. Furthermore, the anime trap character can be a boy dressed in female attire. Also, his features may look feminine so other characters cannot identify what gender he is.
Many people like to see Anime series and movies because it is interesting with some amazing story-lines. It presents real emotions tied with extraordinary situations. That is why viewers love to watch it even though they do not get stuck in a video game or a fantasy world with beautiful girls. Furthermore, people like to escape to the anime world once in a while after a busy or stressful day. Are you an anime lover?
Moroever these anime male characters like to dress as female simply for pleasure. That is why many viewers think that they are female when they watch the anime for the first time. Therefore, we have listed out some of the anime traps characters for you to see. Enjoy going through it.
1. Hideri Kanzaki from Blend S
Hideri looks like a girl because he has long straight white hair and blue eyes. But he is a master of sarcasm. Sometimes in the story, he is very overconfident in his ways. That is why he is one of the anime trap characters.
The creators made him look soft and feminine but he is completely opposite to that. Moreover, he is full of himself that annoys the other characters when they get to know him better.
2. Rider Of Black Astolfo from Fate Apocrypha
Fate is a popular anime franchise. One of the characters in this anime is the anime trap character Rider of Black. As he is one of the paladins of Charlemagne he is strong and popular.
But the creators have represented him having long pink hair and girly features. Also, he is the prettiest one of all the twelve riders in the anime. So showing a great warrior as Astolfo with feminine features makes him a trap character.
3. Aoi Futaba from You're Under Arrest
Aoi is a policeman in "From You're Under Arrest". But he has curly brown hair and feminine features that make him an anime trap character. Many people in the series get tricked by the soft features of Aoi only to get arrested in the end.
Most of the times he wears his police uniform in the anime. Actually, he is a transgender police officer who is good at his job.
4.Chihiro Fujisaki From Danganronpa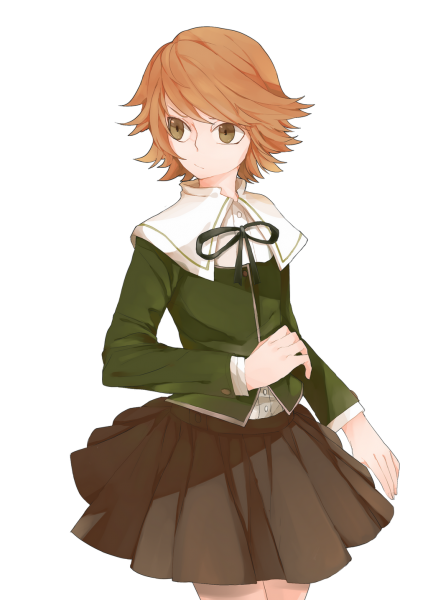 In only the second chapter of Danganronpa that many came to know that Chihiro is actually a boy. At first many thought that he was a cute girl. The character has short brown hair and large yellow eyes. Also, he has thin hands like a girl.
That is why he is a trap character in anime. Another deliberate lure of Chihiro is that he likes to wear girlish school uniforms.
5. Haku From Naruto
Haku is one of the early anime trap characters. In 2000 the character came in the Naruto series. He is a very attractive man with long black hair. Mostly he looks more womanish than a man.
Moreover, the main character Naruto himself thought that Haku was a woman. He even said that Haku is more attractive than the female character Sakura.
6. Ana Gram From Phi Brain
Ana is a man with long brown hair in the shounen Phi Brain. Moreover, he also has soft green eyes and the voice of a girl. He is a student at Root Academy and holder of the title Da Vinci. In the series, he is a flamboyant character who dresses as a girl.
One time he competed in a cross-dressing competition and won because of his feminine looks. At the start, he also fooled the viewers because many thought that he was a woman.
7. Kaoru Hanase From Tamako Market
Kaoru is a shopkeeper who works in Tamako Market. He is one of the characters who comes in the anime introduction. At first glance, he looks like a woman but he is actually a man. Also, he talks with Tamako once in a while with his graceful gestures. That is when we get to see Kaoru Hanase.
8. Rui Ninomiya from Gatchaman Crowds Insight
Rui is one of the main characters in the show Gatchaman Crowds. He is a cross-dresser because he uses it to his advantage in the series. The female outfits suit him well because of his feminine looks. Moreover, he has a slender figure and blue eyes. He thinks that Japan is boring and tries to make his life exciting.
9. Aoi Hyoudou from Maid-Sama!
He is one of the employees in the maid cafe of Maid Sama. He works along with Misaki Ayuzawa and the MC. Also, he looks like a woman at first glance because he has violet hair and blue eyes. He likes cute and fluffy things. Moreover, he always tries to get attention from others when he is doing work.
In the series, he is the nephew of Satsuki who is the owner of the maid café. Sometimes Aoi likes to toy with the feelings of men who think that he is a girl. But after growing up he starts to look manly.
10. Ritsu Sohma from Fruit Basket
The story is about Ritsu a man who dresses as a young woman as he is more comfortable in it. He wears the traditional kimono and has long hair. Also, his character has confused many people.
In the series, he is the only child of Okami Sohma. He comes across as a shy boy but sometimes he can overreact too. But in the end, he learns to be confident in life.
11. Saika Totsuka from Oregairu
Saika Totsuka is a popular anime trap character. He comes in the Oregairu series as a student of Class 2F. At the starting season, the main character of the series Hachiman gets attracted to Saika.
He thought that he is a girl. Then only he realises that Saika is a boy that leads to lots of embarrassment. Saika has short light grey hair and blue eyes that make him an excellent anime trap character. Also, he likes to play tennis in the series.
12. Gasper Vladi Highschool DxD
Gasper is a young boy who likes to dress as a girl. In this way, he confuses lots of people in the series who think that he is a girl. Furthermore, he has a petite figure and short hair. Also, he wears a girl's school uniform.
He is one of the main characters in High School DxD who is a half-vampire and half-human. Moreover, many other characters in the series think that Gasper looks like a beautiful girl.
13. Kuranosuke Koibuchi From Princess Jellyfish
He is the main protagonist of Princess Jellyfish but he is an anime trap character. He dresses like a woman and wears makeup. Also, he has feminine features that make him look like a woman.
He uses the name "Kurako" to fool other people who think that he is a woman. Furthermore, his female fashion sense in the series is also great.
14. Ruka Urushibara From Steins; Gate
Ruka from Steins Gate looks like a woman from all angles. That is why his character is so deceiving. The character in the series called Kurisu Makise gets very much shocked when she realises that Ruka is a man.
But Ruka is very different from other types of anime trap characters. He does not like to make an exhibition and is always laid back.
15. Tarou Sado from MM!
Tarou is the main protagonist of the comedy "MM!". He is an anime trap character who has short bluish-black hair like a girl and shining purple eyes. Sometimes he cross-dresses as a girl and likes to meet other girls.
Moreover, he is a masochist. But he helps people when they need his help eventhough he has perverted interests.
16. Kazuto Kirigaya from Sword Art Online
Kirito uses his feminine features and lies to others that he is a girl. This is because he has long black hair and a slender figure. Also, he has successfully used the female trap card to fool the character Sinon. He is one of the characters in Sword Art Online.
In the series, he gets chosen to be one of the beta testers for the Sword Art Online game. But when he is not acting like a girl he wears black outfits.
17.  Hato Kenjirou from Genshiken Nidaime
Hato is one of the new members of Genshiken. He is the only male in the group. Also, he is a trap character because he adopts a female persona, voice and dress. He becomes a very attractive girl because of that and many men fall in love with him.
At first, he has short dark hair but his complexion is shiny. This is because he uses moisturisers every night to make his skin smooth and supple. When he is cross-dressing as a girl he wears wigs that suit him well.
Conclusion
These are the anime trap characters who play a major part in the anime series. Their feminine manners and choice of dresses make them trap character in anime.
Also read: 25 Hot Anime Girls That are in The Wish List of Anime Lovers
Also read: 10 Anime If You Like Violet Evergarden You Should Watch