The food at the Texas Roadhouse is the best and is a great destination to satisfy all of your cravings. If you live in the US you will be aware of the best Texas Roadhouse Menu and you may have some of the favourites from the menu as well. Also, you may be one of the devoted fans of it. The chain of restaurants is spread over many places in the US so everyone can enjoy its food.
So what are the best foods to order from the Texas Roadhouse Menu? Find out about the delicious and lip-smacking dishes you can try. You can get your money's worth of food.
1. Chicken Critter Salad
If you are looking for a healthy option on the Texas Roadhouse Menu then you can order the Chicken Critter salad. It is only 690 calories in total and comes with a lot of protein content. Plus you can add French honey dressing to the salad which will increase its taste.
Further, the ingredients in this dish are crunchy chicken tenders topped with green lettuce, tomato, cheddar cheese, egg, bacon, bell pepper, carrot strips and a lot more. You can also get the option to customize the salad and get rid of some of the ingredients which you don't want. You can try this chicken critter salad if you are not feeling too hungry for a whole chicken.
2. Grilled Shrimp
If you love shrimp then you must try one of the best dishes from the Texas Roadhouse Menu. It is the grilled shrimp which has all the features to become your favourite seafood. Aso adds lemon juice to the shrimp to add its taste.
Also, the shrimp is made by sprinkling it with garlic lemon pepper butter and parsley. After that, it is served with a wedge of lemon and pieces of golden toasted bread. But you can also remove any ingredients which you don't prefer.
Also read: This is The Real Difference Between White Eggs and Brown Eggs
3. Cactus Blossom
The Cactus Blossom is one of the best dishes on the Texas Roadhouse Menu. It is one of the tastiest appetizers you laid your hands-on with a large fried onion. Some of the ingredients are flour, paprika, sugar, seasoned pepper, cayenne pepper, salt, beer and a lot more. Further, the yummy sauce is made of chilli sauce, sour cream, cayenne pepper, horseradish sauce and mayonnaise. After that comes the important part, the chefs fry the onion till it is a perfect golden brown colour. The fried onion is served with Cajun-style horseradish dipping sauce.
If you are going with a bunch of friends you can order this dish because it is large. It is enough to feed four hungry people.
4. Grilled BBQ Chicken
Another great part of Texas Roadhouse Menu is a low-calorie grilled chicken. It is just 260 calories with 46 grams of protein. The chicken is marinated and served with BBQ sauce. Plus, some of the side dishes for this top dish are baked potatoes, sweet potatoes, buttered corn, fries, mashed potatoes, house salads and a lot more.
5. Slab of ribs
The slab ribs from the Texas Roadhouse Menu are a delicious dish. It will make your mouth water because the ribs are served juicy on a plate. The chefs add a lot of seasoning to the dish that satisfies all the pallets. You can also get the extra BBQ sauce you want. Plus there are two sides offered for the dish. Also, there are steamed vegetables like broccoli, green beans or a variety of salads. Along with that seasoned rice is also available to go with the dish.
Also read: 6 Most famous and Delicious Arabic Desserts you should try once
6. Bone-In Ribeye
This excellent piece of beef will take you to paradise because its taste is amazing. It is served with the bone to give more flavour to the dish. There are two sides offered with the dish and you can choose anyone. Further, it is a great choice to choose sauteed onions or healthy options like vegetables or Caesar salad. If you any anything to drink you can order sweet tea or lemonade that will be suitable with the beef.
7. Rolls & Cinnamon Butter
Many people order the Rolls & Cinnamon Butter from the Texas Roadhouse Menu. You will get freshly baked soft rolls with cinnamon butter and this combination will make your whole day great. Plus you can also order a dozen or half-dozen rolls with honey cinnamon butter.
Further, this is a great appetizer to finish your lunch or dinner. So go with this dish anytime you order from the Texas Roadhouse.
8. Sierra Chicken Pasta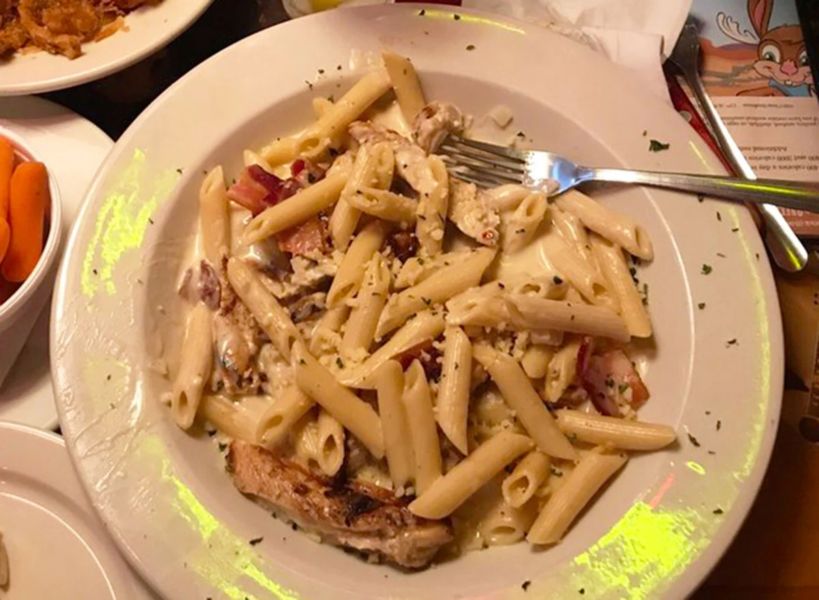 This is a great dish if you are craving something Spanish. It is made with freshly cooked penne pasta and strips of marinated chicken breast. The chefs toss white and creamy Asiago cheese sauce on the pasta which makes it soft and creamy. You will certainly enjoy this dish with the special bread from the menu.
Conclusion
These are the best foods to order from Texas Roadhouse Menu. These wonderful foods will make you go again and again to the restaurant to order them.
Also read: 5 Tips for Saving Money on a Whole Food Plant-Based Diet