Not only for the women but there is a wonderful selection of short haircuts for men too. This makes the men look handsome to behold. Many popular celebrities flaunt the short men hairstyle. For instance, the hairstyles of David Beckham, Ryan Reynolds, Chris Hemsworth, and Leonardo Dicaprio are very famous among the menfolk. Do you know that the short haircuts for men originated from Roman times?
This was followed because it stopped the barbarians from taking hold of the long hair kept by men and cutting the head off. This story may be ghastly to hear but it only started the short haircut fashion among men. But today in the modern age there are different kinds of short hairstyles for men. Some men can look good with a short haircut because it will make them look more handsome.
It will give a good definition to their face. Therefore here you can find the list of 45 Best Short Haircuts for Men. You can choose the hairstyle you love from the list and enjoy it.
1. French Crop
If you want to go for low maintenance short hair men's haircuts then the French crop is the one for you. This is the type of haircut that will leave you with short hair at the back and the sides with little fringes. Also, the length between the three will look similar. So if you opt for this look you can look dapper and stylish. Further, you will be able to style your hair in different ways.
2. Crew Cut
This hairstyle is short and simple. The hair will be longest in the front in this type of short haircut for men. Many men prefer this hairstyle because it makes them look neat and professional. This is the best hairstyle to opt for if you want to work in a corporate environment.
3. Ivy League Haircut
This short hairstyle looks similar to a crew cut but the hair will have a slight volume at the top and fewer edges on the sides. If you want to look polished and smart then this hairstyle is the one to go for. Celebrities like Ryan Gosling opt for this hairstyle. But it can also be messed up to look cool and funky if you want to go to a party.
4. Burst Fade
This is one of the famous short haircuts for men. It will have tapers around the ears and the back so more hair will be in the middle of the head. Also, this style can be customised according to your preferences in styles and textures.
5. Edgar Haircut
This is a hairstyle that will offer you a cropped straight cut around the head and the sides will be trimmed. So it will make you look 5 years younger. That is why many men go for this hairstyle. But this short hair men's haircut only suits men with oval, long and angular faces.
6. Hard Part with High Fade
This men's hairstyle starts and ends high up on the sides as well as the back of the head. So it will offer you a clean and neat appearance. You can style this look in many ways by parting the hair on the side or middle. Many men in the Navy and Airforce opt for this hairstyle.
7. Military Haircut
There are many types of men's military haircuts. But this haircut is majorly known for its short and well-trimmed appearance. The sides will be shaved and only the middle portion is highlighted. Also, this is a low-maintenance look preferred by many people.
8. Comb Over
This men's haircut will give you a masculine appearance and many women love this hairstyle in men. The hair will be neatly brushed to one side and a volume will be created on it. This will make the hairstyle look fuller and prominent.
9. Quiff
This hairstyle will offer you some length on the back as well as the sides. But most of the attention will be given to the forelock. This is a timeless short male haircut that many people love to follow.
10. High and Tight
This is a short men's hairstyle with the back and sides shaved well. But the top of the head is kept longer. Also, this hairstyle is famous among men in the armed forces as it makes them look masculine.
11. Buzz cut
The buzz cut men's hairstyle gives you a hairstyle where the hair will be cut close to the head. But there are many customization options available for this look. Yet you have to look at the proportions of your face before doing this cut.
12. Caesar Cut
It is a timeless choice for men who like to keep short hair. Also, it offers a hairstyle that looks even at the top, sides and back. In the front, there will be straight cut bangs. When you opt for this hairstyle it will offer you a certain charm and make you look dashing.
13. Short Afro
African men style their hair in many unique ways. But a short afro is suitable for men who like to keep their hair short. This hairstyle will limit the volume of the hair so they can maintain it easily.
14. Faux Hawk
The faux hawk is a short men's haircut that makes you look cool and dashing. The sides are not much shaved but clipped. Also, the hair in the middle portion is cut and fashioned as strips. Hence it is simpler than a Mohawk.
15. Short Wavy Hair
Women love wavy hair in men. That is why you can opt for the Short wavy haircut that can make your naturally wavy hair thick and stylish-looking. It keeps your hair at the top but the sides and the back will get shaved. You will look relaxed and comfortable in this hairstyle.
16. Short Messy Hair
This hairstyle will offer you a cool appearance because you can keep your hair natural in this look. You can keep your hair short, messy and casual. This look will suit you if you are going to a cosy outing with friends.
17. Messy French Crop
If you want a more laid back and casual appearance you can go for the messy French Crop. This is a great cut that can work in different hairstyle types. So if you have textured hair you can choose this short men's hairstyle.
18. Short Back and Sides
The short back and sides is a great look that will give you prominent top hair. The back and the sides are trimmed neatly. This style is popular for many years but was first made famous by stars like David Beckham.
19. Hard Part with Quiff
This is a men's hairstyle that will give you a shaved parting. It is a sharp and neat look. Some men will style their hair with a quiff to make the look even better. Also, this has been a timeless classic for many centuries.
20. Short Style With Finger Waves
If you have wavy hair then opt for this men's hairstyle. It will give you a top that you can style any way you want.
21. Classic Combed Back With Fade
You can maintain a combed back in this haircut which looks sophisticated. But you have to look after this hairstyle properly for it to look great. This style is suitable for weddings and reception parties too.
22. French Crop With High Fade
This is a French crop hairstyle but with a twist. This haircut will give you a more prominent middle portion. You can keep the sides trimmed and neat.
23. Tapered Sides With Blowout Top
Look like a cool and casual dude with the blowout top. This style is suitable for men with a lot of hair. But this hairstyle can be hard to maintain as you have to know how to manage it as well.
24. Caesar With Side Part
Do you like the hairstyle of Daniel Radcliffe? Then ask your barber to do Caesar with the side part. You can look as cute as him. This haircut is easy to maintain and you can go to any occasion with it. It is surely a crowd-pleaser too.
25. Fade with Spikes
If you like to keep spikes then you can opt for a fade with spikes. All the side portions of your head will be shaven and trimmed. But the middle part will have great spikes with a lot of volume. It will look like a crown on your head.
26. Hard line undercut
Choose this hairstyle to have a clean side and back. You can style the middle part of your hair any way you want. You can look like a rockstar with this short hairstyle for men.
27. Side part with bangs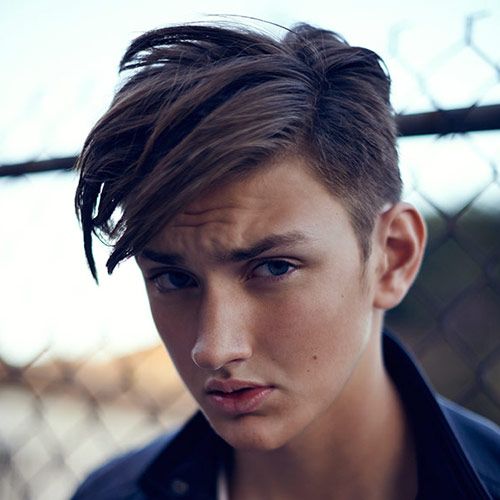 This is the style Eddie Redmayne opts for in many of his movies. This will make you look cute and dashing. You can sport this hairstyle anywhere as it fits all occasions.
28. Buzz cut with shaved design
Many men like to have shaved designs on their heads. So you can try the buzz cut hairstyle and ask the barber to shave your hair in any design you prefer. You will stand out in the crowd with this haircut.
29. Butch Cut
The butch cut is shorter than the Buzz cut. This hairstyle is great for guys with less hair. It will help them to keep their hair well maintained and neat.
30. Fringe With Front Wavy Hair
If you have a long forehead then this haircut will make you look dashing and smart. Women like this hairstyle in their men because little fringes of hair will fall on their forehead. That is why you can opt for this hairstyle to look dapper.
31. Induction Cut
This hairstyle is suitable for men who have less volume of hair. This is the shortest you can cut your hair. Also, this haircut is frequently donned by military men. So it is easy to maintain.
32. Curly Quiff
If you have naturally curly hair you can opt for the Curly quiff. The sides will be neatly shaved but on the top, you will get a lot of volume. Also, you can fashion the curls any way you prefer.
33. Curly Fringe
The middle part of your hair will be the prominent one in your head when you opt for this style. Then the natural curves will fall on the front giving a romantic look. But you can also style it fashionably when you go to parties.
34. High-Top Faux Hawk
This Faux Hawk style is a great fashion statement. If you want to look taller and stylish then this hairstyle will suit you.
35. High-Top Fade
Want to look like Orlando Bloom? Then choose the High-top fade. This is one of the variations of the fauxhawk which you can pull off if you think fauxhawk is extreme for you.
36. Messy Undercut With Bangs
Want to look casual and cool like Sebastian Stan? Then you can choose the messy undercut with bangs style.
37. Classic Pompadour
This is a vintage hairstyle that is still popular today. Everybody will notice your hairstyle when you cut it in Pompadour. So choose this style and make a statement among your friends.
38. Disconnected Undercut
This hairstyle works with men who have long facial features. It will turn you into a model because many models and stars sport this look. But only go to a good barber to get a clean and neat cut.
39. Flat top
This style is hard to pull off because it only suits some men. This style will make your hair look flat. So you can ask your barber if this hairstyle will be perfect for you or not.
40. Bowl Cut
This hairstyle is suitable for young boys but today many men also prefer this cut. It will make you look younger. Also, this style is popular today because of Korean actors and bands.
41. Modern Mohawk
If you want to stand out in the crowd then you can opt for the modern Mohawk. It is a head-turner so only go for it if you are confident.
42. Side Part Fade
This is a timeless hairstyle that will look elegant. It will make you look business-like and ready for every goal. This hairstyle is easy to maintain too.
43. Medium Length Natural Quiff
If you do not prefer long quiffs then you can choose medium-length quiff hairstyles. It will look natural and will give you a dapper appearance.
44. Natural Short Textured Hair
Get the natural hairstyle look of Robert Pattinson with this hairstyle. It is pretty easy to look after and only takes a few trips to the barber to maintain it. Also, your hair will look thicker and fuller.
45. Short Curtains
Look like a Korean pop star with the Short curtain hairstyles. You can part your hair in the middle but you can part in the side too. Also, you can make the look even greater by colouring your hair.
Conclusion
These are the 45 best short haircuts for men you can opt for. These well-known short men's hairstyles will make you look out of the ordinary. Therefore select one from the list and enjoy.
You may also like: 7 Haircuts for Girls with Medium Length Hair