Introduction
Are you a fan of buffalo chicken dip? Are you looking for a delicious, easy-to-make recipe that will satisfy your taste buds? Then here it is, Buffalo Chicken Dip recipe is full of zesty flavors that will make your taste buds go wild. This creamy, cheesy, and spicy recipe will be sure to make you the star of any gathering. With only a few simple ingredients and a few minutes of preparation time, you can quickly whip up this dip to satisfy your cravings.
Step-by-Step Instructions for Making Buffalo Chicken Dip: –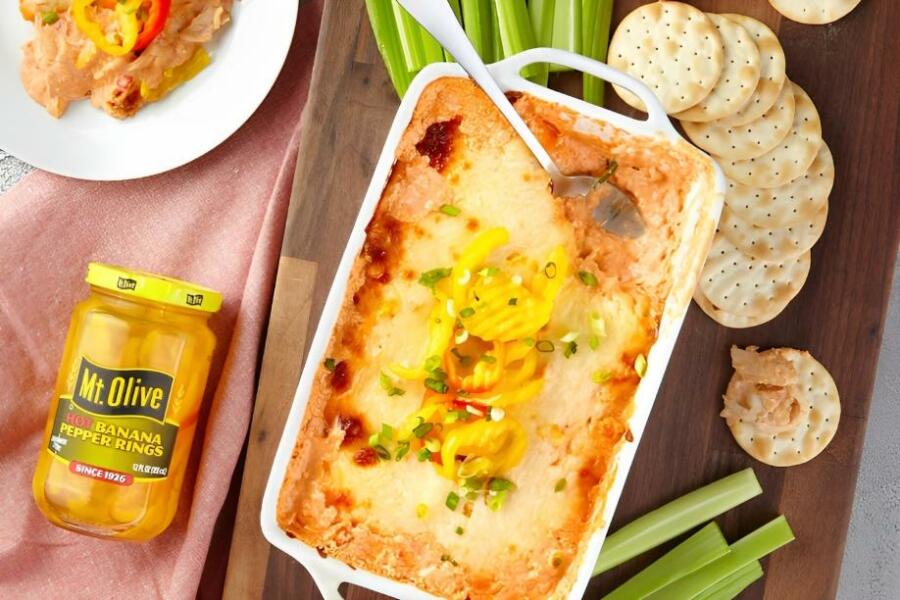 1. Gather All Necessary Ingredients
Whether you are looking for a delicious appetizer for a party or a satisfying snack to watch the game, this buffalo chicken dip recipe is sure to please. To make this dip, you will need 2 cups cooked chicken, 3/4 cup buffalo sauce, 8 ounces cream cheese, 1/2 cup ranch dressing, 1/2 cup shredded cheddar cheese, and 1/4 cup crumbled blue cheese.
If you don't have cooked chicken on hand, you can either cook it in advance or buy a rotisserie chicken. Buffalo sauce can be found in most supermarkets, but if you can't find it you can make your own with hot sauce and butter. The cream cheese, ranch dressing, cheddar cheese, and blue cheese can all be found in the dairy section of most stores.
2. Preheat oven to 350°F
Preheating the oven to 350°F is an important step when making Buffalo Chicken Dip. This ensures that the cheese and other ingredients are melted swiftly and evenly. Depending on your oven, it may take a few minutes to reach the desired temperature, so it's important to be patient and allow the oven to preheat fully. If the oven is not preheated, the dip may not cook evenly, leaving some ingredients undercooked or burnt. Therefore, it's essential to preheat the oven correctly before baking the dip.
3. Combine Cream Cheese, Ranch Dressing, and Hot Sauce in A Medium Bowl
Combine cream cheese, ranch dressing, and hot sauce in a medium bowl. Once blended, add in cooked and shredded chicken, shredded cheddar cheese, and some crumbled blue cheese. Stir until everything is blended together. Then, transfer the mixture to a greased baking dish and top with more cheese and some diced celery. Bake in the oven for 25 minutes or until the cheese is melted and bubbly.
4. Add chicken, Shredded Cheese, and Green Onions
Once all of your ingredients are prepped, you're ready to make your Buffalo Chicken Dip! In a large bowl, combine chicken, shredded cheese, and green onions, stirring to combine. Once everything is evenly mixed, you can pop it in the oven for about 15 minutes or until the cheese is melted and bubbling. Serve with celery, crackers, or your favorite dipping veggies and enjoy! This dish is sure to be a hit at any party or get together, and is sure to be a requested dish at any future events.
Also read: Pork Chops Recipes: How To Make Pork Chop?