So, all of us love to have fajitas, isn't it? Moreover, if it is the lip-smacking chicken fajitas then all of us will pounce on the plate to get a share of it. So, if you are wondering how you can prepare that food at your home, this article will provide you with all the details about it. Now let's get started!
Chicken Fajitas: An Overview
All of us love to have chicken fajitas. But do we know where this recipe comes from? Let us now discuss them here. Chicken fajitas is the cuisine of Mexico. Moreover, it is also known as Tex-Mex food. In fact, initially, it was referred to as a strip of meat that was grilled and served in a tortilla. In addition, there are also various other fajitas recipes of shrimp, steak, or even veggies.
Ingredients for The Recipe
To make the perfect chicken fajita, you need the best of ingredients. So, let's take a look at some of those ingredients before we proceed to the process:
2 Finely sliced chicken breasts
1 Big thinly sliced onion
Red chili (optional)
Red pepper
Also read: Negroni Recipe: How to Make Negroni
For Marination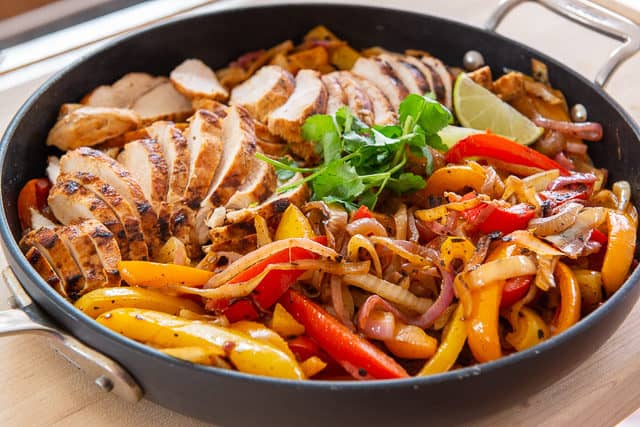 Smoked paprika (1tbsp)
Ground coriander (1tbsp)
Ground cumin (1 pinch)
Crushed garlic cloves (2)
Olive oil (4 tbsp)
Lime juice
Tabasco (4-5 drops)
After gathering all these ingredients now, we go to the method.
How can you prepare the dish?
Therefore, if you are wondering how to make chicken fajitas, you will get to know about the method of preparing the dish right here:
First, preheat your oven to 200 ℃. Thereafter wrap in foil 6 medium size tortillas.
Next, mix all the above-mentioned ingredients for marination in a big bowl. Do not forget to add salt and pepper as well.
Thereafter, add the chicken breasts, onion, red pepper, and chilies into the marinade.
Next, heat a pan until smoking hot and add the marinated chicken.
Keep stirring continuously in a high flame for about 5 mins, until the chicken pieces become grilled. You can also fry the chicken in 2 batches.
After some time, tear a thick part of the chicken and check if it is cooked or is still raw.
Lastly, you can put the tortillas in the oven to heat up. Now you can serve it with chicken. Along with this, you can also serve a fresh salad.
Summing it up
So, did you see how easily you can prepare this delicious recipe at your home? It will hardly take 15 mins of your time. Moreover, this food is also cost-effective and is a favorite dish of many of us.