With autumn always comes a slew of pumpkin spice-flavoured treats, including everyone's favourite seasonal beverage, the pumpkin-spiced latte. Not only are pumpkin dishes as tasty as can be, but they are also a lot healthier than you might have imagined. Pumpkin is a great source of Vitamin A, and it is packed with potassium, antioxidants, and vitamins. So, you can feel great about diving into some delicious pumpkin spice dishes this fall.
Below, we have put together the perfect list of crave-worthy recipes that we suggest you start with.
#1. Pumpkin Spice French Toast Casserole
This custardy and crispy autumn-inspired casserole is ideal for brunch, but it also makes for a fantastic dessert. Since this unbaked casserole needs to rest overnight, make sure you give yourself plenty of time when putting together this delicious fall dish.
Ingredients:
French Toast Casserole
1-day-old French, brioche, or challah bread (diced)
2 cups milk
½ cup heavy cream
1 cup pumpkin pie puree
1 cup granulated sugar
6 large eggs
2 Tbsps. vanilla
1 Tbsp. pumpkin pie spice
Streusel
½ cup light brown sugar
½ cup all-purpose flour
½ cup cold salted butter (diced)
⅓ cup pecans (chopped)
2 tsps. pumpkin spice
Instructions:
1. Spray a 9 × 13-inch pan with nonstick cooking spray, and place the diced bread in the pan. Whisk together the milk, cream, sugar, eggs, pumpkin, vanilla, and pie spice in a medium bowl. Pour the prepared custard over the prepared baking pan and cover it with plastic wrap. Then, refrigerate it for at least 3-4 hours. It is even better to refrigerate it overnight.
2. Combine the light brown sugar, butter, all-purpose flour, pecans, and pumpkin spice in a small bowl. Use your fingertips to mix everything together until the butter breaks down into smaller pieces. Sprinkle this streusel mixture over the casserole evenly.
3. Preheat your oven to 350 degrees. Bake the casserole for 48-55 minutes or until it is no longer jiggly. You may need to tent the casserole with a piece of foil around the 30-40 minute mark if it starts browning too quickly. When it is finished baking, let it cool for several minutes before slicing and serving it with maple syrup, butter, and powdered sugar.
#2. Pumpkin Spice-Cranberry Muffins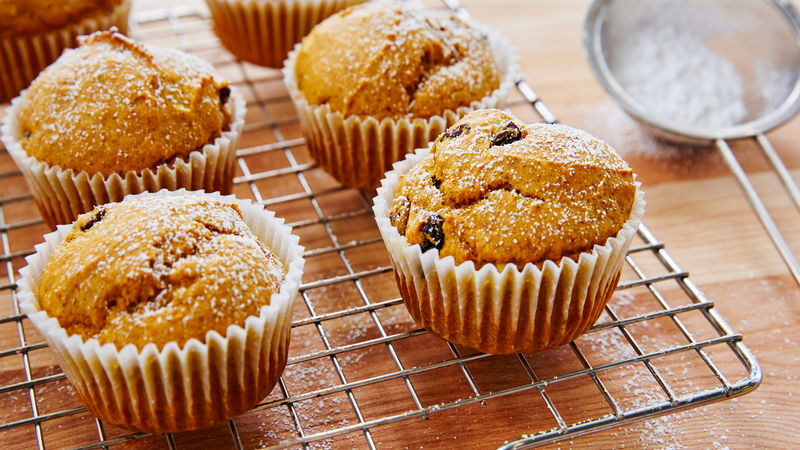 These muffins combine the delicious flavours of both pumpkin spice and cranberry for a taste that totally defines autumn. They are the perfect addition to breakfast or brunch and would go well topped with cream cheese or your favourite jam or fruit butter.
Ingredients:
2 cups all-purpose flour
¾ cup brown sugar (packed)
2 tsps. baking powder
1 tsp. ground cinnamon
½ tsp. salt
¼ tsp. baking soda
¼ tsp. ground ginger
⅛ tsp. ground cloves
⅛ tsp. ground nutmeg
1 cup canned unsweetened pumpkin puree
½ cup unsalted butter (melted and slightly cooled)
¼ cup buttermilk
2 eggs (lightly beaten)
2 tsps. vanilla extract
1 cup dried sweetened cranberries
Instructions:
1. Preheat your oven to 400 degrees, and line a 12-cup muffin tin with paper liners.
2. Mix the flour, brown sugar, baking powder, cinnamon, salt, baking soda, ginger, cloves, and nutmeg together in a large bowl.
3. Beat the pumpkin puree, melted butter, buttermilk, and vanilla in another large bowl until everything is well combined. Gradually beat in the flour mixture, then stir in the dried cranberries until they are incorporated. Fill the muffin cups about 3/4 full with the batter.
4. Bake in the oven for 20 to 25 minutes or until a toothpick inserted in the middle of a muffin comes out clean. Remove the muffins from the oven and let them rest for a few minutes before transferring them onto a wire rack. Serve them warm or at room temperature.
#3. Pumpkin Spice Buns
This twist on classic cinnamon buns makes them very special and extra-suited for fall. They are the perfect sweet snack to enjoy with hot cocoa while cuddled up on the couch. The pillowy soft buns paired with the delicious pumpkin filling will definitely encourage you to come back for seconds…and maybe even thirds.
Ingredients:
Dough
½ cup whole milk
2 ¼ tsps. active dry yeast
¼ cup granulated sugar
4 Tbsps. unsalted butter (melted)
2 tsps. pure vanilla extract
1 large egg yolk
2 ¾ cups all-purpose flour
¾ tsp. fine salt
Filling
1 ½ sticks unsalted butter (softened)
½ cup granulated sugar
2 Tbsps. pumpkin spice blend
½ cup pure pumpkin puree
Glaze
1 ½ cups confectioner's sugar
½ stick unsalted butter (melted)
3 Tbsps. whole milk
½ tsp. pure vanilla extract
1 pinch of fine salt
Instructions:
1. Add the milk and ½ cup of water to a medium saucepan and warm it over low heat until it is 100-110 degrees. Remove from the heat and sprinkle the yeast over the surface along with a pinch of granulated sugar. Set it aside for about 5 minutes until it is foamy.
2. Whisk in the 4 Tbsps. of butter, vanilla, and egg yolk until everything is well combined.
3. Whisk together the flour, remaining granulated sugar, and the ¾ tsp. of salt in a large bowl. Make a well in the center of the flour, then stir in the yeast mixture with a wooden spoon. When the dough becomes thick and slightly sticky, turn it onto a floured work surface and knead it for about 6 minutes until it is soft and elastic. Then, shape it into a ball.
4. Brush the inside of a large bowl with the remaining melted butter and place the dough inside the bowl, turning it to lightly coat it. Cover the bowl with plastic wrap and use a marker to trace the size of the dough onto the plastic, noting the time.
5. Let the dough rise for about an hour and a half at room temperature until it has doubled in size.
6. Turn the dough back to a floured surface, and knead it briefly to release any excess air. Then, reshape the dough into a ball again, and return it to the bowl. Lightly butter a large piece of plastic wrap and cover the bowl. Put the bowl in the refrigerator for at least 4 hours. It is even better to leave it in the fridge overnight.
7. Grease a 9 × 13-inch baking dish with some butter. Whisk the granulated sugar and pumpkin spice together in a small bowl. Turn the dough onto a floured surface and press it flat. Then, roll it into a 10 × 18-inch rectangle with the long side facing you. Spread the remaining 1 ½ sticks of butter over the dough's surface, leaving an inch border on the side opposite from you.
8. Dollop the pumpkin pie puree over the dough, and spread it to cover the same area as the butter. Evenly scatter the pumpkin spice-sugar mixture over the top. Starting from the long side facing you, roll the dough up into a tight 18-inch-long cylinder.
9. Lightly brush the clean edge of the dough with water, and press it to the cylinder to seal it.
10. Slip a piece of string under the roll, about 1 ½ inches from the end, and lift and cross the string ends over the roll. Then, pull the ends tightly in opposite directions to cut a single bun. Repeat this motion, cutting every 1 ½ inches. Place the buns cut sides down in the pan, with 1 inch in between them. Cover the baking dish with plastic wrap, and set it somewhere warm for about an hour and a half until the buns double in size.
11. Preheat the oven to 350 degrees. Bake the buns for about 30 minutes or until they are golden brown. After removing them from the oven, let them cool in the pan for about 10 minutes.
12. Whisk together the confectioner's sugar, butter, milk, vanilla, and a pinch of salt in a medium bowl until everything is combined and smooth. Drizzle this mixture over the warm buns and serve them.
#4. Pumpkin spice oatmeal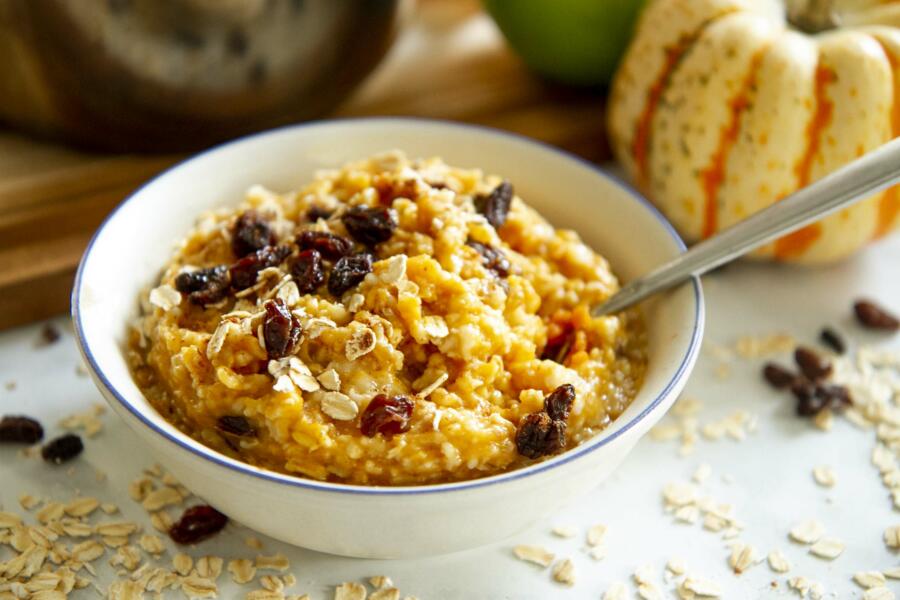 This warm, spiced oatmeal is a hearty, comforting breakfast that is perfect for a cool, crisp fall morning. This healthy oatmeal dish is easy to prepare, and it will overwhelm you with its rich and creamy taste.
Ingredients:
1 15-oz. can of pure pumpkin puree
2 cups milk (plus more for serving)
½ cup dried cranberries or raisins
¼ cup packed light brown sugar (plus more for sprinkling)
1 tsp. pumpkin pie spice
1 tsp. pure vanilla extract
1 pinch of kosher salt
2 cups old-fashioned rolled oats
toasted pumpkin seeds
Instructions:
1. Whisk the pumpkin puree, milk, 2 cups of water, dried cranberries, brown sugar, pumpkin spice, vanilla, and a pinch of salt together in a medium saucepan.
2. Bring the mixture to a simmer over medium heat, then add the oats and reduce the heat to medium-low. Gently simmer for 10-15 minutes, stirring frequently, until the oats are tender and the oatmeal is your desired consistency.
3. Ladle the oatmeal into bowls, and serve it drizzled with milk and sprinkled with a little extra brown sugar and pumpkin seeds.
If you are in the mood for all kinds of pumpkin recipes this fall. We will make it easy for you and deliver the ingredients and recipes straight to your door. With their wide assortment of meat, vegan and vegetable-based recipes, the hardest part of the whole process is choosing which options you want because they are all so good.
Why Pumpkin Spiced Breakfast Dishes are an Autumn Essential
We all know that breakfast is the most essential meal of the day, and what better way is there to start your day off than with a delicious pumpkin spice-flavoured meal?
Each of the options mentioned above is an incredible choice, and they are each guaranteed to pair perfectly with your seasonal pumpkin-spiced latte.
Also read: Bread and Butter Pudding History and Recipe