Serial killer and corpse thief Edward Gein, widely known as "The Butcher of Plainfield," was from Plainfield, Wisconsin. He admitted to killing two women and robbing the bodies of others to torture.
Ed Gein created a variety of garments, furniture pieces, and domestic wares out of human body parts and flesh. Ed Gein created a skull soup bowl, a nipple belt, gloves made of human hand skin, and leggings made of leg skin. He most likely also murdered Henry Gein, his brother, and there may have been additional victims.
Personal Life of Ed Gein
Due to his weird behavior, Ed was consistently thought of as odd by the locals. A local teen reported seeing what appeared to be realistically shrunken heads at the farm but were human faces.
After his mother Augusta Gein passed away, he inherited the farm where he lived. He later turned into a recluse who hardly leave the house. A portion of the house, including his mother's bedroom, had been boarded up by Gein to protect it. On rare occasions, he would undertake odd jobs around the area as a handyman and a babysitter to get some additional money.
Later, he did not need to farm the property because the farm was subsidized by significant federal subsidies.
The Disappearance of Bernice Worden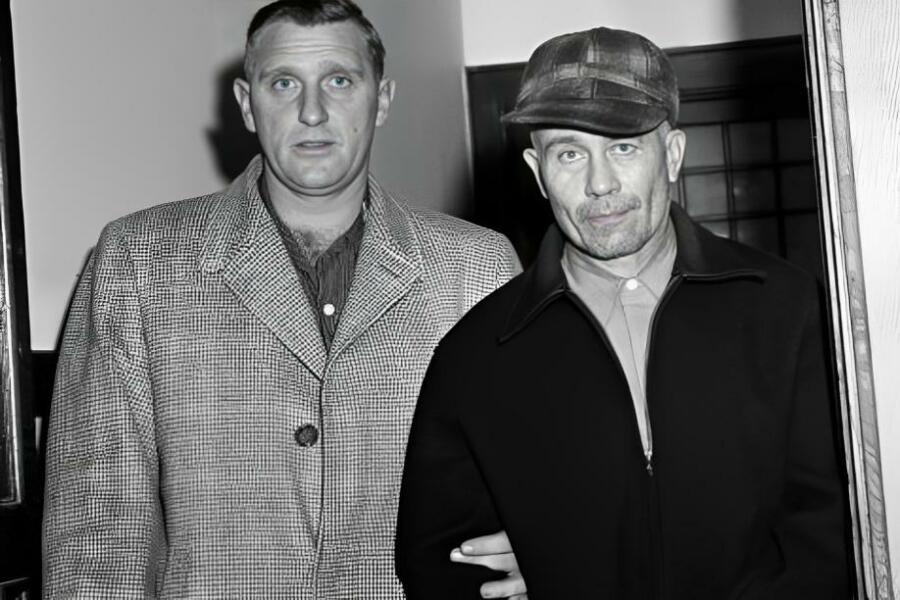 On November 16, 1957, Bernice Worden disappeared. The store was closed all day, and her truck was last spotted leaving the town early in the morning. They discovered blood on the floor when her son Frank Worden entered the store in the early evening.
Ed Gein had visited the store the day before and was scheduled to return the next morning to pick up antifreeze, according to Frank, who informed the police. They quickly accused Gein of being responsible for her disappearance after finding an antifreeze ticket in the store.
Ed Gein's Arrest
While shopping in a local grocery store, Ed Gein was detained. After getting a search warrant, the police searched his farm.
They found Bernice Worden's remains and other Ed Gein artifacts at the farm, also known as the "house of horrors." She was hanging in the barn after being shot, dismembered, and tortured.
Police Search of Ed Gein's Home
When the police searched Ed Gein's home, they found artifacts made from human body parts. A trash can, chair covers, and other pieces of apparel made of human skin were among the furnishings that Ed Gein created.
In addition to having skull-topped bedposts, Ed Gein's lamp sported a human skin lampshade. Additionally, Ed Gein created a mask from human flesh, of which he would wear and keep parts for later use, such as noses and vulvae.
Bernice Worden's head was discovered in a sack among Ed Gein's possessions, along with organs and body parts kept in an old refrigerator.
Investigation
Ed Gein admitted to locating nine bodies between 1947 and 1952 while being interrogated. To receive an apple pie with cheese on top, he confessed.
Ed admitted that he had visited the neighborhood cemeteries more than 40 times at night, and he said he had felt happy each time. He asserts that he has only ever taken body pieces out of the cemetery ten or so times.
In his interviews, Ed Gein admitted that he had chosen particular ladies to unearth because they resembled his mother and that a nearby farmer named Gus had assisted him in unearthing the bodies. To transform himself into his mother, Ed Gein intended to utilize the women's skin as a woman's suit.
Was Ed Gein A serial killer?
The death of his brother and several local disappearances were also allegedly connected to Ed Gein. A number of people went missing in the area, including Evelyn Hartley, a local babysitter, Georgia Weckler, an 8-year-old girl, Victor Travis, and Ray Burgess.
Ed Gein most certainly killed more than twice and was a serial killer. Despite the lack of proof, it seems likely that he murdered his brother; he also admitted to killing Mary Hogan, and it's possible that further Ed Gein victims existed.
Trial and Sentencing
On November 21, 1957, the trial against Ed Gein officially opened. On the count of first-degree murder, he was brought to court.
Gein was committed to a mental hospital where he was given a schizophrenia diagnosis after entering a plea of not guilty because of insanity.
It was claimed that Ed Gein was mentally sound enough to stand trial by 1968. On November 7th, 1968, the trial formally opened.
He maintained throughout the trial that Bernice Worden's death was an accident and that he had handled a gun when it inadvertently went off.
Instead of using a jury, the defense has asked that the case be heard by a single judge. After a second trial was conducted to address his sanity, he was found guilty of the murder.
As a result of the insanity defense, he was declared not guilty in this case and sent for an indefinite period to Central State Hospital for the Criminally Insane.
Ed Gein's Death: On A Wrap
A hospital was where Ed Gein passed away on July 26, 1984. Due to lung cancer, he passed away from respiratory failure.
In the cemetery in Plainfield, Ed Gein is buried next to his family. However, the complete gravestone was stolen in 2000 and has never been found.
Also read: Paula Dietz: The Untold Story of BTK Killer Ex-wife