Many of us might have a wrong idea that golf is dominated entirely by men. However, this sport has some of the hottest female golfers. Not only are they being recognized by their fans because of their skills, but also for their pretty looks. In fact, you will be amazed to see them play. So are you wondering who are those beautiful female golfers? Well, you are at the right place as we will share with you a list of those players, who not only play well but also are attractive. Stay with us until the end to know about all those talented and pretty ladies. Let's get started!
Who are The Most Beautiful Female Golfers All Over the World?
Since you are reading this blog, it is pretty obvious that you want to know about the pretty golfers as well. Needless to say, golf has some of the hottest female golfers. Therefore, it becomes a treat to the eyes of the fans whenever there is a match. Let us now have a look at some of the pretty ladies, right here:
1. Lily Muni He
Even though this golfer is the daughter of a hotelier from China, however, Lily Muni has been playing golf since she was five years old. She was initially born in China but, later on, moved to Vancouver and eventually to San Diego. In fact, while studying she also started taking part in various prestigious tournaments.
Moreover, during her years as an amateur, this hot golfer has won the 2015 Polo Junior Classic and other tournaments. At the same time, she is also an online influencer. Also, if you want to check out more on her, you can find her on online platforms.
2. Paige Spiranac
She is one of the most famous hot golfers presently. In fact, often fans describe her as sexy, smart, and nerd. She is not just a rising golf talent but also an online influencer and a media personality. At the same time, Paige has advocates like promoting anti-bullying as the ambassador of The Cybersmile Foundation.
In fact, from her college days itself, she has already been joining collegiate competitions. She has also been a part of various conferences during this time. Even though she initially didn't play well, however, she caught the eyes of many.
3. Sandra Gal
Even though she is one of the oldest on this list, however, that does not make her any less attractive among the list of hottest female golfers. As per the sources, she was born in Germany on May 9, 1985. Sandra graduated from the University of Florida with a degree in Advertising. Despite being one of the sexiest female golfers, she has a long list of accomplishments in her career.
For instance, she was a part of the German delegation in the 2016 Olympics in Brazil. In fact, people recognize her as the world's best amateur player in 2007. Other than that, she has several other titles which prove that she is more than a pretty face.
4. Belen Mozo
Belen Mozo is a Spanish golfer who also joins the rank of the hottest female golfers. As per the sources, she was born on September 25th, 1988. Even though presently she is no longer active as a golfer, however, during her initial days she has made total earnings of more than one million dollars. She had to, later on, leave golf because of a hip injury. However, she already has a collection of many titles.
5. Lexi Thompson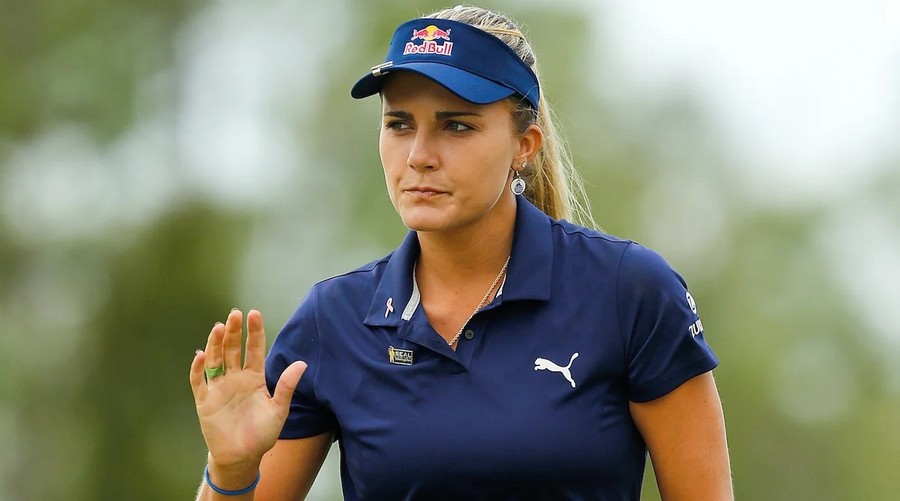 If you are a fan of golf, you must have indeed heard Lexi Thompson's name. With a total earning of over $10 million, Lexi is not just one of the hottest female golfers but also is highly successful. Players like her prove that they are not just pretty face in the golf court but also can give a tough competition to their fellow golfers.
In fact, she was one of the youngest players to qualify for the US Women's Open. At the same time, she was also the youngest winner in LPGA matches.
Also read: 6 Most Beautiful Female Cricketers of India
6. Blair O'Neal
If you are to name one of the multitalented golfers, Blair O' Neal is one of them. She is not just a golfer, but also a television personality, and model. Needless to say, her hot and attractive appearance makes her pretty famous as a golfer. This golfer was also a part of the collegiate golf team for four years at Arizona University.
Along with playing golf for a decade, Blair also started working as a model. At the same time, she has also been the co-host of several shows like School of Golf, etc.
7. Sharmila Nicollet
If we talk about the hottest female golfers, the name Sharmila Nicollet will indeed be an important one. With 15 professional wins, Sharmila is another name that tops the list of hot LPGA players. As per the sources, this pretty golfer was born in Bangalore with a French father and an Indian mother.
In fact, she had started playing golf at the early age of 11 years. Moreover, by 15 she had already won her first tournament. Despite being a famous golfer, she is also a swimmer. She had won more than 70 medals as a swimmer. In fact, she was the youngest Indian golfer to qualify for the Ladies European Tour. Needless to say, this beauty played different games around the world.
8. Anna Rawson
Anna Rawson is an Australian model cum golfer. She is one of the sexiest female golfers. In fact, she was just 16 years old when she had her break in the modelling world. In her career as a golfer, she has won several titles like the South Australian and Victorian Junior Champion. It was from 2004 that she turned professional.
9. Cheyenne Woods
Probably you can guess her identity from her surname. Yes, this beauty is the niece of Tiger Woods. However, other than that she has already created her own identity as a golfer. Even though her surname helped her become more recognizable in this field, however, her career graph proves that she is pretty capable of becoming famous.
Needless to say, Cheyenne is more than just one of the LPGA Tour golfers. Presently she is making a mark as a hot female golfer in this sport.
10. Michelle Wie
As we finally come to the end of our list of the hottest female golfers, we cannot skip the name of Michelle Wie. This Hawaiian native and Stanford graduate is one of the famous female golfers. In fact, she was just ten years old when she first made her mark in the world of golf. At the same time, she was also the youngest player to qualify in an LPGA Tour event and win the US Women's Amateur Public Links.
Ending Note
By now you must have glanced through the list of some of the hottest female golfers. These women prove that they are much more than pretty faces. So if you are a fan of them, you can follow them on social media platforms.
Also read: Great Athletes That Never Won Sports Personality of The Year