Are you having difficulty speaking because of a sore throat? Well, it is pretty natural that in such a state, you will have problems talking loudly. So in such cases, you might search for what kills a sore throat fast, right? In today's article, we will discuss some of the relevant aspects of treating a sore throat quickly.
Needless to say, it is a horrible feeling, but luckily it does not have to last if you know the proper remedies to treat it. However, if the home remedies do not work, and the sore throat persists even after three days, make sure you visit a doctor. This is because you might have a more serious underlying medical condition.
So are you curious to know more about what kills a sore throat fast? Stay tuned to us until the end as we will share some of the relevant details about it here. Let us have a look!
What Kills A Sore Throat Fast?
If you are having a sore throat, you might be looking desperately for ways to treat your condition, right? Well, it indeed becomes a problem when you have to give a speech or have to talk loudly. However, if you know the right ways to treat your condition, it can relieve you of all the trouble. Let us find out more about those painless remedies. What's better to treat it the natural way instead of taking lots of medicines?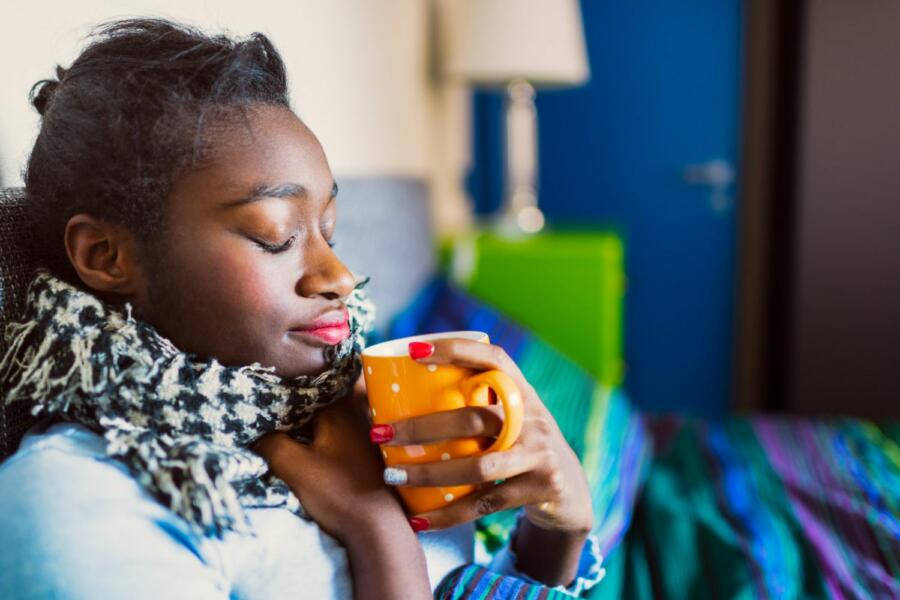 Gargle To Help Reduce Swelling & Relieve Discomfort
This is one of the most common ways of treating your sore throat and if done properly it indeed works well. So firstly mix 1 teaspoon of salt into 8 ounces of warm water. Now take the liquid into the back of your throat and gargle with your head turned slightly up and spit the water out.
You can do this once every hour or so depending on the intensity of the pain. However, remember to wash your mouth out after so that it does not feel tasteless. In fact, you can also put a teaspoon of lemon juice or vinegar in the water and gargle instead of salt.
Use Non-Prescription Throat Lozenges For Instant Relief
After gargling, it is also one of the most common ways using which you can get relief from a sore throat. You can get many herbal lozenges from your nearby medicine shop. These lozenges provide you with instant relief and soothe your throat since they contain elements like lemon and honey.
For instance, some throat lozenges like Sucrets, or Spec-T are safe and effective and also contain medicines like local anesthetics that numb the throat to soothe the pain. However, try not to consume analgesic lozenges for more than three days. This is because they can mask a serious bacterial infection that needs immediate medical attention.
Use A Warm Compress To Soothe Your Throat Pain
Are you suffering from a terrible sore throat? Well, then you can soothe the pain on the inside of your throat with some warm tea, lozenges, and throat sprays. However, this won't be a long time relief, you can only soothe your throat for a while.
One of the things you can try out is wrapping a warm compress around the outside of your throat. This can be a warm heating pad, a hot water bottle, or a warm damp cloth that can provide you with that warmth.
What Kills A Sore Throat Fast: Use Throat Sprays For Relief
If you are suffering from a sore throat and want to seek instant relief, you can take the help of lozenges, and throat sprays like Cepacol. These throat sprays help you get relief by numbing the lining of the throat. However, do not forget to follow the instruction for proper dosage and consult a doctor or pharmacist for information regarding its use and age limitations. Also, check for allergies that are mentioned in the instruction leaflet.
Make A Compress Out Of Chamomile
If you are a health-conscious person, you must have heard about chamomile tea, right? Well, it is highly essential for treating sore throats. So make a batch of chamomile tea or soak 1 tbsp of dried chamomile flowers in one to two cups boiling water. Now that the tea is warm enough to touch, soak a clean towel in the tea, wring it out, and apply it to your neck area.
You can leave it there for 30-45 minutes and repeat it several times a day. In fact, you can also buy chamomile flowers and put them in a teapot, and let them soak for five minutes in hot water. This is one of the best natural and homemade remedies to treat your sore throat.
Make A Plaster With Sea Salt And Water
This remedy might be one of the lesser heard ways to treat your sore throat, however, it is highly effective. So mix two cups of sea salt with 5 to 6 tbsps lukewarm water to create a damp, but not wet mixture. Now put the salt in the center of a clean dishtowel.
The next step will be to roll the towel along its longer side and wrap the towel around your neck. Your last step will be to cover the plaster with another dry towel, now you can leave it on your neck as long as you wish. This is one of the easiest ways to treat your sore throat naturally. So why not try it out?
Take Ibuprofen Or Acetaminophen
If you are having a terrible sore throat, you can indeed take acetaminophen and ibuprofen. These medicines are some of the most common ones that are prescribed by doctors for this problem. However, make sure you do not give children under the age of twenty any kind of aspirin. This is because the combination has been linked to a serious condition called Reye syndrome. So it is essential that you follow the dosage instructions properly before taking the medicines.
What Kills A Sore Throat Fast: Take Plenty Of Rest
When you are having a sore throat make sure you provide your voice plenty of rest. Try to sleep during the day if possible and maintain your regular sleeping schedule for the night. The more you provide your voice rest, the quicker your throat will get better.
Drink Plenty Of Fluids, Especially Water
During sore throat, it is important that you keep your throat moist so that it pains less. So water may help thin secretions in the throat and warmer fluids help soothe irritation in your throat. In fact, hydrating your body will also help your body to fight off infections and clear the sore throat quickly.
Ending Note
So as we conclude, we can say sore throats are a very common condition that you can often face. In such cases opting for home remedies initially can indeed be done instead of switching over to medicines readily. Therefore, you can take a look at the above suggestions and apply them as you see fit. However, if you feel that the condition is not getting better, take the help of a doctor instead of worsening the situation.
Also read: Do You Know Brendan Fraser's Net Worth? Let's Check Out