It doesn't matter how top-notch your content and how magnetic your design is, at the end of the day if your emails aren't accessible, they will never be able to fetch you the results you desire. At present, almost 1 billion people in the world lead their lives with some form of disability. Hence, if your brand's email campaigns are not accessible you are not only failing at fostering inclusivity but also severely compromising their reach and visibility. So, what are some commonly adopted email accessibility best practices? That's precisely what we'll be covering in today's article. But, before that let's take a look at the significance accessible email design holds for your business.
Email Accessibility- Your Secret to Stay Ahead of The Curve
Email's global user base stands at a staggering 4.03 billion. And the total number of active internet users in the world is 4.66 billion. So, it is fairly safe to say that anyone who has an internet connection, invariably has an email account too. The point of highlighting these numbers is to bring to your attention the immense market penetration that email as a channel possesses. Now, how can you make the most of it? You probably guessed it; by crafting accessible email campaigns.
Practicing email accessibility enables you to deliver uniform user experiences. As an email marketer, your job doesn't end at making sure that your email content is accessible; you must also check whether every single contact on your list is able to derive the same user experience from it or not. This is extremely vital for a superlative user experience paves the path for improved engagement and interaction, and ultimately higher sales.
Email accessibility enhances your brand reputation. In the current scheme of things, people no longer regard brands as mere commercial establishments. Now, besides providing utility, brands are also expected to deliver value. If a business' conduct and ethos fail to live up to its customers' expectations, its survival in the market will become next to impossible. With the world gaining more consciousness about inclusivity with every passing day, designing accessible campaigns will help you mint invaluable social currency.
Accessible campaigns keep you free from legal trouble. There are several international legal frameworks and policies out there that make it absolutely non-negotiable for brands to make their communications and content accessible for people with auditory, visual, cognitive, speech, and physical disabilities. Failing to comply with these laws can land businesses in hot water.
Email Accessibility Best Practices You Need To Implement Now
Keep your email copy crisp and concise. Many people with disabilities use assistive technologies such as screen readers to consume emails. And screen readers don't respond well to long blocks of content which ultimately ruins the reader's user experience. Moreover, if you really want to stay on top of your subscribers' attention spans, word economy is the way forward.
Take a look at this email by Italic. As short and sweet as it gets.
Establish a logical reading order. And no, the presence of visual hierarchy alone won't accomplish this objective. You also have to focus on the development side of things. Since the majority of email templates are coded using tables, it is important that you get the content sequence right- it should have a left to right and top to bottom reading order. Otherwise, the screen reader will interpret the email content for its user in an arbitrary order. A surefire way of preventing this from happening is by designing your emails in a single-column layout. Plus, they look really neat too!

Don't believe us? Check out this email by Brewbike.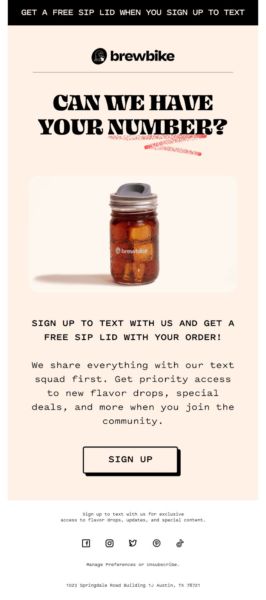 Ensure your alt texts are descriptive to a fault. Screen readers rely on them to interpret images in emails to their users. So, for example, if you have a book placed on a coffee table, don't let your alt text read "book on table". Instead, write "Book titled Man Called Ove placed on a hazel-colored coffee table". Essentially, your alt texts must paint a vivid picture of the image in the minds of your readers. And while we are talking about descriptive alt texts, don't forget to dish out the same treatment to your hyperlinks too. Rather than using vague and generic phrases like "Click Here" and "Find Out More", tell your readers exactly where the link will redirect them to.
Make certain that there exists sufficient contrast between the foreground and background elements of your email. Keep in mind the fact that as many as 2.2 billion people across the globe have vision impairment and act accordingly. If you are facing difficulties determining the optimal color contrast ratio on your own, take the help of online tools such as Contrast Finder, Coolors, Contrast Ratio, and Monsido.
Employ semantic HTML markup in your emails. By doing so, you will be able to specify the meaning of every single element present in them. Now, since the screen reader will have greater context at its disposal, it will be able to facilitate smoother interaction and navigation for the reader.
Some common semantic tags you can consider including in your code are:
– <header> and <paragraph>: These tags improve the structure of your email body. They help the screen reader distinguish flawlessly between the title and body segments of a particular text segment.
-<form>: This tag highlights the presence of a fillable form within the email.
-<button>: If a certain text segment in your email exists as a clickable button, use this tag to alert the screen reader to it.
Add a skip navigation link. Screen readers parse through content in a sequential manner and can't automatically figure out which segments in an email are more important than the rest. However, when there's a skip navigation link present in the email code, users get the choice of navigation directly to the most critical section.
Wrapping It Up
A prominent trend in 2022, email accessibility will continue to be at the core of every business's email marketing strategy in the years to come as well. Take stock of the techniques listed above and make sure that all your campaigns attain the reach and visibility they deserve.
Author Bio
Kevin George is Head of Marketing at Email Uplers, one of the fastest growing custom email design and coding companies, and specializes in crafting professional email templates, PSD to HTML email conversion and free responsive HTML email templates in addition to providing email automation, campaign management, and data integration & migration services. He loves gadgets, bikes, jazz and eats and breathes email marketing. He enjoys sharing his insights and thoughts on email marketing best practices on his blog.
Also read: 7 Essential Tips And Tricks For Getting Better Results With Email Marketing