If you are a fan of sports, particularly watching ESPN, you may have heard about Stephen Anthony Smith. He is an American sports personality, sports journalist and sports radio host. Also, he is a sports commentator for ESPN's show First Take and makes frequent appearances as an NBA analyst on SportsCenter. Currently, his age is fifty-four. Here you can know about how much money Stephen Smith has accumulated over the years because of his career. As he is a journalist for ESPN he makes a lot of money per annum. Interested to know more?
You can find many details about Stephen A Smith's salary. Also, know about his wife.
Where is Stephen a Smith from?
Smith was born in the Bronx, a borough of New York City. He grew up in the Hollis section of Queens and he was the fifth of the sixth children in his family. Unfortunately, he lost his younger brother named Basil in a car accident.
For his education, Smith went to the Fashion Institute of Technology for one year. He also received a basketball scholarship to go to Winston-Salem State University. During his time in college, he played basketball. When he was still on the team he wrote for the university newspaper, The News Argust.
What is Stephen a Smith's net worth?
Stephen A Smith's net worth is $10 million and he gets a salary of $3.5 million. Most of the money he makes through his career in ESPN. Also, Stephen A Smith's salary comes through "The Stephen A Smith Show" on the Sirius XM radio. According to a source he is earning $12 million in total money per year. Also, he earns another $4 million by a production contract. In 2019 he signed a $60 million contract extension with the channel. So it seems Smith is the highest-paid employee of ESPN.
But once he called himself underpaid publicly that led to lots of controversies. He said "I am paid well, but I know I am worth more," and added, "During a negotiation, you get what you can get, and you move on". Therefore it shows that he knows his worth eventhough he is getting a hefty sum for his job. He is trying to get more money from the channel and is still negotiating to earn more.
What is the career of Stephen a Smith?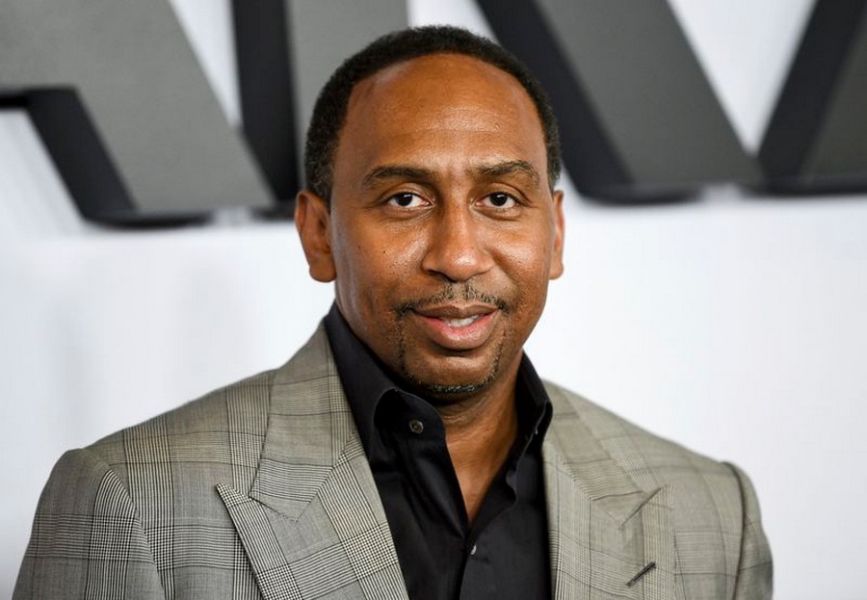 In 2005 Smith started to work for the radio show on WEPN in New York City. But this show came to an end in 2008 and he began to look for opportunities in the television. In 2009 he worked as an on-air contributor to Fox Sports Radio and talked about the story of Allen Iverson's retirement on the Chris Myers–Steve Hartman. After that, he became the host of Fox Sports Radio morning show host. At this time he talked about LeBron James, Dwyane Wade, and Chris Bosh and predicted the act of the players signing the contract with Miami Heat during the 2010 free agency.
Also, he worked as a columnist for ESPN and hosted weekday radio shows. In 2013 he left ESPN to join Sirius XM Radio for the show Chris Russo's Mad Dog Sports Channel. In 2017 he again left Sirius XM Radio and started to work for ESPN.
Currently, Stephen A Smith ESPN is hosting First Take on ESPN along with Molly Qerim. Also, he works as a sports analyst and comments about several subjects related to sports. Many of his comments have become controversial because of his provocative delivery. While in ESPN he has worked in the shows like Quite Frankly with Stephen A Smith's reality series Dream Job, Pardon the Interruption, Jim Rome Is Burning, and more.
Stephen A Smith ventured into acting on the ABC soap opera General Hospital. He appeared as a cameo television reporter. He was a long-time fan of the show. Further, he appeared as Brick at General Hospital. Over time he has made several guest appearances in various shows. The commentator is well known for his most used and popular catchphrases on the show. He uses the word "blasphemous" when he describes something outrageous. He also refers to Green Bay Packers quarterback Aaron Rodgers as a "baaaaaaaad man" and he stretches the sound "a" for many minutes.
Most often he has revealed his hatred towards the Cowboys. He mocks them by saying "How 'Bout Them Cowboys?" a slogan he uses sarcastically. He calls them an accident waiting to happen and also "a damn disgrace". Even a song was made for Smith's hatred towards the Cowboys. Similarly, he has mocked many NFL players. He has talked about how the usage of marijuana is not proper for the players. He has told off many players to not consume weed like Stedman Bailey, Joseph Randle, Josh Gordon, Aldon Smith and more.
What is happening in his personal life?
In 2019 Smith shared that he has two daughters. Their ages are ten and eleven years old. It seems he was once engaged but he has never shared whether he was married or not. He said that his engagement did not work out. But rumours are circulating on social media that says that he is gay. Currently, his relationship status is single.
Once there was speculation whether Smith is dating his co-host Molly Qerim. Rumours spread that Qerim was cheating on her spouse Jalen Rose. They became a hot topic on the internet and Qerim even divorced her husband and the reason for the divorce was said to be her affair with Smith.
Stephen A Smith is filled with his comments about popular happenings in sports. He also comments about matters unrelated to him. Through this, he has earned the hatred of many people on social media. He also updates on the latest developments in sports.
Conclusion
Stephen A Smith is a well-known host of ESPN. He has got caught in many controversies over the years but has remained unaffected by all.
Also read: Are Tiger Woods and Ex-wife Elin Nordegren Back Together?