Sometimes, people laugh at inappropriate situations that irritate others involved in conversations becasue they do not know how to stop laughing during inappropriate times. Such people may feel stressed and suddenly express their feelings by laughing.
This is because laughter is the best medicine to make you feel better and laugh even at bad times. Such a reaction is the best way to relieve stress and tension. But this inappropriate laughing will affect your life.
Thus, you need to reduce or control such an urge to laugh. If you can't control laughing, then you should find some underlying causes to control laughter. Such methods can be discussed here briefly.
Ways To Stop Laughing:
1. Get A Medical Checkup:
The first step for how to stop laughing during inappropriate times is to get a medical checkup to ensure that you are physically and mentally fit. There are several causes of uncontrollable laughter. Thus it is better to consider that it is not the result of mental or physical disorders.
Most causes of inappropriate laughter are easy to treat soon after its diagnosis. Thus, book an appointment with your doctor and get your health checkup.
So, you don't have to suffer continuously in social situations when there is a medical diagnosis and treatment.
2. Controlling Your Urge To Laugh: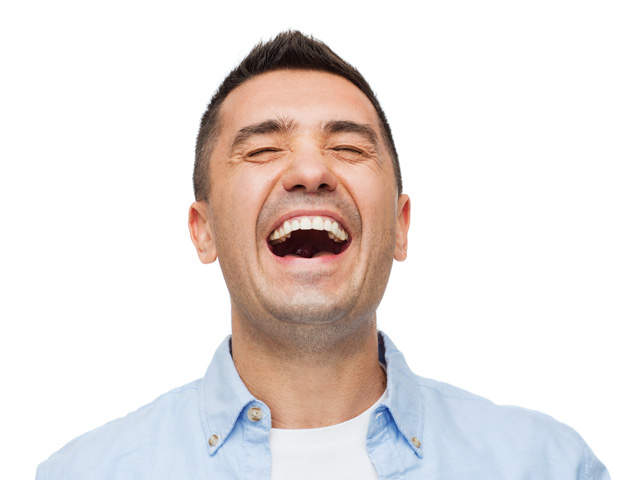 The best way how to stop laughing at inappropriate times is to distract yourself from those situations. You can try the below distractions to control laughing:
Try to pinch yourself. That will cause pain, and thus, you will control laughing.
To control your emotions, you can start counting the numbers backward from 100
Try to make a list o needed things, plan any vacation, watch your favorite movie, etc.
Choose any color and count the spots or things you see in the same color. This will distract your focus from laughter and control your emotions.
This is a great way when compared to other methods, as you can sing a song.
3. Identify What Makes You Laugh And Control:
The best way to control laughing during inappropriate situations is to identify your triggers. Sometimes, you burst into laughs when you feel nervous or when you are feeling uncomfortable. While at sometimes, people might be the reason to make you laugh without any control. Thus, identify your triggers and make a note of them.
Also, note the location, time, people, and situation while you laugh. When it happens repeatedly, you will get the reason behind what makes you laugh.
After identifying the trigger, you can distract your feeling from curbing and laughing. You can choose replacement behaviors to control laughter. For instance, you can
Lick your lips
Take a deep breath
Click a pen
Nod for some times
4. Move To A Isolated Place When You Are About To Feel Laughing:
You can excuse yourself when your laughter strikes before you are about to laugh. You can take a deep breath to calm yourself and curb the laughter. Learn to understand the situation before you start laughing and get the reasons behind the trigger. Thus, you can excuse yourself and try to calm your mind.
It is better to go to the restroom if you are in the office and feel laughter
If you are in an accident scenario, you can walk away from the location
If someone says inappropriate things, leave the ambiance
5. Manage Your Laughter With A Cough, If You Can't Excuse:
This technique works best in several situations before you want to stop laughing. If you are in a place where you can't excuse yourself but still get laughter, you can simply manage it with a coughing sound.
If the laughter continues, you can cough and get an excuse to move to the restroom. Also, you can act like blowing your nose to pretend like you have a cold.
6. Deep Breathing Exercises:
One of the best ways to curb laughter is breathing exercises. No one will get to know that you are taking a deep breath for relaxation. Taking a deep breath will control your mind and emotions and reduce anxiety. As a result, this anxiety will not stimulate your nervous system; thus, you will not laugh at the inappropriate situation.
Through this exercise, you can decide how to long you can breathe in and out to control laughter. Here are the steps that you follow while taking a deep breath:
Firstly, you need to sit comfortably on a chair or floor.
Now, breathe in and count up to five. While breathing through your nose, do this count.
Then, you can breathe out for a count of five. You can even increase the count after understanding your ability on how long you breathe in and out.
Do the above procedure several times to have some relaxation.
7. Practice Yoga:
Another best method to control your laughter is through yoga. Yoga is the best practice for training your body mentally and physically. As a result, the best way to curb laughter is to practice yoga poses that will relax your mind and body.
Even if you practice yoga for five minutes, you will find a difference in your mind and body changes. It depends on how deep you stretch your body, and you will get good results.
When you practice yoga regularly, you will notice
Good changes in your mood
Relaxation of your mind
Proper sleep at night
Focus improvement
People will gain major benefits from practicing yoga and meditation. Thus, you feel comfortable and notice good changes in your body. Thus, practice yoga to help you tune your body to control laughter at inappropriate times.
The Bottom Line:
You can apologize for your actions when you suddenly laugh at serious situations. Still, do you need to be more sure to control your laugh in serious situations? You can talk to someone to express your stress and feelings to feel free in your mind. This will work surely for all, as you are eliminating your stress and problems through words to someone.