We all dread the awkward quiet resulting from having to talk with a total stranger. Maybe you're sitting next to a new coworker at a business dinner. Perhaps you run into a friend of a friend at a wedding. Everyone has a unique way of speaking.If you are outgoing, you can probably slip into any social setting and at least strike up a conversation without feeling too uncomfortable. However, you could shudder under these circumstances if you're more reserved. You can't stop thinking about how badly you want to go away.
Here are 8 wise tricks to help you converse freely and develop your interpersonal communication abilities and talk to anyone:
1. Listen To Understand
Talking to someone is a two-way street. You must listen just as much as you speak. Try not to fill empty periods with talking about yourself all the time when you encounter them. When you say last and listen first, you can never go wrong. Things will flow more freely when you and the person speaking to alternate, taking turns genuinely listening to each other.
There will be more time for you to watch and read individuals. Understanding what prevents you from hearing effectively might help improve your listening abilities. One typical issue is planning our response while the other person is still speaking. People who "listen to understand" are more successful at building and maintaining connections with people than others.
2. Be understanding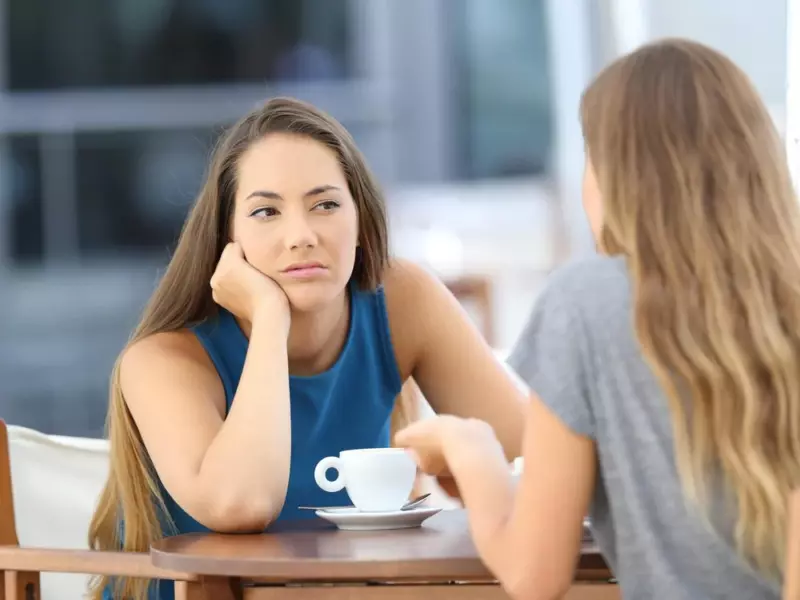 Try to imagine yourself in the speaker's position. People enjoy being seen and heard, so they will feel at ease in your company when you show empathy for them. You'll be able to comprehend people's challenges and the reasons behind their actions when empathetic listening becomes second nature.
The discourse becomes entirely about the other person when empathetic listening is used. You can comprehend what they are saying by putting yourself in their position. It's a strategy that counsellors and psychologists frequently use to assist their patients. It enables the speaker to experience safety, worth, and understanding.
3. Contact with new friends
The objective at this point is to collect their contact information and stay in touch with the person you are speaking with, whether it is a lady, a boy, or just a wonderful person with whom you have a chance to connect personally.
An excellent strategy to stay in touch with them is to end the conversation on a good note. Ask for their phone number or Facebook account without hesitation. It's fun and a terrific way to develop your social skills and make new friends.
4. Know when to stay quiet
Several people would rather have absolutely no talk, especially in restricted spaces like public transit. You might think it's lovely to pass the time during a long, dull flight by conversing with your seatmate.
Take note that your quiet would be appreciated if you receive signals from that passenger to the contrary, though. Bring something to read or do to keep yourself entertained if you find yourself doing this frequently wherever you go to avoid getting bored.
5. Avoid passing judgement
You obstruct genuine dialogue when you make snap judgments about individuals and circumstances. The next time you find yourself conversing with someone, take a step back and evaluate your interactions and views honestly. You must have an open mind if you want to communicate more effectively.
However, when we behave with others, we either embrace or reject someone or something. These opinions can significantly harm our interactions with people and our capacity to build rapport. However, developing a curiosity-based mindset to understand why others act the way they do is a superior communication method.
6. Do not attempt to impress
Most individuals think that having a successful discussion entails leaving a good impression. This isn't truly the case, though. Sometimes, people are interested in you without needing to be necessary. Just express yourself whatever you choose. Most importantly, you are authentic to yourself at the end of the day.
In any case, being interested is the most straightforward approach to becoming intriguing. You will have a lot to talk and new methods to interact with others. And as we've already discussed, you'll indeed create a better impression if you concentrate on paying attention to what other people have to say rather than bragging about how terrific you are.
7. Never presume that others will concur with you.
According to social psychology studies, most of us have an assumed matching bias. It alludes to the mental shortcut that causes us to make the unintentional assumption that other people have similar values, ideas, and views to our own. Don't assume that simply because you like someone, the person you're talking to feels the same way about that person the next time you engage in discussion.
Additionally, don't make others "like" or accept your ideas. Since everyone is entitled to their own, Debates may be entertaining conversation starters, but they can also put you on the wrong foot when you first meet someone and leave you with a bad taste in your mouth. Before making contentious remarks, take a step back and learn about people's ideas if you want to build rapport and talk them.
8. Gain knowledge from each interaction
The person you're speaking to may have travelled and engaged in activities you have yet to undertake or will never launch. You can contribute to your existing perspectives on life or receive new ones from other people. Spend no time and convey your interest to them.
You may increase your understanding of various countries, regions, and cultures with only a listening ear and a curiosity to learn more. With this new knowledge at your disposal, you may also start having more engaging conversations. Additionally, concentrating on the message improves your communication skills. Instead of focusing on how uncomfortable you are or what you'll say next, it directs your attention to the material.
Conclusion
There is no need to overthink a discussion for it to take place. Since words alone cannot constitute a decent discussion, it is genuinely about connecting with the other person based on communication at its core. How to Talk to Anyone is a must-have manual for honing your communication skills and enhancing your social connections in any circumstance. Utilizing conversational tricks is the key.
Also read: A Psychologist's Guide to Parenting a Teenager: What You Need to Know