If you are a movie buff, you must have already watched the Oscar-winning hit action film "RRR," right? Well, then you must be concerned about knowing the RRR box office collection. You will find your long-awaited answer in this article, but you have to stay tuned to us until the end. All thanks to an unprecedented run in Japan, the magnum-opus "RRR" is now just inches away from beating superhit Yash starrer, "KGF Chapter 2."
So naturally, SS Rajamouli's "RRR" is now in such a position that many filmmakers often dream of after their movie releases. Needless to say, the Ram Charan and Jr. NTR starrer magnum opus has created ripples all over the world and has made the audience groove to its songs. This is indeed a proud moment for all Indians. As per the sources, "RRR" is now going to witness an increment in the list of the highest-grossing Indian films ever at the worldwide box office.
In today's article, we shall share some of the interesting aspects of this movie. So along with the net worth, we will also discuss the cast, surprising facts, awards and accolades, and a lot more. Let us take a quick glance!
Some Significant Facts About The Superhit Movie RRR
As per the sources, the award-winning director, SS Rajamouli came across stories about the lives of Rama Raju and Bheem. So he connected the coincidences between them, imagining what would have happened if they met and been friends. Therefore, they began filming in November 2018 in Hyderabad. However, due to the Covid-19 pandemic, there were delays in the shooting and they took time to wrap up.
The shooting took place extensively across India with a few sequences filmed in Ukraine and Bulgaria. Rajamouli left no stone unturned to make his film a commercial success in both India and worldwide. In fact, the film's soundtrack and background score were composed by maestros like M.M. Keeravani. The cinematography was done by K.K. Senthil Kumar and the editing was done by A. Sreekar Prasad. The visual effects which left the audience gaping were supervised by V. Srinivas Mohan. Now let us look into some significant details about the casting of the film in the next section.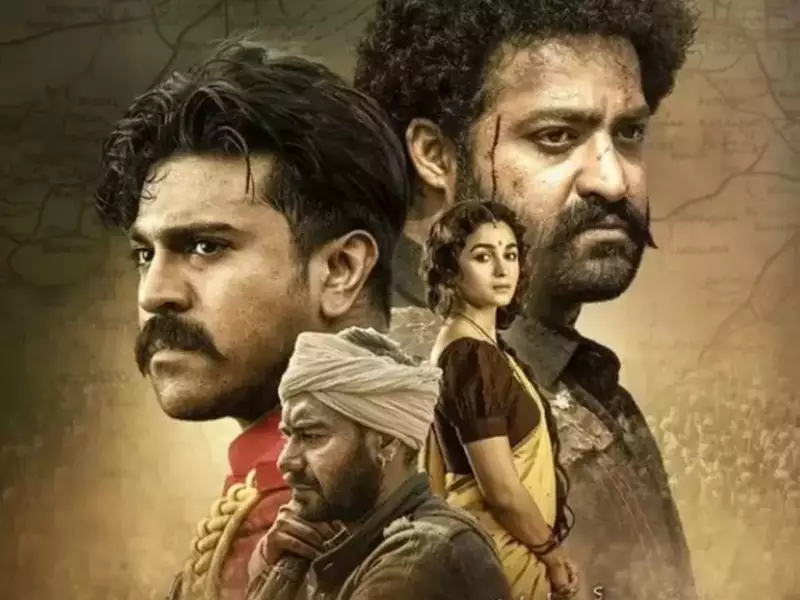 Who Were The Cast Of The Film?
If you are among those who have watched the movie, will know all about the cast members. However, for all those who are unaware of the casting of the movie, we shall discuss all the relevant details here. The movie consisted of some of the highest-paid actors and actresses in the South Indian film industry. All in all, it was a total entertainment package with some of the hit songs and stunning dances. Now let us discuss the casting details down below.
The lead roles were played by N. T. Rama Rao Jr. as Komaram Bheem, a Gond tribal leader from Telangana, and Ram Charan as Alluri Sitarama Raju, a revolutionary leader from Andra Pradesh. Bollywood actors were also a part of the magnum opus. So Ajay Devgn played the role of Alluri Venkatarama Raju, who was Sitarama Raju's father. At the same time, the Bollywood queen, Alia Bhat starred in the role of Sita who was Sitarama Raju's fiance.
As per the sources, the other cast members with minor roles were Shriya Saran as Sarojini, Sitarama Raju's mother, Chatrapati Sekhar as Jangu, Bheem's companion, Rahul Ramakrishna as Lachu, and many more. In fact, there were lots of British actors and actresses. They were, Ray Stevenson as Governor Scott Buxton, Alison Doody as Catherine Buxton, Edward Sonnenblick as Edward, and a few others. The award-winning director also made a special appearance at the end of the film in a dance sequence with other lead actors. 
Was It A Box Office Success?
Well, this question is probably a self-answerable one, isn't it? As you know, South Indian films are always full-on entertainment packages. Be it Bahubali or KGF franchise, Tollywood has always taken Indian films to new heights, thereby setting new records every time. However, this time "RRR" exceeded our expectations when it won the most prestigious awards for its all-time fan favorite "Naatu Naatu" song.
If you have watched the movie or listened to the song, you will know why people go crazy when they hear this song. All thanks to M.M. Keeravani for coming up with this phenomenal composition. At the same time, we cannot overlook the contribution of the two lead actors, Ram Charan and Jr. N.T.R.'s mind-blowing dance performance. This made the audience groove their bodies to the song.
As per the sources, "RRR" is estimated to have grossed between 1,200 crores to 1,258 crores worldwide. In fact, during its theatrical run, "RRR" became the third-highest-grossing Indian film, and also the second-highest-grossing Telegu film. This movie also surpassed Rajamouli's previous blockbuster, "Bahubali 2."
However, it is now again going to set a new record in the Indian film industry, and all thanks to Japan's release. Now the film is going to witness an increment in the list of the highest-grossing Indian films ever at the worldwide box office. Currently, "RRR" stands at the fourth position above Shah Rukh Khan's blockbuster "Pathaan." So if you are wondering about RRR's box office collection, you probably have an idea by now.
How Much Has The Movie Amassed Presently?
As we said earlier, "RRR" is estimated to have already amassed between 1200 crores to 1258 crores. Well, all thanks to the outstanding plot and the flawless direction along with the contribution of all the cast and crew members.
So as per the recent update, this movie has earned a whopping 80 crores gross at the Japan box office. Therefore, the worldwide collection goes up to 1224 crores to be exact. In fact, it is just six crores away from "KGF Chapter 2" (1230 crores). It can also be understood by a child that it will easily set a new record within the next few days by surpassing it.
Therefore, the day, this blockbuster surpasses "KGF Chapter 2" it will become the third highest-grossing Indian film at the worldwide box office. As per the sources, currently, "Dangal" is in the first position with 1970 crores. It is followed by "Baahubali 2" in the second spot with 1800 crores.
Needless to say, beating "KGF Chapter 2" will indeed be a big deal for Rajamouli's recent film "RRR." So if you were so long thinking about RRR's box office collection, you have your answer here. You can keep a track of the increasing box office collection after the new figures come out of its commercial success in Japan.
Ending Note
Nowadays, there are very few Indian films that get an opportunity to showcase their content on international platforms like the Emmy and Academy Awards. So when it receives such recognition, Indian fans will indeed be overjoyed and elated. "RRR" has made the impossible possible by representing Indian content on international platforms. The entire cast and crew have made countless Indians proud by bringing home both Emmys and Oscars for Best Original Composition, "Naatu Naatu" song. Rajamouli has always exceeded our expectations through his flawless direction and stunning visual effects. We eagerly wait for his new releases that would take Indian content to the next level. 
ALso read: Box Office Earnings for Black Panther: Wakanda Forever Exceed $300 Million