Back Massages are a great way to relax. It helps your back muscles relax and relieve the pressure that is built -up in the area. Further, many people find back massages to be therapeutic. So, how to give a back massage? Why do you need back massages?
Continue to read this article to find answers to these questions and many more.
What do You Call As Back?
Simply put, a back massage is a massage that targets the back or posterior side of a person's torso. The back region of a person is the area from just above the buttock to below the neck. Most people get back pain when they are involved in intense activities. At the same time, back pain is a common complaint among middle age and old people. So, one best ways that you can adopt to relieve this pain is to get a good massage.
Now, this raises the question of what a back massage is.
What do You Mean by A Back Massage?
A back massage is one where the back of the person is targeted. This type of massage primarily aims to relax an individual's back muscles. Further, the most common area to be massaged is the lumbar region and sacrum. A trained massage therapist would use their hands and fingers to apply pressure on certain points of the area. Usually, the person is asked to lie down on a table with a cushion while getting a back massage. A pillow supports your head. Once you are comfortable, massage begins. Further, during a massage, it is a general practice to use oils to help relax the muscles. So in case you have any allergies, please inform the person beforehand.
How to do A Back Massage Properly?
Usually, it is advisable to get a massage for a person who knows how to do it. Professional massage therapists can be found in hospitals and spas. A back massage can be given in various ways, but a good back massage includes two basic techniques. It involves kneading and pressing.
The kneading technique is something where a person uses their palm to rub the skin of a person gently. On the other hand, the pressing technique in a massage involves using your hands to push hard against the skin. Some massage therapists use one technique, while others can adopt both. However, regardless of your technique, don't apply direct pressure to the spine. Avoid putting pressure on the spine while giving a massage, as it can be uncomfortable. A common practice would be to apply pressure to the muscles around the spine.
What are The Benefits of Getting A Back Massage Done?
Here is a list of benefits or advantages of getting a back massage: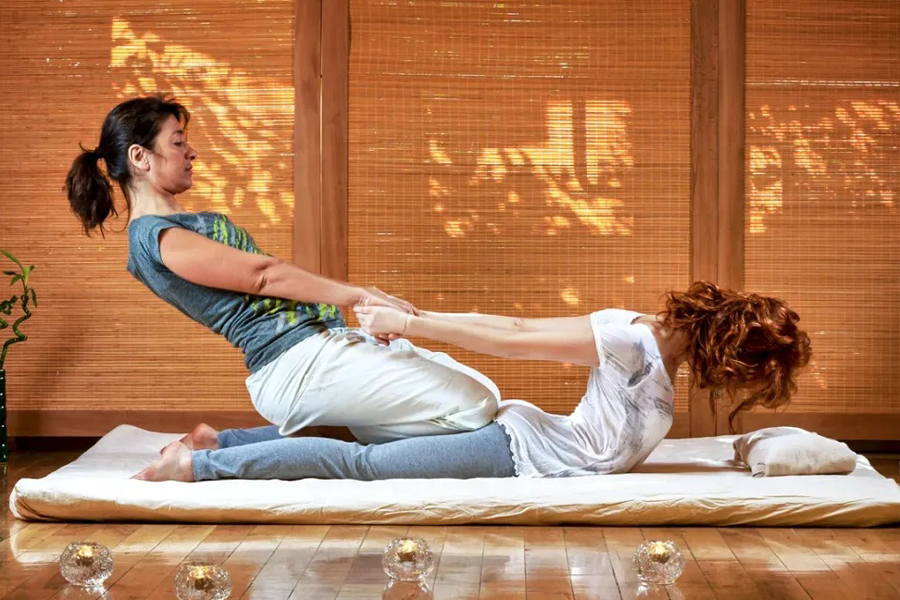 Helps Relieve Pressure and Tension
The first important benefit of a massage is that it helps reduce tension and pressure. Most people who work throughout the day at the office get back pain. So, a good massage will help relax the pressure built up in this region and relax.
Good Blood Circulation
The next important benefit of a massage is to improve blood circulation. As a person age, they lose their body's elasticity. This is the main reason for stiffness in their blood vessels. As the blood vessels get stiff, it affects the blood flow throughout the body. So, a good massage reduces blood vessel stiffness and improves circulation.
Improves Health
As stated earlier, a good massage helps muscles relax. Further, they also prevent the stiffness of blood vessels and improve circulation. Both these factors contribute to good health as they prevent future problems such as arthritis caused by poor circulation.
Helps with The Pain
The most important benefit of a massage is reducing pain. A good massage will help a person suffering from chronic pain.
A Good Sleep
Finally, the last benefit of a massage is good sleep. A massage helps the muscles relax, especially the ones around the neck and shoulder. Therefore, a good massage before bed is the best way to get good sleep and feel relaxed.
Apart from the above-mentioned five benefits, back massage helps increase energy level and prevent injury.
Tips for Getting A Good Back Massage
Before you start a back massage, make sure you are comfortable. Because when you are uncomfortable, then it is hard to relax
Next, choose an appropriate time of the day to get a back massage. Usually, getting a massage before bedtime is the best way to relax and sleep well.
Always wear loose clothes during a massage and after a massage. This way, you will not restrict your muscles and let them breathe.
Finally, remember to use warm oil for your massage. A warm oil increases the temperature of the skin and helps it relax.
Bottom Line
To sum it up, a back massage is a great idea for you to relax. A good massage carries many health benefits. This article has shared everything you need to know about it.
Also read: What is Sensual Massage? The Best Sensual Massage That Your Partner Never Forget it