Motherhood is always a very special journey for every woman, isn't it? So, whether a woman is a celebrity or a commoner, the feeling is the same for everyone. Pretty recently, what has won our hearts is the lovey-dovey picture of Mollie King and her fiance Stuart Broad enjoying their blissful period of becoming parents for the first time. The pretty celebrity shared the exciting news with her fans alongside a picture of her cricketer fiance kissing her baby bump.
The picture shows how happy and excited they are to become parents for the first time. It also reveals that the celebrity couple is head over heels in love with each other. Needless to say, just as the news became public several people started congratulating them. So would you like to know more about Mollie King's journey of becoming a mother? Let us share with you the details!
A Short Bio of Mollie King
If you are a pop song lover, you must have heard Mollie King's songs. Yes, you guessed it right, she is an English pop singer and a member of the girl group The Saturdays. Needless to say, as a member of that band, King has had 13 Top 10 and eight Top 5 singles. This also includes the UK number-one hit song "What About Us."
Mollie King was born on 4th June 1987 in Wandsworth, London. She was the youngest of her three siblings. The pretty singer also loved skiing in her childhood days. In fact, she later raced for Great Britain as one of the youngest on the team. Before becoming a singer, King had even thought of taking up skiing professionally.
As per the sources, King was also a part of another girl group Fallen Angelz before joining The Saturdays. She also appeared in the popular show The X Factor and was a part of the Fallen Angelz group.
Moreover, in 2017, King was the first contestant for that year's series of BBC's "Strictly Come Dancing." She finished in fifth place in this show. The singer announced that she would join Matt Edmondson to co-host a show for BBC Radio 1. As per the sources, King has also signed a solo deal with Island Records.
Mollie King's Personal Life: Who is Her Partner?
In January 2010, King announced on her social media platforms that she was in a relationship with Lawson member Andy Brown. However, the couple broke up after a year in 2011. As per the sources, after their breakup, Andy Brown also wrote songs like "When She Was Mine" and "Standing in the Dark."
After her break-up with Brown, she started dating supermodel David Gandy. However, this also came to an end in 2012. Even though they rekindled it again in 2014, they finally broke up in 2016. King is presently engaged to England cricketer Stuart Broad. The cricketer proposed to her in January 2021. Currently, she is expecting a baby with Broad.
Needless to say, Stuart Broad, 34, is one of the country's best-ever bowlers. He has also currently celebrated his 500th test wicket last summer. Therefore, we can indeed say that they are some of the famous celebrity couples who are now dating.
Mollie King Spends Some of The Blissful Moments with Her Partner During Her Pregnancy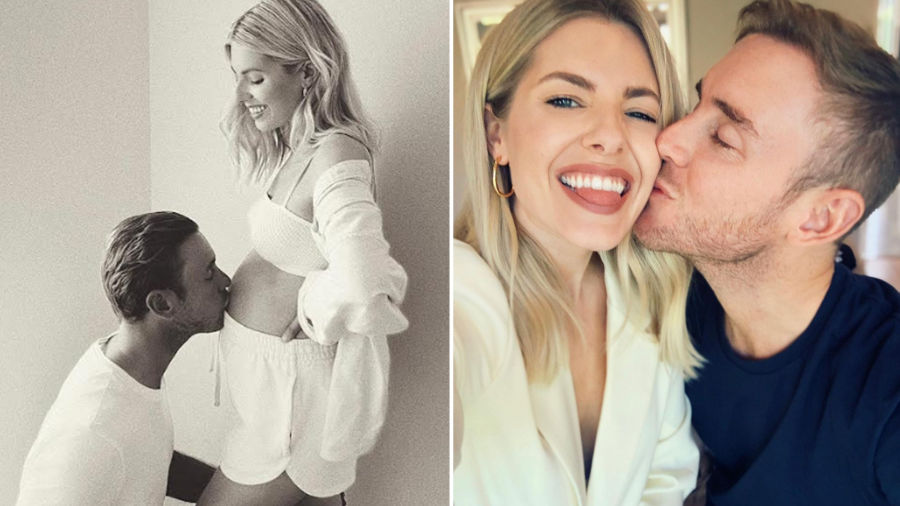 Mollie recently announced that she and her partner Stuart Broad are expecting their first child together. "Stuart and I are so happy to share that we're expecting a baby later this year! We're absolutely over the moon," she says. Some of her closest friends rushed in to congratulate the couple on this news.
The handsome cricketer Stuart got down on one knee on New Year's Day in 2021 while out for a walk with their dog on Richmond Hill. This was nearly after three years of staying together with each other. The pretty singer shared the news with a picture of the couple kissing, and she wrote: "A thousand times Yes! I still can't believe it, the most magical start to the new year! I can't wait to spend all my years with you." Needless to say, she was very excited.
As per the sources, the couple started dating in 2018 but briefly split for five months in August 2018 before reuniting in February 2019. Stuart and Mollie started living together since lockdown with their dog Alfie. Often they used to upload pictures of their blissful domestic life.
Did The Couple Set A Wedding Date?
As per the latest updates, the celebrity couple is yet to fix their wedding date. Even though both Mollie and Stuart had plans to marry each other, due to the pandemic, they were unable to finalize anything.
The couple had already become engaged last year in a private ceremony. We are hoping that they will tie the knot later this year. Now that Mollie is pregnant, it will be difficult for them to plan anything. So you can even expect the couple to delay their nuptials even further. There are high chances that they will probably think about it after the birth of their child. We wish them happiness in the future.
How Much Do You Think The Couple's Current Net Worth Is?
According to the sources, the couple is doing well in their professional lives. They have already planned for their future life and accordingly made savings. Last year we came to know that the couple has a combined fortune of 20 million pounds.
Mollie is still going strong with her band, The Saturdays. She herself has made a fortune of over 2 million pounds. Her company Girl About Town Ventures Ltd, is also doing well and is worth over half a million. Meanwhile, the 33-year-old celebrity singer owns a designer flat worth one million pounds. This is near her home in London.
Needless to say, her fiance Stuart Broad is also pretty well off. Since he is a cricketer, he earns a good living. We hope they can support each other in this way in the future. 
Ending Note
So as we conclude, we can say that both Mollie and Stuart are presently having some of the best moments of their lives. Becoming parents is one of the things that bring in unparalleled joy. Especially if it is the first time, the thrill and happiness are profound. Therefore, we can indeed say that the couple is currently enjoying the best phase of their lives.
Also Read: Azriel Clary was Aggressive in First Interview with Gayle King: Here is Why