Reyansh Gaur (D.O.B–05/08/2010) at the age of 9 years achieved top positions in most of the fields till 2020. A Super, Multi-talented, Extraordinary child. India Book of Records__Record Holder( Highest Kick, 360-degree Tae-kwondo ) and BLACK BELT. He is the only child in India having this Title of Records. Medalist in sports Tae-kwondo and Athletic-Race. Won number of Trophies and medals in Dance. Drawing and Sketches selected/exhibited on exhibitions. Creative Writing selected as well as published on website and book. Also interested in Swimming and Skating do practices on the weekend. Academic Excellency Topper every year and Gold medals/Excellence in all other educational activities. Reyansh Multi-Tasking abilities make him Most Versatile Kid in INDIA.
Media TV/Print
Reyansh on childhood is always very curious about doing and learning new things. He got involved most of the activities, his hard work and passion make him be successful in all. Reyansh holding many awards with respect to many fields such as Sports, Dance, Art, Education, and Extra activities, etc. Numbers of National/State/City NEWS channels and Newspapers have telecast-ed or published achievements of multi-talented Reyansh.
Zee Business, News 18, MPTAK-Aaj Tak, Star News, India News, Local News TV [ All News ], Danik Bhaskar, Haribhoomi, RajExpress, Hitvada, etc …..[ All Newspaper ]
StarKid, Multi-Talented, Artist, and Creative Reyansh Gaur best Achievements in 2019-2020 have brought glory to Madhya Pradesh in India.
Big Day July 2019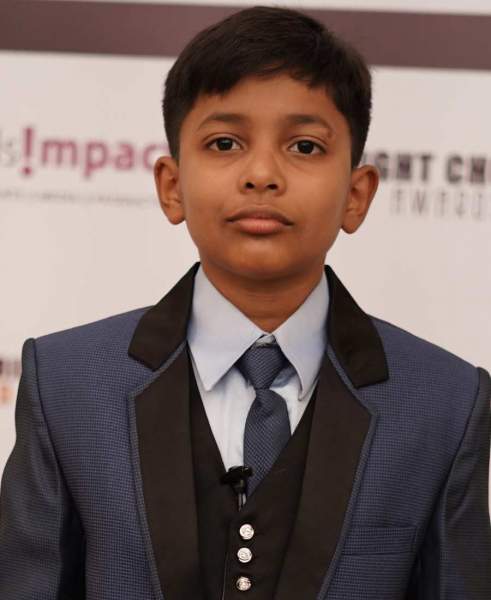 The achievement of 8-year-old Reyansh Gaur is amazing. Jabalpur-born Reyansh's name has been registered in the India Book of Records, which is governed by the rules of the Asia Book of Records. Reyansh has recorded his name in July 2019, recording a record in the highest kick-360 degrees. Reyansh is the only child in India who has recorded this record title.
Awards
In November 2019, Reyansh Gaur was awarded the India Glory Award in Jaipur. The award was conferred by TV and film actor Phool Singh and other great personalities. In this award function, TV film actors, actresses, film and TV producers, politicians, social activists, doctors, I.A.S, Great celebrities like officers were involved. Reyansh Gaur also captivated everyone by showing her dance performance in this award function.
National Excellence/Rashtriya Ratan Award in New Delhi in November 2019 Awarded for outstanding achievements and outstanding performance.
The award was conferred by Delhi Pradesh Congress General Secretary Anurudh Lal, Bollywood actor Kunal Singh Rajput and other great personalities. This award function included great celebrities like film actors, actresses, models, film producers, politicians, social activists.
The International Kalam Golden Awards – Best Achiever of the Year in Chennai was presented by the 2019 Kalam Book of Records (World Records) in October 2019.
National Award 2019 to Reyansh was given by All India Engineering Students Organization (E.S.O. India) in Jabalpur. This Honour was given by  National Chairman (E.S.O India) Praveen Singh- State Executive Member Bhartiya Janta Party and Dr. Poonam Prasad at Jabalpur.
Reyansh Gaur was awarded the Pride of India Education Award – Best Student of the Year in Delhi 2020 for her outstanding performance in the field of education and other activities. The award was awarded to Reyansh Gaur from the hands of noted celebrity Mandira Bedi. Many personalities like C.E.O, Doctors, School Principals, College Deans were honored in this function. In this award function, the youngest was 9-year-old Reyansh, who was given this award among all the great personalities.
Reyansh Gaur was awarded the Student of the Year 2019 Award for Life India Corporation and Radio FM 93 .5 for his outstanding performance in his field of education.
He has been awarded the Best Athletic of the Year 2019 on behalf of her school at Jabalpur.
Reyansh also made his place in Whiz Spellbee by earning the Gold medal at the state in 2019 November.
Appointment as Brand Ambassador
Reyansh Gaur has recently been appointed as Hovar Robotics (Ludhiana, Punjab) and Mentorox's International Youth Brand Ambassador in 2020. SP entertainment Event Organizers also appointed him as brand ambassador 2020 of Indian pageant event. Invited as celebrity Guest for fashions show programs.
9-year-old Reyansh always works hard and busy with lots of activities. Reyansh had been mastered in dance, writing, drawing, Roller skating, piano, swimming, taekwondo. From the age of 6, Reyansh started learning dance and received many awards in his dance journey. He performs hip hop and Bollywood dance. He makes paintings and sketches in the drawing. His art has been selected and displayed in Mumbai and Pune Exhibitions. Reyansh has completed his black belt degree in Taekwondo in 2018 and won medals in State and District Competitions of Taekwondo.
Reyansh's article has been selected in many places. Articles have been displayed on websites like Monomosumi and Khula Aasmaan website online. His article also published in Cocktail Creative book, which is available on big online shopping websites like Amazon and Flipkart. Besides being a topper in studies, he also has an interest in swimming and skating too, which he practices during weekends. It's very amazing of Reyansh that he started his first learning in swimming in the river.
He loves English songs and also sings well. Maybe you guys are wondering how this young child here can flourish in so many activities. Yes, Reyansh is multi-talented and do all things under systemic ways and in combinations. He follows a smart set of proper time management. Where kids nowadays spending their time on TV and mobiles. Here Reyansh uses the time to learn new things and to improve in what already achieved.
Today's Reyansh upcoming star Talent is becoming ideal for Parents and kids. At the little age attending top positions in many fields make him Most Versatile Kid in India. Also, he has got fame and well know the kid. Every child has talents in it only the thing is to get it to recognize. Every parent has to give time to their kids and focus on their activities. 
This article was contributed to Gud Story by Sunita Gaur. If you have anything to share, Feel free to write to us on admin@gudstory.com
Also read: The Boys Season 2 Release Date, Story, and Cast Details