Many models opt for plastic surgeries to enhance their beauty. Nikita Dragun, an American social media star who became popular for posting beauty tutorials underwent lots of surgeries. Now she has become an Instagram star. She has over 3.6 million followers. She made her TikTok account in mid-2020 and on this platform she is famous. With her original videos and various collaborations, she garnered lots of fans and bagged the Best in Beauty award. Now Nikita Dragun age is twenty-five
At age five Nikita discovered that she was transgender. Then she gradually transitioned to become a woman. Now at age 24, she has become an Instagram model. So she is proud of how she is now. Nikita Dragun plastic surgery has helped her to feel even more beautiful. Find all the details about Nikita Dragun before and after Plastic surgery here.
Is Nikita Dragun Trans? 
Nikita Dragun is from Belgium. She went to high school in Virginia. Also, she is of Vietnamese and Mexican descent. Then she revealed herself as a trans woman in her teenage years. In many of her Youtube videos, she has shared about her transition.
Later Dragun moved to Los Angeles. Then she studied at the Fashion Institute of Design & Merchandising. She got her business degree.
Dragun joined Youtube in February 2013. From then onwards she started to get many brand deals. So she began to take her social media career seriously. Then in 2015, she came out as transgender. In 2019 she started the makeup line called Dragun Beauty. The main people who will benefit from her brand are transgender women. Also, the products she sells are cruelty-free and vegan.
Further, Dragun is going to star in the docuseries on Snapchat titled "Nikita Unfiltered". The series is about her life, career, and her search for love. It began streaming on 21 March 2020.
Nikita Dragun before plastic surgery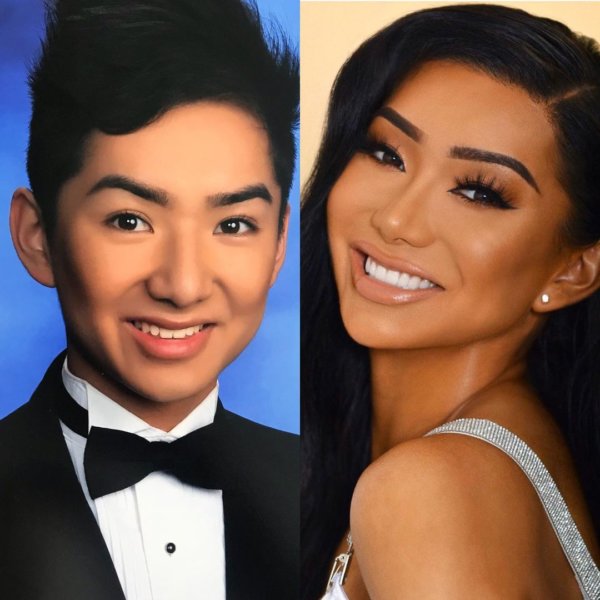 Nikita has shared that her body has changed after four years. Now after the plastic surgery, she feels beautiful. She thinks that she is home after many years. Dragun has documented everything about her transformation in her Youtube videos. She has shared every little change that happened to her body. Now she is Trans and proud of it. She feels visible. Further, she also shared that she and other Trans deserved to be treated equally. That is why she always supports the Trans family.
In a Youtube video titled "Have I Gotten THE Surgery…," Nikita has talked about her transition and hormone therapy. She shared that she is addicted to plastic surgery. The difficult part of her change was the hormone therapy. The transition in her appearance made her criticize her own body. This led her to hide the flaws with cosmetic procedures. 
Some of the surgeries she underwent are in her brow bone, nose job, breast implants, jaw, and more. Everything was painful for her but she did it because she wanted to look beautiful. She felt immense pressure to become a woman and look like one. Only after the surgery, she felt confident.
Nikita's before and after photos are proof of how far she has come in life. In the before photos, she has lots of band-aids on her face. But now she looks gorgeous. In every angle, she looks like a woman.
Nikita Dragun after plastic surgery
Today Nikita is living the best life she has always dreamed of. But she hates it when people ask her many questions about her surgery. She thinks that being a woman is great as it takes a lot of courage to live in this society as a woman. After her transition, she thanked the people in her life who supported her.
Particularly she is very grateful for her mother and father who appreciated her for who she is. They accepted her change and helped her in the transition. Recently on her Youtube in March 2021, she candidly shared about her Rhinoplasty surgery. This was her second nose job as she is always insecure about her nose. Now there are many pictures of her in her Instagram account that has her before and after pics.
Dating and relationship
In 2020 Dragun posted a picture with a mystery man and his name was Chase Stobbe. This stirred the rumors in social media about the two dating. This happened after her Twitter feud with her ex Michael Yerger.
It was revealed that Dragun has paid Michael Yerger to act as her boyfriend. They made everyone think that they were dating. Their fake relationship ended in 2019. Nikita Dragun shared that she broke up with Yerger because he cheated on her. But Yerger said that their relationship was fake from the start so he did not feel committed to her. He shared that the relationship only helped him to get famous. His response shocked many people.
What is the net worth of Nikita?
As a transgender social media influencer, Nikita Dragun has a lot of popularity from her fans. Her videos have inspired many people who were hesitant to come out. She has boosted the confidence levels of Trans people. Her net worth is $3 million. Also, her annual salary is $500 k. With her makeup tutorials, challenge videos, and vlogs she has over 3.6 million subscribers on her Youtube channel.
Dragun has appeared in many shows such as Escape from Night, The Real Housewives of Beverly Hills, and more. Also, she has starred in many music videos. According to the sources she has a large house in Los Angeles and owns a Ford car worth $40,000.
Conclusion
Nikita Dragun has a career in social media. She is also appearing in many shows. After her plastic surgery, she is living the best life.
You may also like: