In the first place, plumbing is one of the innovative and essential inventions of modern times. The plumbing system does make sure that there is availability of water all around the house. In addition to this, the modern plumbing system ensures that is no cross-contamination. In other words, these days we have separate pipes for both portable and used water flow. So, it allows for safe and clean use of water.
Further, these days we find pipes made of various materials. Some of these pipes stand out for their quality, function, and durability. One such pipe that we will be discussing here is the PEX pipe.
What is a PEX pipe?
The letter PEX stands for cross-linked polyethylene. In other words, a PEX is short for polyethylene pipes. These types of pipes are used for various purposes. The common use of PEX piping is plumbing. In addition to this, they are also used for cooling and heating systems as a means of providing insulation.
The best feature of PEX plumbing pipe is its flexible nature. It can be bent, twisted, and lightly crushed without causing much damage to it. Furthermore, the pipe can easily be brought back to its original shape by applying heat. Let's learn more about PEX pipe in the latter part of the article.
Also read: 7 Plumbing Maintenance Tips for Your Commercial Building! 
Significant features of a PEX pipe
PEX pipe is very popular in the market. But what makes them so popular? What are the features of a PEX pipe that stand out?
Let's consider one feature of PEX pipe at a time to know more about it.
1. Different colors of the pipe 
The first and most important feature of a PEX piping is that it is color-coded. In other words, the pipe is available in three different colors namely, red, blue, and white. The red pipe is used for hot water, whereas a blue one is for cold. However, the white pipe can be used for both hot and cold. Also, there is no quality difference between these pipes, it is just color-coded to meet industry standards. 
2. The adaptability of the pipe
The next important feature of the PEX piping is flexibility. The pipe is very flexible and can be attached to various things. These types of pipes are the same in terms of diameter and size. Hence, they can be used easily to attach to the primary source of water to let the water flow through the house. Also, the pipe can easily pass through walls and underground to reach any opening. 
3. Makes less sound
The third significant feature of the PEX plumbing pipe is that it makes less sound. Usually, when you use a steel or copper pipe for a plumbing system they make heavy noise when water flows through it. This type of noise is called a plumber hammer noise. However, the noise is not only unpleasant they also cause damage to the plumbing system over time. This can be avoided to some extent by using PEX pipe. The water transported through this pipe is silent as they are flexible and pressure resistant. 
4. There is no need for soldering 
The last significant feature of a PEX pipe is that they don't need soldering. When you need to transport water from the main source small pipes are connected to it mainly through soldering. But in the case of PEX pipes, they can be connected to the primary source without any soldering.
The flexible feature of the PEX plumbing pipe makes it easy to connect to the main source with small adjustments. They need something called fitting to get securely attached to the main source and transport water. 
Benefits of PEX piping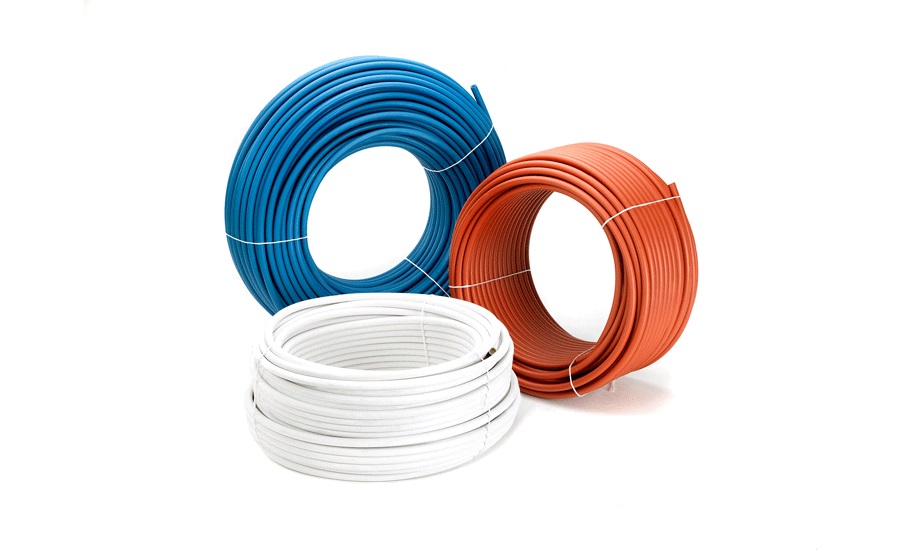 The main benefit of PEX plumbing pipes is no doubt being flexible. Further, the pipe is made of such material that it can easily be twisted and bent. This feature of the pipe allows it to be used for multiple reasons. Also, the flexible nature of the pipe helps in connecting the water to the main source to different fixtures. It can easily pass through walls to reach different parts of the home. 
Apart from this, one other benefit of the pipe is that it requires no soldering. the pipes can be fixed and attached through fittings and minor adjustments. This pipe feature makes it an ideal choice for people who like to do their work alone.
Coming to the cost of PEX pipe it is less in comparison to other materials. Usually, copper and steel pipes cost three times more than PEX piping. Also, the color-coding of the pipe makes it easy to identify the type of water that is flowing through it. Finally, the most important benefit of PEX is the lack of corrosion. This type of pipe doesn't get damaged, leading to, leading there is corrosive proof. So, that makes them last longer and a durable plumbing solution available on the market. 
Drawbacks of PEX piping
Lastly, let's check what are the drawbacks with PEX plumbing pipe. There are two cons when it comes to this type of piping. One they are not suitable for outdoor use. The pipe can break due to exposure to sunlight and UV rays, so they cannot be used outdoors.
Apart from this, PEX piping cannot be recycled. The material composition of PEX is such that it doesn't melt like other plastic materials.
Bottom line
To sum it up, PEX piping is excellent for plumbing systems. They are flexible and pressure resistant. Also, a PEX plumbing pipe has various benefits. Here in the article, we have listed pipe features, benefits, and drawbacks to help you make an informed decision. 
Also read: Guide on How to Choose The Right PVC Pipe