On October 22, 2013, Philip Chism, a ninth-grader at Danvers High School in Massachusetts, did the unthinkable. He brutalized Colleen Ritzer, his 24-year-old maths teacher, while he was only 14 years old. Ritzer, who was allegedly happy and always went out of her way to help her children with maths, had requested Chism to remain after school on that fateful day in October. She was unaware of the conspiracy that Chism had set into motion days earlier.
Philip Chism followed Ritzer into a school lavatory at the day's end. She was robbed, raped, and killed by Chism using a box cutter. He then carried her body to the woods behind the school while still inside a rubbish can. Then Chism drove into town and purchased a movie ticket with Ritzer's credit card.
Chism was apprehended by police the following morning; his hands were still covered with Ritzer's blood.
Know About Philip Chism?
21 January 1999 marked Philip Chism's birth. Chism had just relocated from Tennessee to Danvers, Massachusetts, and at the time of the 2013–2014 school year, his only real reputation at the school was as a talented football player. In one report, he was described as "anti-social" and "really tired and out of it." Additionally, it was claimed that at the time of the murder, his mother was going through a challenging divorce.
Ritzer, on the other hand, was a well-liked professor. She was always upbeat and pleasant, according to one of the students. They stated in New York that "she made me feel that I wanted to go to maths class."
Chism was no different for her, either. After class, Ritzer complimented Chism on his sketching abilities, and a student overheard her asking him to remain after school so she could help him study for an exam.
According to Boston Magazine, when Ritzer brought up his relocation from Tennessee, Chism reportedly became furio
us. Ritzer switched the subject as a result, but the student witness afterward heard Chism appear to be talking to himself.
A few hours later, he did the unthinkable!
The Brutal Murder Case Of Colleen Ritzer
On the morning of October 22, 2013, the recently-installed security camera system at Danvers High School captured 14-year-old Chism coming to school with multiple bags, which he then placed in his locker. A box cutter, mask, gloves, and extra clothes were all among his baggage.
According to school security footage, the New York Times said that at roughly 2:54 p.m., Ritzer could be seen leaving the classroom and heading to the women's restroom on the second floor.
Chism followed Ritzer into the same lavatory and put on his gloves. Then, Chism can be seen entering the hallway while glancing her way. He then quickly returns to the classroom before appearing surprisedly with a hood over his head.
Ritzer was then raped and stabbed 16 times in the neck with the box cutter by Chism after he had stolen her credit cards, iPhone, and knickers. A female student once went into the lavatory, but when she saw someone who was only partially clad and had a pile of clothes on the floor, she swiftly fled, believing they were getting changed.
Get Into The Depth Of The Murder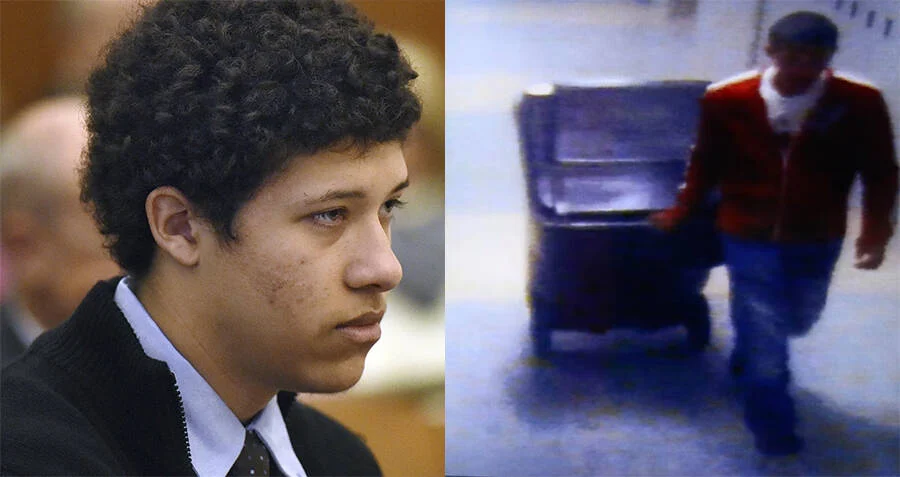 Chism was seen wearing various clothing throughout the incident, which the police later claimed demonstrated how he had planned the murder. Chism came from the restroom at 3:07 p.m. wearing a hood and made his way to the parking lot. A brand-new white T-shirt was on him when he returned two minutes later.
Chism returned to the school wearing a second red hooded sweatshirt over his head. At 3:16 p.m., he made a return visit while pulling a recycling can. He reappeared wearing the white T-shirt and the black mask, dragging the bin behind Ritzer's body towards the lift and then out of the building.
He dragged the trash can to the woods behind the school, where he once more raped Ritzer's motionless body—this time with a tree branch.
The gruesome fashion show was finished when cameras saw Chism returning to the school while carrying a pair of bloodied jeans and donning a black top and glasses.
Justice for Ritzer's Family 
Ritzer and Chism were reported missing when they failed to come home from school. Police discovered blood near the cross-country trail in the woods behind the school, in Ritzer's bag, in the bloodied recycle can, and in the lavatory after speaking with faculty and employees.
By 11:45 p.m., the footage of CCTV m had been obtained, and Chism had been named a suspect. Meanwhile, Chism purchased a movie ticket using Ritzer's credit card and left the theatre to rob a knife from a different shop. He was detained by police at 12:30 a.m. after a routine safety call while wandering along a darkened highway outside of Danvers.
Ritzer's credit card and driver's licence were discovered during a frisk examination of Chism for identification. Ritzer's wallet, pants, and the box cutter smeared in dried blood were discovered when Chism was taken to the neighborhood station and had his backpack checked.
On A Wrap
According to court records, Chism allegedly responded, "It's the girl's," when asked whose blood it was. When questioned if he knew where she was, he replied terrifyingly, "She's buried in the woods."
Ritzer's half-naked body was found covered in leaves and next to a pair of dirty white gloves by police around 3 a.m. A folded, handwritten message that said, "I hate you all," had to be removed from her vagina.
Philip Chism was charged with killing Colleen Ritzer, raping her violently, and robbing her of her belongings. He was convicted as an adult and given a minimum 40-year prison term on February 26, 2016.
Also read: The Murder of Emma Walker By Riley Gaul, Her Boyfriend!