Who said girls could not play games? In the first place, there's no game out there in the world that's defined by 'gender.' Moreover, gamers these days are so preoccupied with their passion that these stereotypes don't matter at all. Although 'gaming' is generally considered a 'male-dominated fort, passionate Indian gamer girls are coming to the platform. Moreover, they have showcased their talent. And now, the gaming industry is incomplete without them. In addition, they influence and inspire the next generation of gamers to strive and create a place for them in the gaming world.
So, who wouldn't love to learn their stories and their achievements? In this article, we will discuss the eight most popular gamer girls of India. Are you ready to find out? Yes!!
Let's Get Started with 8 Gamer Girls
1. Saloni Pawar (YouTube Channel: Meow16k)
The first one on the list is none other than Saloni Pawar. Also, she is the first Indian girl to represent India at the International esports tournament in Thailand. Moreover. She is a skilled and professional CS: GO player for global esports. In addition, she has also won central Asia qualifiers for legion.
However, she has now shifted to valorant with most of the CS: Go pros in India. Now, she is currently playing valorant streamer battle tournaments. She is a relentless streamer who grinds on games day and night. Currently, she has about 43.1k subscribers on YouTube.
2. Paridhi Khullar (YouTube Channel: 8bitRav3n)
Next up on the list is Paridhi Khullar (Pari), who hails from Indore, MP.  She is also a professional PUBG player and belongs to the 8Bit clan. Also, did you know about her YouTube channel? She goes by the name Rav3n. Currently, she has about 236k subscribers.
As for her accomplishments, she was one of the finalists of PMSC 2018. Moreover, here's a fact: she streams without a face cam; hence, it's all about the game for her. In addition, she possesses an avid knowledge of the game.
3. Apollonia Hinds (YouTube Channel: )
Now, here's another talented and professional gamer. Before going onto the accomplishments, here's her philosophy on gaming: "I wanted a playing field for women to showcase their talent. I proceed to organize all-female tournaments to make that happen".
Therefore, she is not just a League of Legends player. She was also the captain of Girlaxy in 2016. She wants to bridge the gender gap in the gaming platform and show that women are no different than men in the gaming sphere.
4. Shagufta Iqbal (YouTube channel: Xyaa)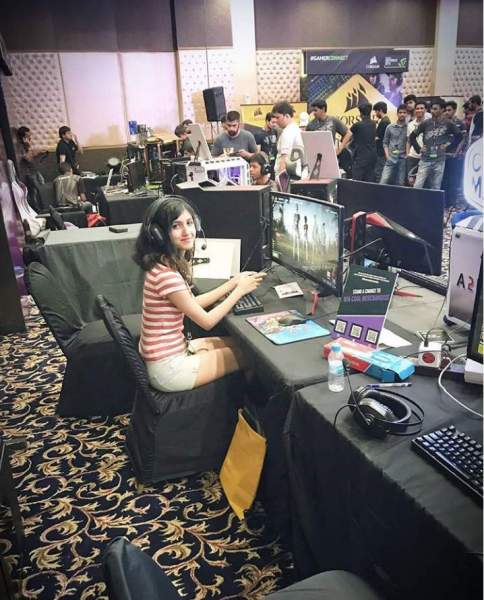 Next on the list is Shagufta, India's one of the foremost gaming influencers. She said, "From cute flash games to Age of Empires, I played it all on my dad's PC." therefore, it doesn't need a justification that she's an experienced gamer. Moreover, she has played counter-strike, Dota 2, and all numerous other games. Currently, PUBG is her main forte.
Also, here's a fact: she enjoyed gaming more than her software engineering job. And girl, she has hit the bullseye! Currently, she has around 260k subscribers and counting.
Also read: 4 Advantages of Razer Gaming Mouse
5. Annie (YouTube Channel: Rog Stream)
So are you looking to start playing PUBG and don't have any idea how to play it? Don't worry; Annie's got it all covered for you. Annie goes by the name 'Rog Stream' on YouTube. Interestingly, her brother Ayush Tiwari set this channel up.
Annie is from Kanpur, Uttar Pradesh. Initially, her brother guided her towards her gaming passion. And now? Voila! She makes big bucks per video. YouTube has also awarded her Silver button. She plays other games as well; however, her main point of focus is PUBG.
6. Mudra Roy
Next, we have Mudra Roy, a regular streamer of games. She was only four when her sister introduced her to gaming. Moreover, her father was a computer enthusiast who used to bring new games when she was younger.  She says, "Today, my favorite games include Prince of Persia Warrior Within and The Witcher 3. Their story and gameplay are on point".
Moreover, she is also a passionate cosplayer for her favorite video game characters. It gives her a positive vibe, as she says.
7. Manasvi Dalvi
Next we have Manasvi Dalvi. Her father has had an influence over her gaming passion. She says, "He came home one night with a console, and I was hooked!". For her, gaming has become a path through which she meets new people. Moreover, she gets to be "The most uncensored version" of herself.
Moreover, she has gathered positive responses from her live streams. In addition to her craze for PUBG, she is exploring the horror genre as well.
8. Pooja Khatri
Pooja Khatri hails from Delhi. She is a passionate gamer who enjoys interacting with her fans. Maybe, that's a reason for her success. Moreover, she has over 667k subscribers on YT. She is one of the girl gamers on YouTube who evokes a passion for the game.
In addition to her love of gaming, she's also an actor and model. But as a gamer, her priority lies in providing the best quality streaming with lots of interactions. She has played PUBG, GTA 5, Among us, War Zone, and much more.
Final thoughts
It's not about gender, but all about passion. These gamer girls of India have proved that the gaming platform isn't male-gender oriented, but each girl can participate and mark their name in the gaming industry.
Also read: 8 Female YouTubers with More Than 1 Million Subscribers