Anime has got  some heart broken and saddest anime series that will leave people in pieces by the end of the series. However the depressing series are by far the most emotional ones that will make you cry. These bleak anime series will be with you even after you finish watching them. Anime in this part is based on human philosophies. Philosophies like anxiety, depression or survival. Since these saddest anime are based on things that are closer to human emotions and it will long last even at the very first time you hear the character's name.
However the story or the lesson in the series will not be of giving hopes and the ending is bitter instead of sweet. People can easily relate their story with these saddest anime story line because it shows the hardship that people face in life. However they do a lot of things that will make the series interesting right from the script to the character, but it will leave you disappointed.
Therefore if you are regular in watching the anime you will come across various characters. Some characters will be funny, some will be evil while others will be having superpowers.
Even some stories will portray some evil themes or characters but they will have a backstory that you can relate to. However sometimes they are intensely shown so if you have come across some. In this article we will have a look at some of the depressing anime characters. Let us have a look at some of them below
10 Saddest Anime Series
1. Plastic Memories
Plastic Memories is the show that will show you the reality and will touch you to heart. This show portrays the reality that nothing ever can last forever. The whole series is about the androids not possible for humans to discern. However the unique difference is that they have a quite short finite lifespan.
They can only live for nine years of their life and change. The protagonist starts to love an android and we just realize that his time with her android love is for a short period before she dies.
2. Myself; Yourself
This saddest anime series consists of the 6 main characters. This series was released in 2007, this genre is romantic drama. In this anime one of the characters gets depressed, leaves his friends and goes away from his hometown. However after some years he finds that his friends are not the same people he left.
3. True Tears
True Tears is a straightforward uncomplicated love story however it will still make you cry by the end of the story. It starts with a boy whose name is Shinichirou Nakagami who lives in the place under the same roof with the girl he likes. However he starts to realize that she acts differently at home compared to outside.
He is very keen to help her in the best way possible but finds it difficult to get the best way. He finds it difficult because he does not want to lose himself in the process he wants to take care of himself.
4. Orange
Everybody has a feeling of regression after they realize the mistakes they made, and wish they could rewind the time and tell themselves the result. What we do not bother about often is what is that things can go wrong before it turns to be our past. The first episode of orange was released in July 2016. The series starts with a story where it unfolds by receiving the letter from her future self, where warns herself for what is about to come.
5. Grave of the fireflies
It is one of the most emotional and heartbreaking stories you will ever watch. The story is based on the ending days of world war 2. The movie portrays the story of a boy Seita and his younger sister Setsuko. It is the story of their lives which is destroyed during the war which takes away the life of their mother and father along with the house. Grave of the fireflies is very depressing and a beautiful story. This story can deeply move anyone who watches it.
6. Monster
This series shows us the story of Doctor Kenzo Tenma. The series puts up the question on the morality and dire consequences that comes from a decision. However it has some disturbing elements upon, life, deaths, power and politics. However it is not a happy go kinda story, but still it will leave you engaged with its story plot.
7. March comes in Like A Lion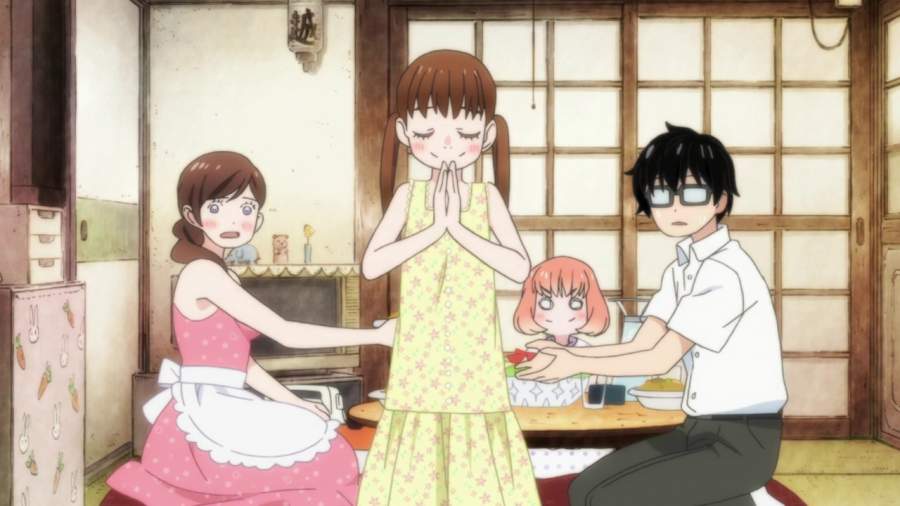 It is the story of a depressed boy whose name is Rei Kiriyama. His sister helps him after going through a breakdown. This show was first aired or released in October of 2016. This is the most mature series of the seinen drama. 
8. Your Lie in April
This series is about a famous musician whose name is Kousei Arima. He has lost his hearing sound of his own piano after his mother dies. After two years Kousei meets Kaori Miyazono, she is a famous violin player and she helps him understand that music can be played freely.
This anime series shows the recovery of the boy, he learns that there is more music and falls in love with Kaori. Your lie in April in a very heartbreaking and touching story which shows an emotional trauma of a musician.
9. Clannad
Clannad anime is a visual version of the novel of the same name. It is a very famous sad anime. The anime has got two seasons with twenty three episodes. The first part has the story of high school which has romance and friendship. However the second part has the struggle of adulthood. This particular anime was quite famous and people really liked the theme and the characters it has in it.
10. A silent Voice
This anime series came in 2016, from Kyoto Animations. It is not such a pleasant experience, but eventually works in the favor. It wants to explain what the character is trying to tell and feel how they feel. The story is about a deaf girl whose name is Shouko, her peers harass her in the school. This story also features a boy Shouya who bullies shoko, after which himself becomes the target by his friends.
In the third year Shouya is haunted by his wrong doings in the past, he then finds Shouko once again. After he finds her again. This series will put you on a roller coaster ride of emotions, therefore it will hook you to watch it. 
Also read: 15 Iconic Anime Masks for Your Next Party
Also read: Best Anime Waifus You'd Wish to Have in Real Life