When there is a very functional garage door opener, it will be convenient for you to use. Garage door opener comes with smart functions, and they can sense if there is movement and will open automatically. After opening it, you will find a well-lit garage, so there are no accidents. For instance, when you arrive home at night, the garage door opener will come in handy because you can open the door and park your car without coming. So it is very useful for you to use one.
We have compiled a list here for you if you are looking for the best garage door openers. Have a look at it.
1. Skylink Atoms ATR-1611C 1/2 HPF Garage Door Opener
If you don't need some very smart features in your garage door opener, then you can choose the Skylink Atoms ATR-1611C 1/2 HPF Door Opener. It is a no-frills model and is available for a reasonable price. Plus, it will open your garage door with a durable chain drive. But you will find that this brand also sells some extensions that will prove useful to you. They are useful for eight and ten-foot garage doors too.
Even though the Skylink lacks the smart compatibility available in the other models, it has a wall-mounted push button. Also, it has a remote which will allow you to open the door remotely. You will find an infrared safety sensor that starts to work when you want to go inside. The system also comes with an LED light that will help you move safely inside the garage at night. At last, the installation is also very easy.
2. Chamberlain B2212T Ultra Quiet Wi-Fi Garage Door Opener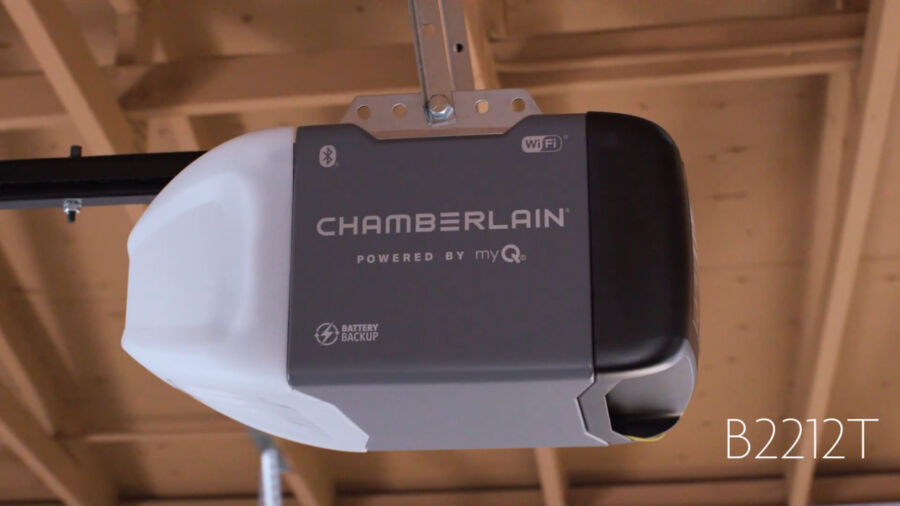 You can choose the Chamberlain Ultra Quiet opener if you need a garage door opener that makes less noise. It has a system and a motor that works without sound, and its performance is very smooth. You will be able to control the system through myQ mobile app. It also allows you to alert others about the door's activity. You can also set a schedule to open the door and close it and when the lights have to switch on and off.
You will find that this system is also very much compatible with the HomeLink to access the remote free control. Also, you can get Amazon Key to receive the Amazon Prime package delivered to your door.
Other great features in this garage door opener include safety sensors, push-button doors and more. It prevents closing if it senses any movement. The installation for this model requires expert help, but after that, you can use it very conveniently.
3. BeamUP Everlift BU250 Garage Door Opener with Battery Backup
The BeamUP garage door opener has a built-in battery backup which allows your garage door to open even if there is a power outage. It has a high-grade steel chain drive with a powerful lithium polymer battery that starts to work during power failure. You can use the garage door opener on your seven-foot doors and even the doors.
This opener system is easy to install, and you don't need to use special tools. Further, it comes with LED light bulbs that will light up your garage when the door opens. So whenever you open your garage, even at night, you can safely inside the garage and work. You will get a remote control with the door opener to control the door movements. There is also a wall-mounted controller to operate the garage opener.
Also read: How to Repair Your Garage Door Springs And Cables
3. Genie Signature Series MachForce Connect-4063
If you have a garage door, you must use this heavy door opener known as the Genie Signature Series MachForce Connect-4063. It will enable you to control the door effortlessly. Plus, it has an impressive2-horsepower motor and an amazing screw drive technology that can control even the heaviest doors.
Further, this door opener comes with Wi-Fi smart technology that helps you to control the door through your phone. You can use apps like Alexa and Google Home compatibility if you want to use them. But it also has two remotes and a wall-mounted control.
But you have to have a strong Wi-Fi connection.
4. LiftMaster 8165W ½ HP Chain Drive Garage Door Opener
This is one of the most reliable garage door openers on the market. One of the best-selling points of this model is that it is easy to install if you have the right tools; you can do it on your own too.
There is a chain drive system in the garage that is durable and opens and closes doors many times without any flaws. Further, this opener is powered by a ½ HP AC motor, which is very suitable for opening and closing heavy aluminium doors. It is equipped with safety sensors that will not close if people or vehicles are near the door. You can enable access to the door controls through the myQ app. This function will come in very handy if you are receiving packages.
5. BeamUP Centurion BU800
One of the top-notch garage door openers is the BU800 Centurion. It has the power of 1-1/4 HPE, and it can lift heavy garage doors. Plus, it also operates very quietly, so if your garage is near your sleeping spaces, there will be no sound. 3000-lumen LED lighting can light up the garage for added safety. Also, it has motion sensors that trigger the light and improves visibility.
A smart controller in this garage opener helps you check if the garage door is open or closed. You will get notifications about the status of the door too. Then you will also be able to share this detail with the others in your home. So you can keep your garage secured with these smart garage door openers.
Conclusion
These are the smart and best garage door openers on the market. You can buy these garage openers and install them in your garage doors for smart function and amazing features.
Also read: The Most Common Garage Door Problems and The Ways to Prevent Them