We all like to unbox surprising gifts, right? Especially in Christmas time or any festive season, kids love to receive toys as gifts from their loved ones. Therefore, mini brands have become way too famous for the past few years. In fact, kids nowadays are going crazy about this huge toy trend. If you are a parent, you must have also undergone a similar experience, didn't you?
The charm of these toys is that they hide a collectible mini toy inside; however, you never know which one you will receive, so there is always a surprise element present. Moreover, they are a triple-whammy of collectibility, blind unboxing, and all cute toys rolled into one. So it is pretty obvious that kids are going to love them. In fact, these surprise mini toys can serve as the perfect presents that you can put inside your kids' stockings for Christmas.
Also, if you are traveling somewhere, you can easily take them with you since they take very little space. Your kids will also be happy to have their cute mini brands in their small backpacks. Sounds interesting, right? So would you like to know more about these mini toys? Stay with us until the end if you want to know about the list of surprise mini toys that you can purchase for your child. Let us have a look!
Why is Mini Brands in The Trending Position Now?
Irrespective of the age, people enjoy unboxing toys. We have a wrong idea that only the kids love receiving these mini toys. As we mentioned earlier, nowadays, even adults love unboxing these mini toys. This is because, through this, they get to play like kids. Suppose you shrink a household's worth of banal necessities to the size of a snail; you can trick yourself into believing that there is whimsy in the daily grind.
Nowadays, there are very few things that delight us; Mini Brands is one of those. It was from last year that the popularity of mini toys surprisingly rose. However, as per the high demand, inventory is way down. Therefore, many people are not getting those toys. Zuru, the company  that makes Mini Brands, said that even though these mini toys are pretty simple to make, the supply is low due to the huge production costs.
Also, presently, Mini Brands is in one of the trending positions in TikTok. The hashtag has got over 2.8 billion views. So you can well guess that it is not just kids, but adults are enjoying this trend too.
What are the Surprise Mini Toys that you can Purchase for your Kids as Stocking Stuffers?
Toys are something that can melt a kid's mind within seconds and make them feel elated. So if you are a parent and, therefore, feeling worried as to what kind of toys you can put as stocking stuffers, here are some of the popular mini brands that can make your kids happy.
Needless to say, these mini toys have ridiculously wide appeal among everyone. Even though they are specially made for ages five, and up, college kids are also having fun while unboxing them. In fact, presently, mini brands have become a trend. You can get them on every major online shopping site, and they are always in high demand. Now let us look over some of the most popular mini toys below.
1. A Mystery Squishmallow
If you are looking for a sweet, snuggly surprise gift, you can indeed check out the scented Squishmallow mystery bags. Well, they are pretty much popular with all ages. Especially the unboxing of the mini toys has a different fanbase altogether. So if you want to give your loved ones a cute little gift either on Valentine's day or as a surprise birthday gift, a Squishmallow is an amazing option.
Also read: All About Harry Potter, Characters, Books and Movies
2. Lucky Fortune Collectible Bracelets
This is one of the mini gifts that are sure to make your kids or loved ones happy. These collectible bracelets are super cute and look stylish on your hands as well. However, the surprise is not in the bracelet. Instead, it lies in the fortune cookie unboxing these exciting little gifts.
In fact, these fun and colorful bracelets remain hidden inside the two fortune cookies, along with a propitious per fortune. Sounds exciting, right? So why not get one for your kid or a close friend?
3. Zuru 5-Surprise Minis
If you are familiar with Mini Brands, you must have heard about Zuru. Well, it was Zuru 5-Surprise Minis that came on the scene to dominate TikTok in 2019. Since that time, they have become a sensation all over the world.
The fun lies in the tiny spheres that come in their unboxing time. Since each of the five chambers is sealed, the surprise element is also profound. Once you open those chambers, a miniature version of top brands of household items and food comes out as a surprise. One of the reasons these toys are so appealing is their unique display that makes the kids happy.
4. L.O.L. Color Change Surprise
This is one of the unique gifts you can give to your kids. As the name suggests, these are color-changing surprise dolls. So you can submerge these dolls to reveal new hair colors, clothing colors, or makeup shades.
Each of these aqua balls comes with surprise clothes and accessories and a carrying strap, which will help them take their new, miniature version L.O.Ls with them wherever they travel. At times, these fun aqua balls can contain a L.O.L, a L.O.L, etc., inside them. So what did you get inside your ball?
5. Disney Doorables
Disney icons are always some of the most popular toys both for kids and for adults as well. Starting from villains to princesses, these Disney figurines are the favorites of all of us. They are completely adorable. As the name suggests, the mystery aspect lies in the fact that the makers have carefully hidden all the toys behind a row of doors.
In fact, due to these door concepts, all of the play packs that come with cute figurines include little door-themed to match the movie motifs. You might find either five, six, or even seven collectible figurines.
6. Playfoam Pals
Are you looking for some fun and fidgety mini toys? Well, then Playfoam Pals are a fantastic option for you. These minis hide in a ball of sensory soothing play foam. You can reuse this foam many times; it won't dry out. Each of those part pods comes with a two-toned foam and one collectible animal figure.
7. Harry Potter Magical Capsules
There are very few people who do not associate Harry Potter with their childhood days. Especially if you are a Potterhead, these Harry Potter Magical Capsules will be an ideal gift. Your child will feel like a muggle-born witch or wizard waiting for their magic powers to be revealed as they open up each character.
You will get them in two packages to unveil ten different mystery characters, including your favorite ones like Harry, Ron, Hermione, Luna, Malfoy, Snape, and many more.
8. Mini Mandalorian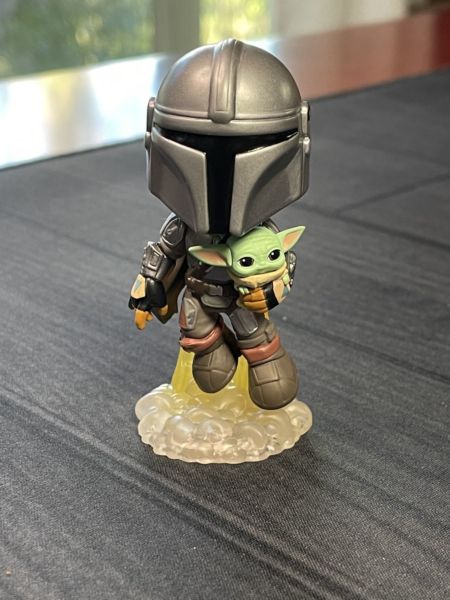 Do you have a Mandalorian fan in your family? Well, then this will be a perfect gift for them. They are sure to love the Funko Pop-style minis. You will get to collect a total of 12 of these characters from this popular series. What becomes more exciting for the kids is that they can encounter three different Grogus hiding in these packs in adorable poses. So why not get your kid one of these for their birthday or as a surprise?
9. Angel High
If you are looking for something that includes both fashion and friendship, you can choose Angel High mini toys. There are six best friends from the celestial Angel High, and each of them has an individual style along with epic hairstyles and fun accessories.
In addition, Angel High consists of 10 surprises in each pack. Therefore, you can well guess that the unboxing of this gift pack brings in a lot of fun and excitement among the children. Especially the color-changing hairstyle helps amp up the style. So keep an eye out for some collectible shiny angel wings hidden inside random packs.
10. L.O.L Surprise
These are some limited edition, holiday-themed mystery balls that can double the fun as shimmering holiday ornaments by displaying your doll. In fact, each of them comes as "dressed" in their holiday pajamas. However, you can make them wear a Christmas sweater during the winter season.
Moreover, the outfits in L.O.L fashion are pretty stylish and have plenty of matching accessories. Some of them come with special, collectible that accompanies a holiday elf that escalates the excitement to a great extent.
11. Smasher Ice Age
Are you a fan of Ice Age? Well, then you must have often thought what would happen if dinosaurs made it to the Ice Age? Well, you can find it out from these cool surprise mini toys. You can smash the eggs to reveal either stretchy snow or crystal slime. So now rip and tear through the freezing compounds to find the dinosaur parts to build this prehistoric creature. Needless to say, you can mix and match these dinosaur parts so the more toys you can gather, the more fun will be.
12. Funko Snapsies
These mini toys are one of the most adorable snap-together creatures kids love to collect. However, what causes even more excitement is that you can interchange the toys and play. So it is possible you can find a uni-kitty or mer-pup or even zen llama in the box. But once you start collecting them, you can find out their interchangeability, which is when the fun begins.
It depends on you, how you will combine them and create new mythical creatures. This is the reason people are excited for the upcoming Snapsies Gems 5-packs. You can pre-order them if you want. Collect all of them and customize them!
13. Present Pets
This Mini Brand was one of the most popular toys last year. The main reason for this immense popularity was the unboxing of the hot toy Present Pets. You can pull open the tabs for the box to immediately convert the toy into a tiny dog house. Now, you will get to see your cute and cuddly new buddy. Each of them has some seriously stellar stylings in this galaxy-themed three-pack. In fact, one of the three boxes doubles as a carrier, and each one of them comes with stickers and an adoption certificate.
14. Plush Crush
For all those kids who love their plush toys, these mini toys are going to be super snuggly. Even though they are tiny, Plush Crush is super-cute and adorable. In fact, each of them comes with little loops to hang on a backpack or a Christmas tree. Therefore, you can display them through holidays and then take them with you to wherever you travel.
Needless to say, the surprise gifts that are present inside these are adorable. For instance, the six-piece puzzle ball that each surprise toy comes in is also pretty amazing. So throw, toss and crush the ball to see what is inside, then put it back together again.
15. Pop-its
This is possibly one of the most common mini toys that kids enjoy nowadays. This mini craze is all about trends. One thing that lies in the trending position this year, is the pop-its fidget toys. Moreover, this set of 16 is perfect for handing out to classmates for a holiday trinket. You can attach them either to a backpack or have a cool tie-dye design. So what are you waiting for? Go ahead, it pop-it up!
16. Cry Babies
From the name itself, you can understand that these toys deal with pictures of cute babies. Well, if you open the mystery bottle house or the capsule, you will get to see 12 collectible babies inside. This capsule transforms into a tiny home and carrying case once you open it up.
Each of these babies comes with eight accessories, along with a high chair, a bib, and a feeding bottle. Both kids and adults love these super cute and adorable mini toys because of their unique look. These babies drink from their bottles, and when they are hungry or need comfort, they even shed a tear or two and remind you to care for them.
Ending Note
So as we conclude, we can say that Mini Brands, nowadays has become one of the most popular mini toys that parents use as stocking stuffers to surprise their kids. Therefore, if you want to surprise your kids, you can choose any of the above toys and bring a smile to their faces.