The Cecil Hotel in downtown Los Angeles has a long and disturbing history of murder, suicides, and hauntings. Since its construction in 1924, the hotel has changed ownership several times, and each new owner seemed to bring more tragedy and criminal activity. The hotel gained notoriety in recent years after the mysterious death of Canadian tourist Elisa Lam in 2013, which generated a media frenzy and sparked widespread speculation about the hotel's supposed paranormal activity. The hotel has also been the subject of numerous books, TV shows, and movies, making it a popular destination for true crime enthusiasts and ghost hunters.
In this article, we will take a closer look at the chilling history of murder and hauntings inside Los Angeles' Cecil Hotel, examining the notorious crimes that occurred within its walls and the ghostly encounters and paranormal activity that guests and staff have reported over the years.
History of Cecil Hotel
The Cecil Hotel was built in 1924 in the Beaux-Arts style to cater to businessmen and tourists in Los Angeles. The hotel was rumoured to be a favorite haunt of serial killers and criminals. However, as the surrounding neighbourhood began to decline, the hotel gained a reputation for criminal activity, drug use, and prostitution. Its negative reputation continued into the 1980s and 1990s, with several high-profile murders and suicides occurring within its walls. Despite its dark history, the hotel remained operational and attracted guests drawn to its eerie reputation.
In 2017, the hotel was closed for renovations, and its future remains uncertain. The controversy surrounding the hotel's history and alleged paranormal activity have led to a debate about whether it should be reopened or demolished. Regardless of its fate, the Cecil Hotel will forever be remembered as a notorious landmark in Los Angeles' dark and chilling history.
Notable Murders and Crimes
The Cecil Hotel has a long, disturbing history of violent crimes and suspicious deaths. Some of the most notable murders and crimes that occurred at the hotel include:
● The Black Dahlia: In 1947, aspiring actress Elizabeth Short, also known as the Black Dahlia, was reportedly seen at the hotel before her brutal murder. Her body was found severed in half and mutilated in a vacant lot in Los Angeles.
● Richard Ramirez, the Night Stalker: During his killing spree in the mid-1980s, Ramirez stayed at the Cecil Hotel, which was only a few blocks from some of his crime scenes.
● "Pigeon Goldie" Osgood: In 1964, "Pigeon Goldie" Osgood, a retired telephone operator known as a friend to many in the area, was found dead in her room at the hotel. Her death was ruled a homicide, and her killer was never found.
● The death of Elisa Lam: In 2013, Canadian tourist Elisa Lam was found dead in the hotel's water tank after being reported missing. The circumstances of her death remain mysterious and have led to many conspiracy theories and speculation.
Hauntings and Paranormal Activity
The Cecil Hotel has been rumoured to be haunted for many years, and its reputation for paranormal activity has only added to its dark and chilling history. Some of the reported hauntings and paranormal activity at the hotel include:
● Ghost sightings: Several guests and staff members have reported seeing apparitions and ghostly figures in the hotel, including a ghostly figure on the 14th floor and a woman in a 1930s-style dress in the lobby.
● Strange noises and unexplained events: Guests have heard strange noises, such as footsteps and screams, coming from empty rooms and hallways. Some have also reported objects moving independently and doors opening and closing inexplicably.
● Elevator incident: The most infamous incident related to paranormal activity at the hotel was the mysterious elevator surveillance video of Elisa Lam, where she was seen behaving erratically before her death. Many have speculated that her behavior was due to a paranormal encounter or possession.
While many skeptics dismiss the hotel's paranormal claims, the eerie reputation of the Cecil Hotel continues to fascinate and haunt visitors to this day.
The Cecil Hotel in Popular Culture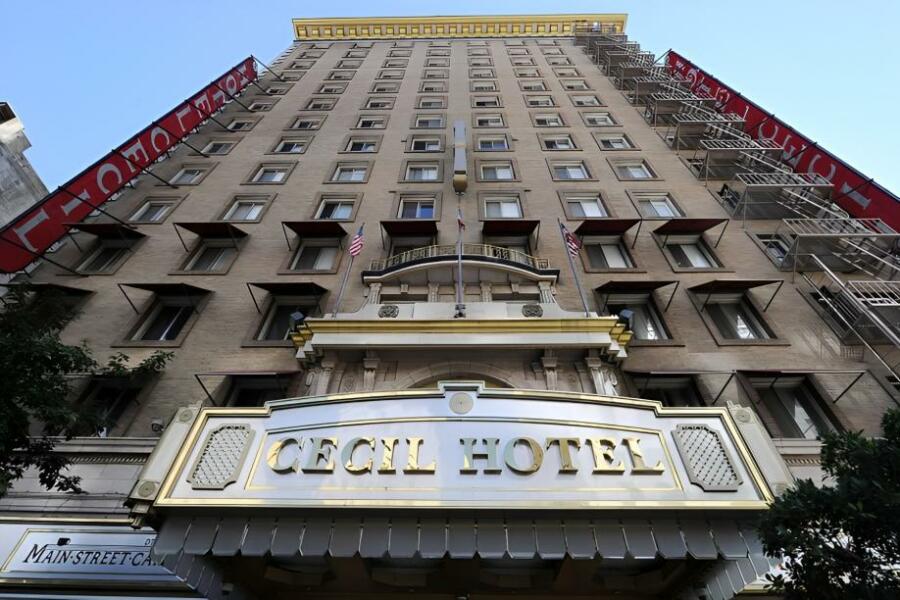 The Cecil Hotel's dark history and eerie reputation have made it a popular subject in popular culture. Here are some examples:
● American Horror Story: Hotel: The fifth season of the popular TV series American Horror Story was inspired by the Cecil Hotel and its notorious history.
● Crime Scene: The Vanishing at the Cecil Hotel: This Netflix documentary series explores the mysterious death of Elisa Lam and the hotel's dark history of violence and criminal activity.
● Ghost Adventures: The popular paranormal investigation TV show visited the Cecil Hotel in a 2015 episode, investigating claims of ghostly activity.
● True Crime Podcasts: Several true crime podcasts have covered the Cecil Hotel's history and notorious crimes, including My Favorite Murder and Sword and Scale.
The Cecil Hotel's reputation as a hotbed of criminal activity and paranormal occurrences has made it a popular subject in various forms of media, attracting those intrigued by its chilling history.
The Future of Cecil Hotel
The future of the Cecil Hotel is uncertain. In 2017, the hotel closed its doors for renovations, but there has yet to be any news about its plans for reopening. Some have called for the hotel to be demolished, citing its dark and troubled history and negative impact on the surrounding neighborhood. Others argue that the hotel's historical significance and eerie reputation make it valuable to Los Angeles' cultural heritage.
One possible future for the Cecil Hotel is the conversion into affordable housing, which could address the city's growing homelessness crisis. However, this option would require extensive renovations and could face opposition from residents and business owners.
Conclusion
The Cecil Hotel has a long and chilling history of murder, hauntings, and criminal activity, which has captivated the public's fascination for many years. The hotel's dark legacy has made it a popular subject in popular culture, with various films, TV shows, and documentaries exploring its eerie reputation. However, the future of the Cecil Hotel remains uncertain, with many calling for its demolition, while others see it as an important part of Los Angeles' cultural heritage. Regardless of its future, the Cecil Hotel is a stark reminder of the dangers of neglecting urban decay and the importance of preserving historic buildings with sensitivity and care.
Also read: Elisa Lam: What is The Unsolved Mystery Behind Her Death?