Every man craves to grow and rock a luscious beard. However, only a few men grow a beard effortlessly. For the rest of us, its a journey full of disappointment. While studies show that it takes up to 4 months to grow a full beard, its only for a select few. The rest of us, be ready for uneven growth, patchy areas and very little or no progress challenges.
Luckily, there are a few things you can do to grow a beard faster. Some are simple to implement while others will require new levels of commitments. But knowing how sweet the results will be, they are easy to implement. A full thick beard gives you a wide range of beard styles to try. 
Let's dive in.
How To Grow A Beard Naturally
1. Healthy and Balanced Diet
The first thing to check when looking to grow a beard faster is your diet. The most important thing here is to make sure you are getting the required vitamins and minerals, especially those that boost hair growth.
The following are the important vitamins and minerals that can help reactivate hair follicles and where to get them from.
Vitamin A (carrots, pumpkins, sweet potatoes, and spinach )
B vitamins (whole grains, meat, fish, and seafood)
Vitamin C ( citrus fruits, strawberries, and guavas)
Vitamin D (cod liver oil, fatty fish, and mushrooms)
Vitamin E (avocadoes, sunflower seeds, spinach, and almonds)
Iron (eggs, spinach, red meat, and lentils)
Zinc (beef, oysters, pumpkin seeds, and spinach)
2. Lifestyle Changes
On top of a healthy diet, make sure you are living a healthy lifestyle. The first lifestyle change you should undertake is quitting smoking if you are a smoker. Tobacco contains chemicals that cause inflammation in the blood vessels.
The other thing you should consider is exercising regularly. When you exercise, there is increased blood flow to the face, which aids in stimulating hair follicles. Focus more on exercises that boost testosterone production like weightlifting.
Also, make sure your body is hydrated. Drinking up to 3.2 liters of fluids daily improves blood circulation, keeping the hair follicles nourished. Water also helps keep the skin healthy, promoting the growth of healthy facial hairs.
3. Try Microneeding and Minoxidil
Microneeding is the process of using a derma roller to poke tiny holes on the skin. When you poke the facial skin, there is increased production of keratin and collagen in those areas. Since the body treats these tiny holes as injuries, there is an increased flow of nutrient-rich blood that enhances hair growth.
To increase the chances of success, apply minoxidil on your beard twice a day except when you use a derma roller. Minoxidil is an FDA-approved drug for stimulating hair growth. It's recommended to use a derma roller once a week but make sure you are using it correctly.
4. Get Enough Sleep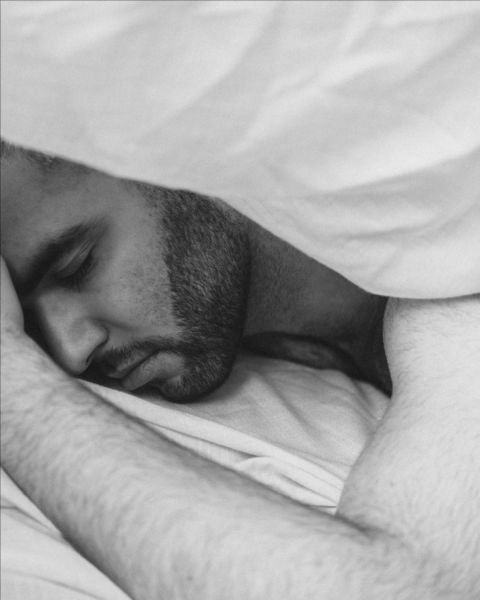 One of the key elements in the growth of facial hairs is the testosterone hormone. And one of the ways to increase the level of testosterone in your body is by getting enough rest.
Sleeping for at least eight hours is beneficial as it allows the body to regenerate the vital hormone. Other ways to boost testosterone production include lifting weights, catching some sun, and eating testosterone-boosing foods.
5. Reduce Stress
This is a big challenge for most of us. Every day we are faced with a multitude of stressors from job pressure, relationship issues, social media pressure among others. The thing is, if you want to grow a beard faster, try as much as you can to live a stress-free life. Equip yourself with skills on how to handle stress
High-stress levels increase the production of the hormone cortisol, which negatively affects the body's ability to generate testosterone, hindering the flow of vitamins to the hair follicles.
6. Leave The Beard Alone
The first few weeks can be annoyingly itchy depending on your skin sensitivity and how course your facial hairs are. These are the times you will feel like shaving. Learn to resist the urge to scratch or pull the hairs. After getting over the initial weeks, you can now start thinking of the different beard styles to try
Also, don't be tempted to shave your beard, anticipating that it will grow back faster. That is an ancient tale that has been proven wrong.
7. Invest In The Right Beard Products
While there is no beard care product that has been proven to facilitate hair growth, they play a great role. For instance, beard oil or balm can help you get over the itchy stage. They also make the skin and facial hairs look great and healthy.
Also, look for beard products containing healthy natural oils like Jojoba oil, argan oil, coconut oil, sunflower oil, and olive oil.
Wrapping Up
And there we have it, practical ways of growing a beard faster at home. As you have seen, all these tips work on providing the body with what it needs for hair growth. I recommend trying a 360 degrees approach. Don't just pick one. Instead, implement all the essential tips. For instance, make sure you get all the required minerals and vitamins, sleep at least 7 hours, keep hydrated, and buy the right beard products.