First-time golfers must be excited yet nervous about the game. Starting from the apparel, careful preparation is the greatest way to ensure that you are ready for the green. So what to wear golfing for the first time? The rule of thumb is to choose something that you feel comfortable with. Besides, the course may also have some dress codes. Here is a guideline that will prevent you from getting embarrassed and guarantee that your golfing attire is suitable for the greens. Let's check it out! 
What To Wear Golfing For The First Time?  
We have divided our instructions into sections for men, women, and young golfers so that you can catch up easily.
For men 
Men's golfers will be under a lot of pressure. Women's and kids' clothing codes are sometimes more flexible. Here are some suggestions for men.
1. Top
For the first-time golfer, you should wear a traditional collared shirt. They come in a variety of fabrics and styles. Wearing a shirt in a more neutral color is a wonderful choice, especially when the weather is hot. It's perfectly reasonable and expected if you need to wear a jacket or a sweater in the winter.
In the winter, you can wear a sweater or jacket. However, make sure that whatever you choose doesn't interfere with your swing. A quarter-zipper or a pullover is a better alternative. Although the golf sweater is becoming increasingly fashionable, it is not always the best option.
2. Bottom
The key point to remember is to skip jeans and athletic-style pants for shorts and pants. Although these items can work for sports, golf may not be one of them. When shopping for golf trousers, look for items that look like khaki and don't come with cargo pockets.
Shorts should be at the length of your knee. If possible, choose those with belt loops so that you can tuck your shirt in.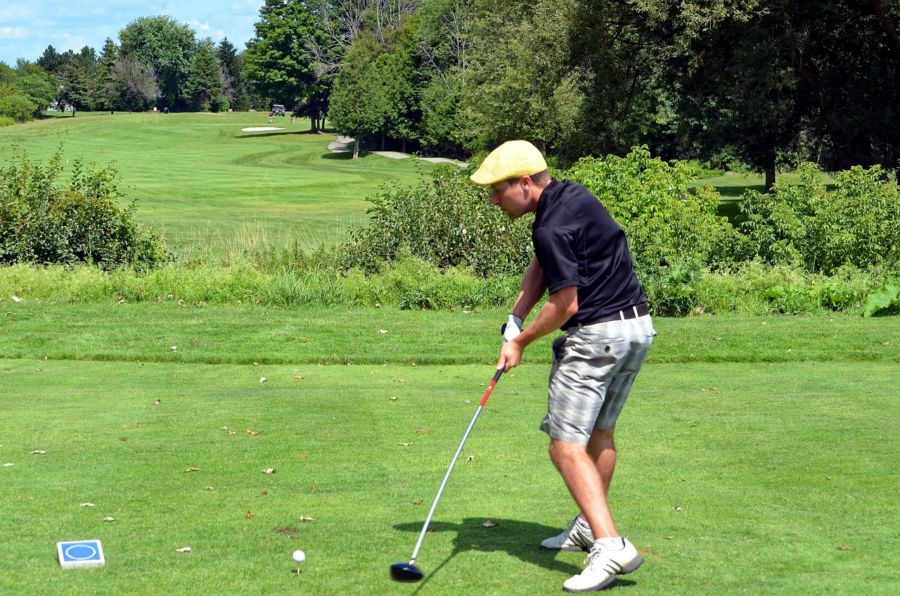 3. Shoes
If this is the first time you have tried this game, you don't need to put on golf shoes. You can go for sneakers that you often wear. Choose an athletic-style pair of sneakers. If you have a white or neural item, it would be better. The right shoes will not only save you from sliding on the green, but they will also prevent damage to the grass.
4. Accessories
You will be playing under the sun for hours. When you try it for the first time, remember to put on sunscreen and a hat. The most important accessories are a glove and sunglasses. These items do not have to be golf-related. You can choose those you often use when going out.
Also read: Timeless Fashion Tips Every Woman Should Know to Look Fabulous
For women
Because many women have more significant concerns about fashion, most courses come with a dress code (Golfing Attire) that is a little broader than for males.
1. Top
There are two main options for the shirt: the sleeveless shirt with a collar and the sleeved shirt without a collar. In other words, your shirt must have either sleeves or a collar. Women should try to stick to reliable brands. You will want something suitable for the course, and it is necessary to have flexibility.
Even if you are a novice, you surely want to feel comfortable while swinging the club. Hence, a high-quality shirt is a must. And again, zipped jackets are not a good idea even if the weather is cold. They will get in your way. 
2. Bottom
Golf skirts, shorts, and pants are all choices for female golfers. Make sure the bottoms you wear are long enough. Do not choose too-short skirts and shorts. It's acceptable if the shorts are only a few inches above your knees. Wearing pants or anything designed for tennis or jogging is not good. In general, cotton shorts are a good fit for a female golfer.
It's perfect to choose a navy or khaki hue that you can pair with different shirts. Then, you will be proud of your wardrobe.
2. Shoes
New golfers may not have shoes specially made for the sport. You can wear your sneakers instead. Check whether the sneakers are athletic shoes rather than fashionable ones. It is a fantastic choice as long as the footwear is comfortable and gives enough support during your swing. 
If you've played golf a few times and feel you can keep it up, you'll want to invest in golf shoes. They provide extra stability and aid in increasing clubhead velocity for female golfers. If you have some problem with staying balanced when you swing, a pair of golf shoes can help you improve. 
3. Accessories
Hats aren't always popular among women, but a visor might be an excellent alternative. It keeps the sun off your face while not messing with your hair. Also, bring a golf glove with you although this is your first time playing this sport. Blisters are common, and once you've got them, the rest of the game may be terrible.
The video explains the causes of the blister. You can also learn some remedies.
For kids 
This sport is becoming increasingly popular among kids. They should also know how to dress correctly.
1. Top
A collared shirt is the best choice for kids. They would like to look like they will join a game, and the collared shirt can be a telltale sign. Children don't need to tuck their shirts in when playing. During the round, their shirt may slip out of their pants. In the summer, the kids' shirts should be bright in color. It might be more difficult for a kid to maintain his body temperature management when playing in the heat.
2. Bottom
To play, children can choose either pants or shorts. These items should look like the school uniform styles. For many youngsters, khaki is the classic hue to wear on their first visit to the course. You can also choose the color based on the weather. 
3. Shoes
Let your kids wear sneakers for his game. Also, avoid wearing croc shoes and flip-flops designed for children. They are not only bad for your child's feet, but they are also tough for the greens. Children's shoes are often less expensive than ones for adults. The only problem is that these items won't fit when kids grow. If your kid shows his interest in golf, buy him golf shoes. Otherwise, a pair of regular sneakers can work. 
4. Accessories
A glove is the most crucial accessory for a young player who is only learning how to play because children's hands are sensitive.
Tips for Choosing Golfing Attire 
Our best piece of advice is to contact the course you'll be playing before preparing your clothes. You can also check the dress code (Golfing Attire) on the course's official website. If you can't find any details regarding the outfits, call the attendants and ask them about it. Also, select the items that you are comfortable with. If not, you will suffer and can't play the game to your full potential. 
Final Words 
Your first trip to the course must be a lot of fun. However, make sure that you wear the proper golfing attire to enjoy your time there with more fun. Hopefully, this article will give you all you need about golf apparel. If you have any questions, please feel free to ask. Thank you for reading!
Also read: A Checklist on How to Buy Hiking Shoes in Thailand