Are you thinking about adding a rabbit to your family? Rabbits can make excellent pets, but choosing the right kind of rabbit for your home and lifestyle is essential. This guide will help you decide which rabbit is right for you. From dwarf rabbits to exotic breeds, we'll cover all the options so that we can help you make the best decision for your family. So, what kind of rabbit should you get?
Keep reading to find out!
What kinds of rabbits are there, and what do they look like?
When most people think of rabbits, they probably imagine the classic image of a little, white fluffy bunny with long ears. However, numerous types of rabbits come in a wide range of sizes and colors. The Belgian Hare is a rabbit breed known for its athletic build and distinct reddish-brown fur. The Netherland Dwarf is one of the most miniature rabbit breeds, often weighing less than four pounds fully grown.
The Domino rabbit has black and white markings that resemble a domino tile, while the Beveren features bluish-gray fur. Some rabbits have unique color patterns, such as the Broken pattern, where certain sections of their fur differ. No matter the breed or appearance, all rabbits share common traits such as prominent ears, rapid breeding abilities, and a tendency to chew on everything in sight.
Next time you see one hopping by, take a closer look – you may spot a rare and exciting rabbit breed!
Consider the Size and Living space requirement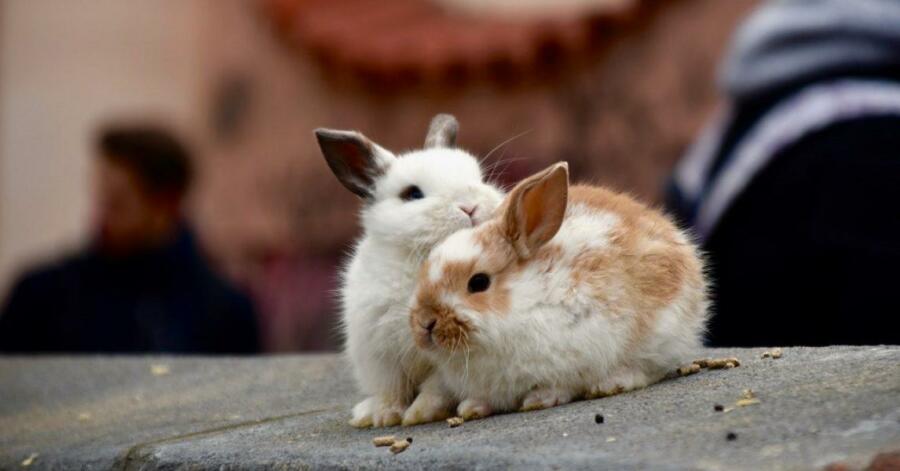 If you're considering getting a rabbit as a pet, it's essential to understand its size and living space requirements. Domestic rabbits typically grow from 2-4.5 kilograms and reach lengths of 20 inches or more. That said, bigger is not always better, and more giant rabbits have a higher risk for health issues such as spinal problems or obesity.
As for living space, rabbits need room to move around, stretch their legs, and exercise. A general rule that stands here is that rabbits should have at least 24 square feet of living space – this could be in the form of an enclosure or a bunny-proofed room – and access to even larger areas for playtime outside their enclosure.
Remember that cages marketed as "rabbit-sized" may not provide enough room for your bunny to thrive and live comfortably. When in doubt, err on caution and upgrade to a bigger size. Proper diet, exercise, and veterinary care are essential to maintaining a healthy and happy rabbit. In sum, it's important to carefully consider the size constraints and living space requirements before welcoming a rabbit into your home.
Doing research ahead of time will ensure that both you and your furry friend are happy in the long run. Now there is a common question in many rabbit owners' minds that why does my bunny headbutt me? This is one of the many ways your rabbit is trying to establish a way of communication with you. 
Understand the Unique traits 
Personality should be a top consideration when choosing the right rabbit for you. Each breed has unique traits and characteristics, so it's essential to research before bringing one home. For example, Netherland Dwarfs are known for being lively and energetic, while lops have a more laid-back demeanor. Some rabbits, like Angoras, require regular grooming to maintain their long fur.
And certain breeds, such as the Mini Rex and Mini Satin, have a reputation for snuggly and affectionate. Before deciding on a breed, consider your preferences and what kind of lifestyle the rabbit will have. This can help ensure that both you and your furry friend will be happy in the long run.
And remember – regardless of breed or size, every rabbit has a unique personality! It's always a good idea to get to know any potential new bunny before deciding. 
Examine the cost of buying and other expenses
Many people are drawn to rabbits as pets because of their cute and cuddly appearance, but the cost of owning one goes beyond just purchasing the initial animal. Rabbit cages can range from $50 to $200, and hay for bedding and food can cost up to $20 per month. Vet visits for vaccinations, spaying/neutering, and other medical issues can also add up, with some procedures costing hundreds of dollars.
A yearly check-up alone can cost around $50. And don't forget about toys and accessories – they may seem like small expenses initially, but they quickly add up over time. In short, potential rabbit owners should research and consider all related expenses before adding a furry friend to their family. While the initial investment may be low, the long-term financial commitment should be considered.
Overall, keeping a rabbit as a pet could easily cost several thousand dollars over its lifespan. It's essential to ensure you have the resources to bring home a rabbit and adequately care for it throughout its life.
Ensure that everyone in the household is on board for a rabbit
Rabbits make great pets for children, but it's essential to ensure everyone in the household is prepared to take care of them before bringing one home. Rabbits have special dietary needs and require daily exercise, not to mention regular nail trimmings and potential visits to a rabbit-savvy veterinarian. All household members need to understand these responsibilities before bringing home a bunny, as they can quickly become overwhelmed and neglected if not correctly cared for.
Consider talking to your local animal shelter or rabbit rescue about education and training resources and having a trial period where your family can foster a bunny to see how well they handle its care before making a long-term commitment.
It's also essential to ensure that any current pets in the household can safely interact with a rabbit before bringing one home. With thoughtful consideration and planning, rabbits can make loving companions for children (and adults!) alike.
Conclusion
Now that you know more about the most popular rabbit breeds, it's time to do your research. Head to your local animal shelter or look online to find breeders in your area. Once you've found a few prospects, make appointments to meet the rabbits and see which is best for you and your home. Have fun and enjoy this new addition to your family!
Also read: How to Make your Pet More Playful: 6 Training Tips