Reality shows become interesting with twists and turns. So it becomes exciting with a memorable villain and with his controversial statements. In this regard, we can talk about Abhishek Chatterjee or "Shake" of "Love Is Blind" reality show. Needless to say, this Netflix reality dating series is meant to exude the superficial aspects while helping hopefuls find their forever love. 
If you have watched the show, you must have heard that Chatterjee's early comments to other contestants left many fans wondering if the DJ was ignoring the whole point of the show. Moreover, his attempts to figure out the other cast members' weight with probing questions like, "I love buying clothes for girls; what's your size?" are pretty disgusting, isn't it? Well, his cast members were also irritated with this attitude of his.
So would you like to explore more about Shake of the "Love Is Blind" reality show? Today, in this article, we will share some of the interesting aspects of the show. We will also let you know more about the "villain" of the show, Abhishek Chatterjee. Let us take a glance!
Abhishek "Shake" Chatterjee: A Man of Multiple Talents
If you are an ardent fan of the reality show "Love Is Blind," you probably hate "Shake" Chatterjee. However, there is no doubt that he is a man with multiple jobs in his personal life. In addition, to his tint on the reality show "Love Is Blind," he is also a veterinarian, a DJ, and a life coach.
If you look into his social media platforms, you will come to know that the television personality helps his clients "achieve love (self) and success through guidance, accountability, and memes." However, Chatterjee's longest-running occupation is his work as a vet. He loves taking care of animals. Moreover, his LinkedIn profile states that he has worked in the Chicago area as a vet for nearly a decade.
But according to a recent write-up by a leading media house, the celebrity is currently pausing his work in animal care. He revealed, "I'm taking a break from being a vet." Shake added, "the vet field is amazing in so many ways, but it's also incredibly draining, both physically and emotionally." So the reality star said he would now focus more on "new opportunities popping up in the crypto and NFT space."
Read What His Ex, Deepti Vampati, Says Regarding His Behaviour
Many of you fans of Shake of Love is Blind already know that he had a strong connection with Deepti Vempati. However, unfortunately, during the trip to Mexico, it quickly became evident that Chatterjee's initial physical attraction to Vempati had already fizzled out.
Even though his lack of interest was clearly evident in front of other cast members of the show, they were relieved to hear Vempati say "no" at the pair's would-be wedding. Amidst all these controversies, some were also eager to find out what Vempati felt about "Shake" once the season came to an end. Let us see what she had said regarding Chatterjee.
During an interview, Vempati was pretty straightforward with her words about Chatterjee. She did not sugarcoat them while saying. "He lacks self-awareness in social settings or even in how to talk to people," she told the entertainment outlet.
In fact, Vempati affirmed that her former fiancé's behavior wasn't hers to worry about anymore. Moreover, she no longer had to take responsibility for his actions. She then stated that she didn't want to be around anyone who didn't appreciate who she was. Vempati soon realized there was no point in trying so hard to maintain a friendly relationship with Chatterjee. He never made any efforts from his side.
What is Shake Chatterjee's Say Regarding The Portrayal of His Character in Love is Blind?
Shake Chatterjee is pretty infamous for his attitude and character in the popular reality show "Love is Blind." Even though many of the cast members and creators have already stated that the show accurately portrays his character, Chatterjee disagrees. According to him, the series painted him in a negative light.
However, the series creator, Chris Coelen, has a different view. He stated that if the series had remotely been worried about the truth in the DJ's claims, they simply would have edited out his comment. He says, "Every other cast member seems to think he got a pretty good edit." In fact, his ex, Deepti Vempati, has also added that nearly every person in the show has issues with his character.
Shake Chatterjee Apologized to Deepti Vempati for His Behavior
Yes, finally, the wait is over. Shake Chatterjee has decided to issue an apology publicly to Deepti Vempati. He made this decision after facing plenty of backlash for his words about his ex's appearance. So he posted a video of himself on Instagram saying that he was sorry for causing her pain and regretted some things he said. Chatterjee also admitted that he could have put more thought into his words, adding, "Even though I knew our relationship wasn't going to end in marriage, I didn't want what we had to end either."
At the same time, Chatterjee also said in his caption that he had privately apologized to Vempati. However, according to Vempati, his apology was not enough for what he had done. Moreover, it seems fake to her.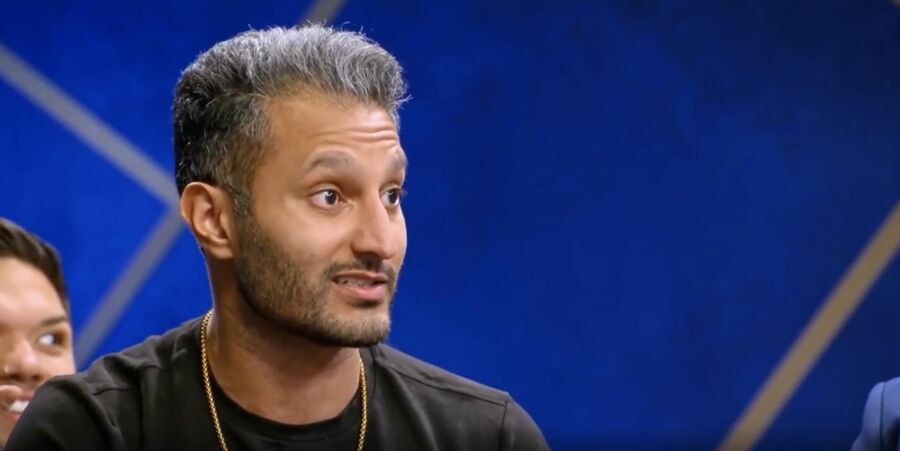 Is Shake Chatterjee The New Host of Love Is Blind?
Yes, you read it right; Abhishek or Shake Chatterjee is Love Is Blind's new host. Netflix has confirmed this shocking news. After causing a stir on the show, bosses have said they believe in having him on board for new seasons. This will "bring something new to the show" and keep the format fresh.
Shake will take over as host from the fourth season of "Love is Blind." He will host the main show and all its spin-offs and reunion shows. Shake is, therefore, pretty much excited about his new role and cannot wait to get back to the pods to film.
Who is Shake Chatterjee's New Girlfriend?
As you know, the relationship between Shake Chatterjee and Deepti Vempati did not work out because of several differences. In fact, Chatterjee publicly apologized to Vempati in an Insta post. So now you must be curious to know who the handsome guy is currently dating. Let us share with you the details.
So a week later, after apologizing to Deepti, Shake seemingly shaded her with another Insta post. This time it was the announcement of a new relationship. He posted clips and photos with his new partner, Emily Wilson. The post had a quirky caption, "Good things come to those who don't settle."
Ending Note
So as we conclude, we can say that Shake Chatterjee might be a pretty infamous character in the reality show Love is Blind; however, he is greatly responsible for the show's good ratings. Therefore, Netflix has planned to bring him up as the show's next host.
Also read: Take A Peek Into The Sean Hannity's Rumored Girlfriend Ainsley Earhardt's Glamourous Life