Tactical flashlights are the types of lights used by police officials, hunters, and outdoor people. This type of light comes as a self-defense tool to protect you at night or in dark places. Those who go hiking need to carry this essential tool with them. Here in this article, let us discuss some of the best 10 tactical flashlights to buy in 2022.
1. Streamlight ProTac HL USB
If you are looking for intensely bright light, then you should consider buying a Streamlight ProTac tactical flashlight. This flashlight comes with 850 lumens and C4 LEDs and thus, pumps out the bright light which is three times as much as you get from other products. To withstand drops and shuffles, the ProTac uses heavy-duty anodized aluminum. Even when you drop the light down, the tempered glass present at the front of the LEDs will not get scratched.
C4 LEDs are strong enough to withstand the rough handling and come with a 50,000 hour lifetime. You can use a USB to charge the flashlight and it will allow lithium-ion batteries for later replacement.
Pros
USB chargeable
Allows the use of regular batteries
850 lumens
Cons:
Don't have a low battery warning indicator
2. Vont LED Flashlight
The Vont LED tactical flashlight is the best model that you feel good holding in your hand. It uses AAA batteries and thus, comes as a lightweight flashlight. So, you can even carry it in your pocket without weighing much. The flashlight comes with a side clip which you can use to attach to a jacket, pocket, or backpack.
Pros
3 modes of operation
Reasonable
Efficient battery
Cons
Doesn't have light mode settings
3. PeakPlus LFX1000
PeakPlus is one of the trusted brands for buying flashlights. This multipurpose light comes with several features that make it to be the best light for any purpose. Coming to the kit, it has the
Flashlight
One rechargeable battery
Battery charger
Battery holder
Padded case
User manual
The flashlight offers five light modes along with a zoom option. Thus, you can switch between
Here the flashlight uses 1000 lumens that can light up to 500 meters distance.
Pros
5 modes
1000 lumens
Rechargeable
Cons
There are no cons about this product
Also read: Top Advantages of Using Lanterns for Camping
4. Olight Warrior X Pro Tactical Flashlight
Olight is a brand that is popular in the market for manufacturing flashlights. Its product, Warrior X Pro comes with a robust design and offers several features. The flashlight powers a maximum of up to 2,250 lumens. It features a USB-rechargeable 5000mAh 21700 lithium battery. With its 2,250 lumens power, it can light up to a distance of 1,900 feet.
Pros
2,250 lumens
Excellent battery life
Magnetic USB recharging
Cons
There are no cons about this product
5. GearLight LED
One of the best water-resistant flashlights is the GearLight LED flashlight. This flashlight works best in the rain, hail, and sleet, and thus, this serves as the best option for hikers. The best feature about this product is its work in five different modes. They are
You can either use three AAA batteries or one rechargeable battery for its work. This flashlight emits a beam of light that is bright and far-reaching. Thus, you can use it for hunting or climbing a mountain too.
Pros
5 modes
Heavy-duty structure and durable
Perfect to use in rain and snow
Provides 1000 lumens power of light
Cons
No batteries
Brightness is not much as other lights
6. Anker Bolder Flashlight
The original flashlight comes with two purposes. The one is to light up the things around you and another is the self-defense tool for you. Coming to the features of the flashlight, it has
Extra-long handle
Scalloped bezel
All-metal body
This flashlight has 900 lumens that light up over the long-distance brighter. With its Cree LEDs, it can light up to the length of two football grounds. Additionally, the flashlight has both wide and narrow beams that provide zoomable light. With its rechargeable battery and a micro USB cable, it is easy to charge the light whenever needed. Once you fully charge the flashlight, it will stay light for up to six hours.
When its handle is dry, you can hold it comfortably. But when it is wet, you can't hold it. During rain and snow, the flashlight can easily slip from your hands.
Pros
5 settings option
Comes with a rechargeable battery
6 hours of light after recharging
Cons
Not easy to hold in hand during rain or snow
7. J5 Hyper-V Flashlight
J5 Tactical Flashlight is one of the reputed high-quality flashlights. This flashlight can light up to a distance of around 800 feet. Here there are three modes of lighting options such as
This flashlight is water-resistant and uses an aluminum body for its structure. It weighs around 4 ounces and is thus easy to carry this lightweight flashlight. This flashlight works simply with three AAA batteries.
For your camping needs, this flashlight comes as perfect gear and you can easily carry it wherever you go. Though it is lightweight and compact, it still super tough and durable.
Pros
3 modes of operation
Durable and lightweight
Mountable
Compact design
Cons
It is difficult to remove the belt grip
Also read: Kitchen Lighting: Tips to Create the Perfect Light
8. ThruNite BSS V4 Tactical Flashlight
It is one of the best water-resistant tactical flashlights. It comes with a CREE SSY70 LED module that can provide a max of 2523 lumens. The flashlight is charged by the 3100mAh 18650 battery.
Even when it is wet, the flashlight provides an anti-slip feature with its aluminum body. It comes with six different lighting modes of operation.
Pros
Anti-slip handle
Easy to use during rain and snow
Six modes of operation
2523 lumens
IPX8 water-resistant rating
Cons
There are no cons about this product
9. Nitecore P10i Tactical Flashlight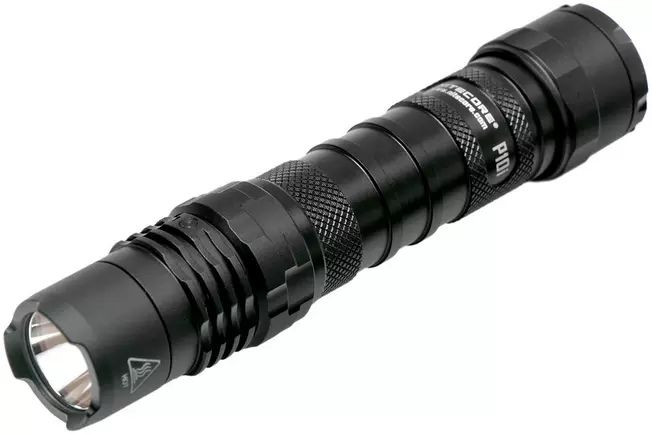 The Nitecore P10i model provides a maximum output of around 1800 lumens. For recharging the flashlight, it comes with a USB-C cable charging. This flashlight lets you get access to three different modes of light outputs. It has a 21700 battery build capacity that allows you to use the flashlight in two different ways such as
Use the flashlight for up to 90 minutes during the high mode of operation
Use the flashlight for 38 hours during the low mode of light
Pros
3 modes of operation
1800 lumens of output
Best for long-term use
38 hours runtime of the flashlight on low
Cons
Need to charge the flashlight often
10. Fenix TK16 V2.0 Tactical Flashlight
The last product on this list is the Fenix TK16 V2.0 Tactical Flashlight. It provides an output of up to 2000 lumens. The structure of the light uses the aluminum alloy body that comes for a long duration application.
Pros
USB rechargeable option
2000 lumens power output
Ergonomic design and shockproof aluminum body
Cons
There are no cons about this product
Conclusion
The above article provides you with the list of the best 10 tactical flashlights in the market, from which you can buy any one of them.
Also read: Cricut Mug Press Review: Some Fascinating Aspects to Know about Cricut Mug