Who doesn't like fine dining? Well, imagine a fine-dine restaurant where zombies serve you dinner or imagine eating sushi sitting on a toilet seat. No, we haven't gone crazy but sure you will when you come to know about these
10 most unusual restaurants in the world.
1. Devil Island Prison Restaurant, China
The aim of this restaurant is to scare people away from a life of crime. Thus, it demonstrates prison life. They even serve coffin-shaped bread.
2. Underwater Restaurant, the Maldives
This one is 5 meters below sea level at the Hilton Maldives Resort & Spa in Rangalifinolhu, Maldives.
3. Dinner In The Sky, Belgium
Wanna feel high? – well, feel higher while dangling 150 feet above the ground from a crane and experience fine dining at Dinner In The Sky in Belgium.
4. Toilet Restaurant, Taiwan
This is heights of uniqueness! This has a complete ambiance of a toilet room. Tables give a look of bathtubs, food will be served in toilet seat shaped bowls. Name alone killed your appetite, right?
5. S. Music Restaurant, Taipei
Don't let its name befool you. Inside is nothing like its name. The restaurant has a hospital setup, waitresses serve food in nurse's dress and guess what? -You will be pushed to your table in a wheelchair.
6. Hajime Restaurant, Bangkok
Okay, this is really fun! In this unusual restaurant, dancing robots serve you food.
7. Labassin Waterfall Restaurant, Philippines
Although the falls are not a natural waterfall it gives you an experience of one. Eat, swim and relax seems the mantra of this restaurant.
8. Twin Star Diner, Moscow
This restauranthas a complete different theme. All the staff members, including waiters, bartenders, and chefs are identical twins.
9. Ninja New York, USA
Well, this takes your dining experience to another level with live ninja performing tricks on your dinner table. Hanging upside down from the ceiling the waiters serve both dinner and the stunts.
10. A380 In-Flight Kitchen, Taipei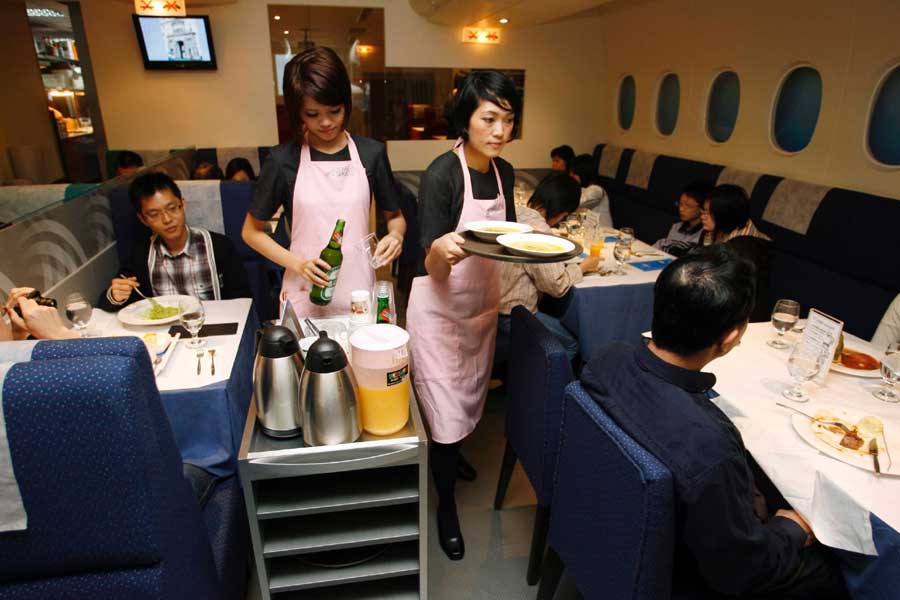 This restaurant is a replica of the plane's inside, with faux oval-shaped windows, seat and baggage compartments. You need not go through security this time, though.