Albert fish letter shows he is a psychopath and serial killer. He did obscene and brutal things to his victims. His story is one of the worst you will hear in the century. Apart from murder, and abuse, Albert did eat the flesh of his victims. In 1934 Budd family hear agonizing news from a letter. It was a letter to Grace Bud's family about her murder. Grace Budd is a 10-year-old child when she went missing.
 For many years the family or cops could not find the whereabouts of the missing girl. One day, the family gets a letter from the murderer himself. It is Albert fish letter that describes what he did to the beloved Grace Budd. A disturbing letter from Albert made the parents lose their hope to live. Let us see what Albert fish the monster did in his life and details about Albert fish letter. 
The about cannibalistic and evil Albert fish
In the 1800's most Americans in their twenties loved to party and have fun. However, Albert Fish is the one who did many crimes as a child. Also, during his twenties, he develops a habit to eat human flesh. All around America many start addressing him as the Brooklyn Vampire.
His vile and cruel crimes did not last long when he sends Albert fish letter to his victim bud's family. This is when officials arrest him for a horrendous crime in human history. Let us see his early crimes and how he deceives Grace Bud's family. 
The psychotic nature and early crimes
Born on 1870 Albert Hamilton Howard Fish is from Washington Dc. His entire family has a problem with mental illness. His mother experienced hallucinations, his uncle had Mania and both of his siblings went to a mental institution. When his sick mother could not take care of him she sends Albert to an Orphanage. He stays in this orphanage for 5 years where he begins to learn all the bad things.
During his orphanage days, he gets beatings from his associates. This is when he finds sadistic pleasure in pain. He also involves in sexual abuse and other disturbing things. He first starts to eat his urine and feces. After arriving in New York City all the crimes were terrible. In those days Albert did worse things by luring boys torturing and raping them. At the same time, Albert fish had his own family and children with whom he did not do such things. Albert fish finds a disabled painter.
 With this man, he has both sexual and abusive relationships. This ends when Albert fish cuts the private part of this man. In 1919, the hallucination of Albert Fish starts when he begins to eat human flesh. In Washington, Albert kills another man. Now he seeks his next victim which is black children. After reading an ad from the Budd family Albert makes the children of the family his next victim.
Also read: Wife Swap Murders: Jacob Killed His Own Family
The deceptive and murderous Albert fish approaching Grace Budd
In 1928 after seeing an ad for work from Edward Budd, Albert fish goes into the household. Albert introduces himself as Frank Howard to the family and tells his interest to work. As Edward Budd that is Grace's brother wanted farming work Albert assures him to give him some work. Albert first arrives at Bud's residence to lure him and torture him to death. When he saw innocent Grace Buds, the plans of this evil man changed. He first makes Grace Budd sits on his lap as a loving old man.
Also, he asks Grace's parents to send her to his Niece's party. He also gave fake hopes to give work to Edward and his friend. As he was an acquaintance the Budd family sends grace with him. However, they or innocent grace did not have any clue about the horrific things about to happen. After this Budd family were frightened to learn that grace or frank did not return.
 They file a case but did not know what happened to Grace Budd. They were in the grief of missing their daughter to a stranger for many years. However, one day when they think worse has happened they hear more disturbing things. An Inhuman Albert fish Letter rips the family. 
The sickening letter from Alert Fish murder of Grace Budd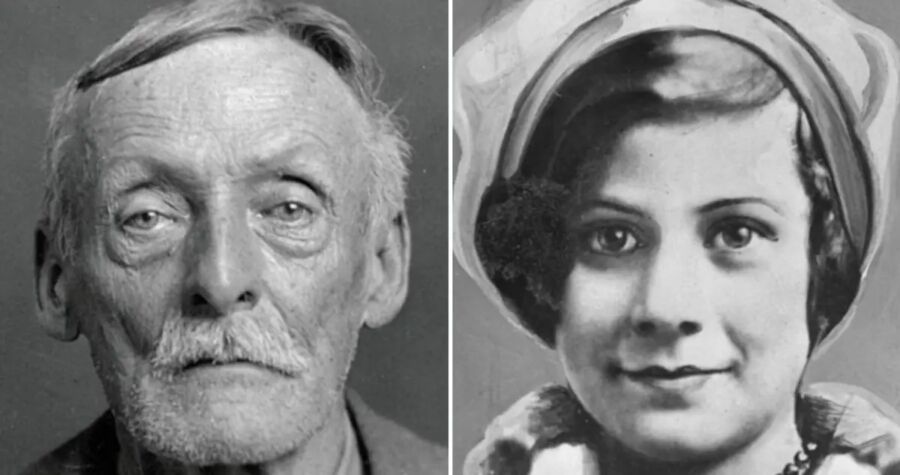 The Albert Fish letter is a gruesome thing in human history. The contents of the letter to the victim's parents were very disturbing. Albert first starts to write about his experience of eating human flesh. Also, he adds details about ripping the clothes of his victim and abusing and eating their flesh.
Albert now talks about Grace Bud and how when his first meeting he made her sit on his lap and decides to eat her up in his mind. Describes taking little Grace to an abandoned place and tortured her. He grabbed her like any of his victims and killed the girl. Plus, he then cuts her body into pieces to bake her in the oven. It is a sadistic letter that just shattered her parents. He mentions about not abusing her but writes ghastly details about her murder.
The letter that puts an end to the dreadful crime of Albert Fish
After receiving the letter, the Budd family inform to the police. With the envelop sign and emblem the cops found from where the letter came. They question a Janitor who had taken some of these envelopes to his place. During the investigation, cops find a place also a lady tells about Albert fish checking out before a few days. She also says about Albert searching for a new room.
However, this lead was enough for the police to catch this rascal. The lady informs about Albert coming back to collect a pending check from her. When Albert fish returns to the same place Police grab hold of him to arrest and put him to death. When the case trial starts in 1935 Albert agrees to 3 murders but overall 9 victims' murder points to him. Within a few days of trial, he received the death sentence.
 However, when people thought Albert fish Letter was his worst confession there was more. During Investigation the lawyer hears one of the sickening confessions of Albert fish about another victim. The lawyer says it is the most obscene, filthy and brutal thing he has heard and does not want to tell it to the world. In 1935 the most inhuman person on earth Albert fish was electrocuted to death.
Also read: Elisa Lam: What is The Unsolved Mystery Behind Her Death?