Are you a fan of basketball? Then the genre of basketball anime will interest you. Many basketball animes revolve around the protagonist trying to become a popular basketball player. Also, the storylines of these animes are inspiring. That is why they are famous. The details of the games are very realistic in these animes. When you see the animes you may identify some of the minute details followed by the creators. Even the uniforms worn by the anime characters are excellent.
Furthermore, the players sweat and work hard to win each tournament. If you are a fan of sports these animes will be a good thing for you to pass the time. That is why look at the list of fifteen best basketball anime here.
1. I'll CKBC
This is a basketball anime released in 2003. There are two protagonists in this anime. One is Akane Tachibana who is a hardworking guy and another is Hitonari Hiiragi who is a naturally talented star. Both of the guys are part of the same team so they have to join together to win the games. But sometimes it is hard for them to see eye to eye. It is a great watch.
2. Barangay 143
This series shows street basketball in a new light. It is about a guy named Bren Park who is a Korean basketball player. Also, he has roots in the Philippines. He joins a street basketball team and also comes to know more about his Filipino origins. He becomes more passionate about the game and learns important life lessons.
3. Buzzer Beater
It is a 2005 anime about basketball of the future. It is about a young boy named Hideyoshi who lives in the streets of New York. Also, he challenges kids in basketball games. Then he suddenly gets drafted into a pro basketball team that changes the course of his life. He plays against humans and alien teams.
4. Ro-Kyu-Bu!
It is a 2011 basketball anime about a girls' basketball team. These girls are cute but they know how to play basketball. Furthermore, the story is about Hasegawa Subaru who starts to train a group of girls for basketball tournaments. If you are looking for basketball anime that is not very serious then this anime is for you.
5. Slam Dunk Basketball
This anime is about a guy named Sakuragi Hanamichi in junior high. He does not get the attention of girls and gets rejected by many. But to impress a girl he joins the basketball team. But after joining the team he faces a rival to his love and also many other challenges. This story is gripping and engaging.
6. Dear Boys
This story is about Aikawa Kazuhiko who becomes the new student of Mizuho high school. After seeing a conflict in the school's basketball team he tries to motivate the players to play. Also, he joins the team and sets out to win many tournaments. The team has a lady coach who starts to have a good friendship with the Dear boys.
7. Kuroko No Basket
This anime series started in 2012 and has three seasons. It is a story of a basketball team of the school Teiko Middle School. But the best team in the school begins to dismantle until a boy named Kuroko joins the school to create another team. He tries to make the team become like the former team with the help of Kagami Taiga.
8. Basquash Basketball
This anime takes place in the futuristic earth. The games happen between humans and lunar citizens. Also, there is a legend in the anime that says when Gods played basketball they created the universe. There are characters like Dan JD and his friends who try to make basketball popular. They use a machine known as Big Foot for the games.
9. Onagawa Chuu Baske Bu: 5-nin no Natsu
This story takes place during the hard time in Japan after the 2011 earthquake. To come out of the tragedy the girls of Onagawa Junior High continue to play basketball. Moreover, they try to inspire others by their passion and willpower.
10. Breakers
This anime is about basketball played by differently-abled people. There are many kinds of sports in this anime that are part of the Paralympics. Moreover, the characters in the anime are motivational.
11. Ahiru no Sora
This anime began in 2019 and became a popular basketball anime. The story is about a boy named Sora Kurumatani who does not have the right height to play basketball. But that does not stop him from training and practising to win the tournaments. This plotline in basketball anime is famous.
12. Dash Kappei
This anime released in the 1980s and has many comical elements. The story is about Kappei Sakamoto who is a short student with great basketball skills. But his weakness is white panties. This leads to bizarre scenarios.
13. Mitsu x Mitsu Drops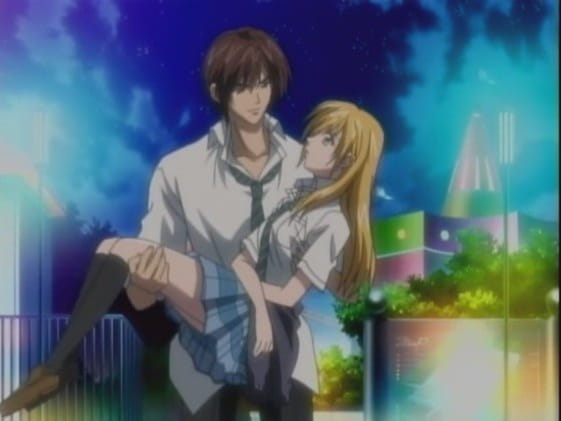 This is a short basketball anime with only two episodes. You can find romance as well as basketball in this anime. Therefore, do not miss it.
14. Heong-geuli Beseuteu 5
This is a basketball anime movie released in South Korea in 1995. It is about Kim Youngwoong who wants to become the best basketball player in the country. But he decides to join the underdog team so he could prove his talents.
15. Kuroko no Basket: Last Game (OVA)
This is the popular OVA of Kuroko no Basket anime. It shows what happens when the best players in the anime join together to win. Also in this anime, the former team of Kuroko called Generation of Miracles and then Kagami team up together to play against the US streetball group.
Conclusion
These are the fifteen of the best basketball animes you can watch. They have all the interesting scenes and action you will prefer to see on the screen.
Also read: 7 Best Anime Trap Characters