Technology is changing the world immensely. Starting from a day-to-day task to very complicated work, humans take the help of technology. Watches have also undergone a drastic technological change. Analog and wristwatches have now become smart bands. Say goodbye to the monotonous watches and use smart bands for a better experience. 
Here are some of the must-own Samsung smartwatch bands:
1. Camouflage Leather smartwatch band
With high-quality color and print, this camouflage watch band is sure to grab the attention of people. Black and green color camouflage make it suitable for a casual and cool look. It is made from original Napa leather and fitted with pads, and the watch gives a comfortable and soft feel to the wrist. It is ideal for people with a wrist size of 135mm to 190mm and compatible with 20mm and 22mm. Hassle-free installation and removal process and ultra-stylish look make it loved by most people. This band is usually preferred by men.  
2. Silicone universal watch band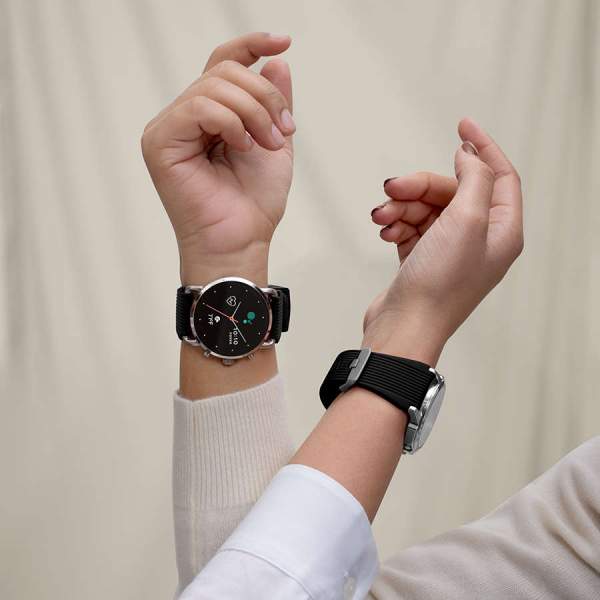 It is made from superior quality silicon. This band is available in four colors, black, blue, pink, and red. With vertical stripes and a clean look, this band is a must-own for fashionable and casual wear. It is available in two sizes; 20mm and 22mm. Hot-swap connectors are provided, which aid in the easy replacement of bands. This band is useful for people undergoing exercises as it is durable and sweat-resistant. It is comfortable to wear and feels light on the hand. It is great for men, women, and kids. 
Also read: 8 Best Wearable Gadgets That are Bound to Make Your Daily Life Easier
3. Navy blue watch band with crosses
The watchband is available in two sizes: 20mm and 22mm. This watchband has universal compatibility and can be paired with a dial of any company. The color and cross pattern give the watch an elite look. A person with a wrist size range of 135mm to 190mm can use this band. The band is padded to give a comfortable feel on the hand. You can easily connect and disconnect the straps to the smartwatch dial. This band is suitable for both men and women and preferred alike. 
4. Black Croco Leather
This band is made from pure leather and given a pattern of the crocodile skin. It is available in brown and black color. The straps are padded to give a solid look and comfortable feel. It is available in 20mm and 22mm size. Hot-swap connectors are provided with the band so that you can attach or detach the band to the smartwatch without the help of any tool. A clean and exquisite look makes it suitable for formal meetings and offices. This Samsung Smartwatch Band is great for men and suits them perfectly for an important meeting. 
Also read: 6 of The Coolest Tech Gifts Ideas To Present Your Gadget-Obsessed Friend
5. Floral Midnight Leather universal watchband
If you want to ace a funky or cool look, this is a must-have band. It is available in 20mm and 22mm size and is suitable for people with a wrist size between 135mm and 190mm. The band is made from pure napa leather and is padded to give comfort to the wrist. The black color base with a clean and high-quality white floral pattern makes the band lucrative. The design is embedded using UV technology, which makes the print stay new for years and is water-resistant. This band is definitely a good fit for parties and casual look. This band is suitable for both men and women. 
6. Milanese loop universal smartwatch band
Heading to a party, wedding, or celebrating a festival, this band will make heads turn. You can easily combine smartwatch dial with these bands using the hot-swap connectors provided with it. It is made from high-quality stainless steel and is light in weight. It is available in three colors, metallic black, gold, and silver. It has an anti-fade coat, which helps to retain the metallic color for a long duration. It is light in weight and comfortable to wear. The band is suitable for people of any wrist size and comes with lock magnets to secure the watch on the wrist. 
Also read: 5 Of The Biggest Upcoming Innovations In The Telecom Industry That Will Transform The Way We Communicate
All these Samsung Smartwatch Bands are available on DailyObjects. They house some of the best and top collections of smart bands. Check their website to shop for some of the latest and amazing goods for affordable prices.
Depending on the smartwatch band type, location, and availability, the dispatch and delivery can take a week or 10days. They also offer cash on delivery services and an easy return procedure within 10 days.