Brianne Sidonie Desaulniers is a popular actress well known as Brie Larson. She is now thirty years old. At first, she started her career acting in supporting roles. Now she is working on many movies. She also received many accolades for her excellent film roles. Brie is one of the influential people in the world. She is best known for her role as Captain Marvel in the Marvel Cinematic Universe. Brie also directed two films after her success as an actress in the film industry. To know more about Brie Larson continue reading.
Background information
Brie's birth date is October 1, 1989, and she was born in Sacramento, California. The names of her parents are Heather and Sylvain Desaulniers. Both of her parents are homeopathic chiropractors. Brie also has a sister named Milaine. As her father is a French Canadian Larson spoke French as her first language. She did not go to school and was instead home-schooled. This experience made her get innovative ideas. She was close to her mother and grew up as a strait-laced child. The actress in her childhood also suffered from social anxiety. In the summer she tried to write stories for movies and direct it and that shows she was always interested in the arts industry.
She then participated in a training program performed by American Conservatory Theater situated in San Francisco. Brie had to also experience some disappointments. Her parents separated when she was seven years old. She also in an interview shared about the dysfunctional relationship she had with her father. Then her mother went to Los Angeles along with her girls to make Brie into an actress. However, they had only a little money so lived in a small apartment near Hollywood yet they were content with each other as her mother did all she could to keep the girls happy.
Also read: Emma Bloomberg Biography
Profession and achievements
Early career
Her first main role is Emily who is the younger sister of the character played by Bob Saget in the Sitcom Raising Dad. Then she acted in the ABC channel's Hope and Faith. In 2006 she was a part of a film Hoot which is a comedy. Then she got really disappointed when she did not get the roles she wanted.
Breakthrough roles
In the year 2009, she started to act as Kate Gregson a teenager in the United States of Tara drama. She received lots of good reviews for the character she played. Then she became part of House Broken and Just Peck. She also acted in a cult film Scott Pilgrim vs. the World. She played as the daughter of Woody Harrelson in Rampart. Brie became emotionally attached to the character because it showed the dynamics of a father-daughter relationship.
Success in the industry
After appearing in many movies and taking a break Brie Larson got to play the role of Captain Marvel. The name of the character is Carol Danvers. This role created as empowerment for young women so even though Brie had doubts about taking the high profile role she accepted it. This is one of the highest-grossing films of all time.
Personal life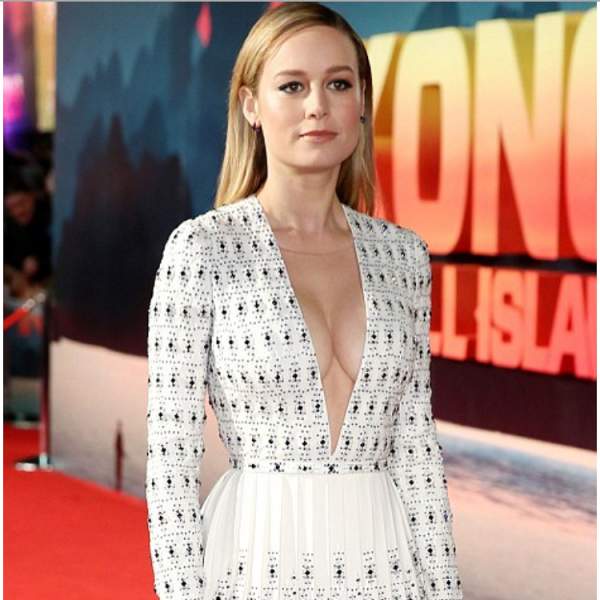 Larson is a shy woman and she never discusses her life to the public. But many people who know of her say that she is a strong woman with a warm character. She started to date Alex Greenwald a lead singer of Phantom Planet and they got engaged in 2016 to 2019. He is a supportive partner for Brie and always encouraged her to take risky roles. However, now they have broken off their engagement.
The net worth estimate of Brie Larson is $20 million. She earned $5 million for her part in Captain Marvel. Brie is one of the highest-paid actresses in the industry. She is residing in her home situated in Los Angeles New York. The actress has lots of high profile future projects also. We will be able to see her acting in the contents belonging to popular streaming services and shows in the future.
Brie Larson Biography/Wiki/About
| | |
| --- | --- |
| Name | Brianne Sidonie Desaulniers |
| Nick Name | Brie Larson |
| Profession | Actress and Filmmaker |
| Age (As of 2020) | 30 years |
| Birth Date | 1 October 1989 |
| Birth Sign | Libra |
| Birth Place | Sacramento, California, United States |
| Nationality | American |
| Height | 5 feet, 6 inches |
| Weight | 55 kg |
| Relationship Status | Unmarried |
| Boyfriend | NA |
| Partner | Alex Greenwald (2013–2019) |
| Kids | Son (s) None |
| | Daughter (s) None |
| School | Home schooled |
| College | American Conservatory Theater, San Francisco |
| Father | Sylvain Desaulniers |
| Mother | Heather Desaulniers |
| Siblings | Brother (s) None |
| | Sister (s) Milaine |
| Salary (As of 2020) | NA |
| Net Worth (2020) | $20 Million |
| Famous for/as | Her role Carol Danvers in Captain Marvel |
Few interesting facts about Brie Larson
As her real name is difficult to pronounce she changed it to Larson.
Her first appearance on TV was as a Barbie in "Malibu Mudslide Barbie" for one of the episodes of The Tonight Show with Jay Leno.
She is also interested in music and was part of many music tours and song production.
In the movie Rampart, Brie became upset with the scene of father-daughter confrontation.
To act as hero Captain Marvel Brie got training in boxing, judo, and wrestling.
Captain Marvel is the first female-oriented superhero film to get $1 billion.
There is going to be a sequel for Captain Marvel.
Brie Larson is active in social media pages and she always posts encouraging opinions that she herself writes.
There is one wax sculpture of Brie in Captain Marvel attire in Madame Tussauds New York.
Brie also is in the annual beauty list magazine during the years 2016 and 2019.
Conclusion
Brie Larson is one of the iconic characters in the film industry. Although she started her life in difficult circumstances she has overcome all the troubles and is a rising star now.
Also read: Violet Madison Nash Biography and Net Worth