It is right that anime has introduced us with a lot of charming female characters. However, if we talk about cute anime boys what about them? Have they lost it in that area? Therefore, the answer is certainly Not! In fact, they made some really good looking and sexy characters, also the most stylish looking males. However If we take some examples, then Ichigo from Bleach is certainly a stylish male character. One cannot resist falling for cute anime boys with just one look. And there is actually a range of them like, cool, shy, bad-ass, cute, cold etc.
15 Cute Anime Boys of all the time
1. Shou Kurusu from Uta no Prince-sama: Maji Love Kingdom
Shou is a very easy going character yet keeps himself with the cute looks. He is a very easy person with refreshing killer looks and personality. Anyone can get easily linked or attached with his fashionable stylish looks and positive vibes. Therefore, he is one of the cutest male characters in more than just one way. Moreover, his looks gets so enhanced with his hat which gives him the taller and more killer look.
2. Haruaki Yachi from C3
He is the cute looking teenage character from the C3 anime series. Therefore, he is good looking yet has a good nature character. However, he is not much into fights but still if someone pokes his loved ones or friends then it's not good. Therefore, if someone would try to pick up fights with his family, loved ones then he will not shy to fight back. He has dark brownish hair which covers his forehead and above the eyebrows. Overall he has a cute boyish look on his face.
3. Loke from Fairy Tale Guild
If you talk about cute anime boys, then Loke will come on the top most. He is the character in Fairy Tale Guild who gets revealed to be the Celestial Spirit. Therefore, he leads the 12 Golden Zodiac keys. Therefore, he looks sober and corporate in the look, with slight golden hair and he wears the glasses.
4. Yato from Noragami
Yato is the perfect character of a young boy with messy hair. However, the unique thing about him is that his eye color keep changing according to what he feels in the moment. For example, if he is serious or angry his eyes will become slit like a cat. Yato seems to be a child because his moods remain uncertain. However, he is content and full of himself, still at some point he seems childish. He is more attractive and cute because of his fun loving personality.
5. Keima Katsuragi from The World God Only Knows
It is impossible that if you watch the series "The world God Only Knows" and do not notice the attractive and cute anime boy. That male character is Keima Katsuragi.Therefore, he is the main character of the series. Keima is obsessed with games and can play them as long as it goes. Moreover, he looks cuter because of his spectacles. His speciality is that he can transform his appearance many times. In fact, sometimes he can also cross dress and turn into a girl, yes it is true!
6. Mikoto Mikoshiba from Monthly Girls' Nozaki-kun
Whenever we look for anime characters in the series looking at the main character makes it easier to understand. Mikoto has a very handsome face and features it attracts everyone and brings attention. Therefore, his fans follow not just girls but also boys. However, in reality he is timid and because of this nature everyones gets attracted.
7. Lavi from D.Gray-man
Lavi seems to be emotionless and reserved in nature. However, his weird actions and casual nicknaming people make him look cute. However, his joking nature and cheerful personality makes him prominent. Apart from this he is really intelligent in nature. Furthermore, including all these characteristics he is a truly honest, loving and cute male.
8. Kyousuke Kousaka from Oreimo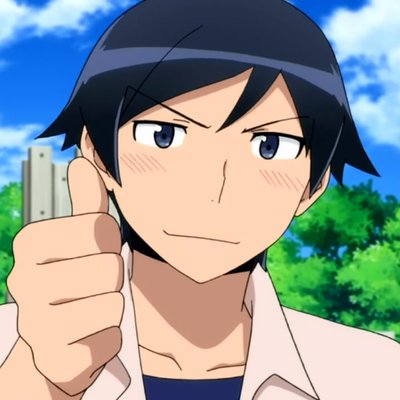 Kyousuke Kousaka is the male character who is in his late teenage years. Though he is average in looks, he still looks cute and stands out in the series alone. He is very loyal and caring in nature. However unlike Makoto who just talks about sex he is very loyal and loves his sister. He has dark eyes and dark eyes and can go far to help his close ones.
9. Lag Seeing from Tegami Bachi
Lag looks very stunning with his left eye covered and chubby face. He is a very cute ideal anime male. However, on the other hand he is also a cry baby but the factors he has makes him more adorable. He is usually polite, kind, formal and gentle. Overall he is a very cute personality.
10. Mitsukuni Haninozuka from Ouran High School Host Club
His face can attract anyone and everyone with his too much cuteness. He has a sweet tooth and also likes to do new things. Once you watch his nature you will notice that he is too much loaded with cuteness.
11. Makoto Itou from School Days
Makoto Itou has a magnetic personality, he has large eyes and long hair. Therefore, this actually gives him a cute teenager boy look. He looks good in his academic uniform in grey suit, however he is not built out of ordinary. He is considered to have a high sex drive and does not care with who get physical and sleeps with.
12. Hanabusa Aido from Vampire Knight
Hanabusa's nickname is Idol and it suits him from top to bottom, his looks can give you chill in ways like a fairytale. Hanabusa is a charming and attractive vampire. However, he sometimes flirts with girls to show his charisma. The thing about him is that he is not that careful about keeping his secret of being a vampire.
13. Nagisa Hazuki from High Speed! Free! Starting Days
Nagisa Hazuki is a high class boy with a charming persona and cute nature. His all-time favorite thing is to do swimming with his friends. His friendly nature and personality will attract you so much. Nagisa is really smart and he knows that he is cute. Therefore, he can get what he wants easily with his cuteness.
14. Saito from Familiar of Zero: "Rondo" of Princesses
He is one of the dominating male characters of light novel mega series, The Familiar of zero. He is there and is transported from tokyo to a magical world of the kingdom of Tistrain. However, he is also the main love character of Louise.
15. Shouyou Hinata from Haikyuu!!
Shouyou is cheerful with an energetic personality and he stands out of the other. In the Haikyuu!! tv show his character is fearful in nature, he gets scared and also hides when the situation is fearful. He is very cheerful and he is like sunshine, therefore it makes him the cutest. While his personality is like icing on the cake for his cuteness.
Also read: 10 Best Hot and Sexy Anime Series of All The Time
Also read: 25 Hot Anime Girls That are in The Wish List of Anime Lovers
Also read: Shaman King 2021 Reboot Anime Update