Do you wash your hair every day? But is it the right way to take care of the hair? Here you will learn about the effects of washing hair daily. You will also learn how much days in a week you need to wash your hair. This is important because your hair needs all the care it can get to make it look healthy. The times of hair wash must depend on the type of hair you have and also the scalp. For instance, the hair scalp can be dry, oily, normal, inflamed or with dandruff. So you need to follow different kinds of hair wash routines to take care of the type of the scalp and hair.
Now have a look at the different details to know about hair wash routines. 
How does Shampoo act on the hair? 
The shampoo gets rid of the oil and dirt from the scalp. So it works on your hair at a clinical level. There will be tiny pores on your scalp. Under the pores, you will have glands that produce oil. This is well known as the sebum. So this is vital and keeps your scalp and hair healthy.
After hair wash, the sebum starts to form again in the hair and it can attract the dirt. Sometimes the products you apply to your hair can also get stuck. Therefore, this is the extra oil and dirt that can cause dandruff and other issues in the scalp. So if you wash your hair only occasionally the dirt can build up in your hair which can make it unhealthy.
So for people who are prone to dandruff shampooing is good. It has surfactants that get rids of oil and dirt. However, you also need to take care of excessive hair wash with shampoo. If you wash your hair daily, it can get rid of the natural hair oils too which can weaken the condition of your hair.
Know when to wash the hair?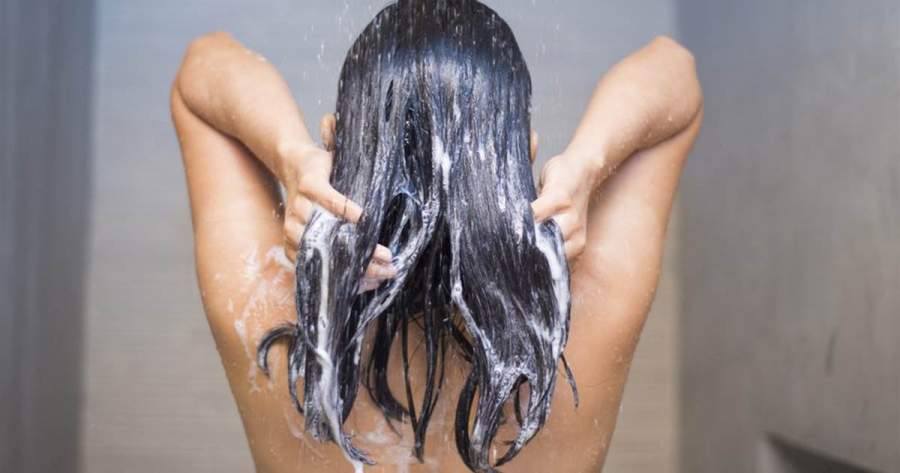 There are a number of factors that will help you to know if you have to wash the hair or not. These are the signs that your hair needs a good wash. 
1. Oily and greasy hair 
After a long day at the office or if you are outdoors most of the day your hair will become oily and greasy. It happens because of the sweat in the scalps. Your hair may begin to feel itchy. Furthermore, you can also find lots of white flakes in the hair which is dandruff.
Your age, weather, hormonal changes and lifestyle plays an important role in how much oil your hair secretes. Some people have excessive oil production and others may have less. So you have to know your hair because it is different from others. If your hair gets greasy and oily too often then you have to wash it frequently than others. 
2. The type of hair 
People have different hair types. Some may have straight hairs and others may have curly ones. If your hair is straight, then you may need to wash the hair more often than curly hairs. This is because the people with straight hair will have good oil distribution in their hair so it can become greasy quickly. 
3. Way of life 
If you are a person who travels frequently in the hot son, then you may need to wash your hair often maybe four times a week. This is because your hair can get dirty quickly. Your hair can get oily if you spend lots of time outdoors. That is why you have to wash your hair having this factor in mind. 
5. Dirt and Dust 
Do you like to work in the garden? Then the dust can easily get stuck in your hair. Also, you may have to wash the dirt off your hair after dusting the house. This is because the dirt and dust can easily hang on to your hair making it dirty. You must not leave it to reside in your hair because it can cause itchiness and dandruff. 
6. Styling products
Sometimes the products you use for your hair can clog the pores in the hair. This can affect your scalp making it itchy. So if you use these products often you may have to wash your hair more often.
What about washing hair every day? 
Some people like to wash their hair every day. They feel fresh and clean only if they wash their hair daily. But using shampoo every day is not a good habit. It can damage your scalp and hair. Your hair may be clean eventhough it can feel oily sometimes. This does not mean that you have to wash it. If you wash it daily the shampoo will completely wash off the natural oils too. This can harm the health of your hair.
But if you are using a medicated shampoo you can follow the advice of your doctor. He or she may have prescribed the shampoo to cure the hair problem you may experience.
How does the season affect hair wash habits? 
Seasons change and they affect how we live our life. So we have to alter how many times we wash our hair according to the season. The cold weather can give people a dry scalp so it can lead to a lot of dandruff. At that time, you may have to wash your hair more often to get rid of dandruff and dryness. You have to use a mild shampoo if you are frequently washing the hair.
In the summer season, the hair may get quickly oily however there is less dandruff. So you can wash the hair less often in these months. At this time the hair starts to secrete natural oils more so it feels less dry.
How to Take good care of your hair?
You can lessen the chance of hair getting dirty often. So you need not wash it daily. Here are the steps you can follow.
When dusting the house wear a protective cover around your hair. So the dust will not get stuck in your hair scalp and strands.
While travelling you can tie a shawl around your hair so it will not get exposed to the sun.
When sleeping try to change the pillow covers more often so your hair can escape from dandruff.
Drink lots of water to prevent hair dryness.
Comb your hair before bedtime.
Conclusion
Hope this information will allow you to take care of your hair. So make your hair look beautiful and healthy through the steps here.
Also read: 13 Natural Ways to Regrow Hair and Dense Hair
Also read: 8 Tips to Stop Hair Fall Naturally