The killing was something Joanna Dennehy enjoyed doing. In the Peterborough Ditch Murders, which occurred over ten days in March 2013, Dennehy killed three men in England.
Her overall objective was to murder nine men together with Gary Richards, her accomplice, to resemble the notorious murderous couple, Bonnie and Clyde. Despite her best efforts, she could only kill two more men, far fewer than she had planned.
Days after discovering the first body, police quickly apprehended Dennehy. She later found love with several other inmates, making her story even stranger after being found guilty. She continues to try to seduce guys even though she will spend the rest of her life in prison.
What Motivated Joanna Dennehy To Murder?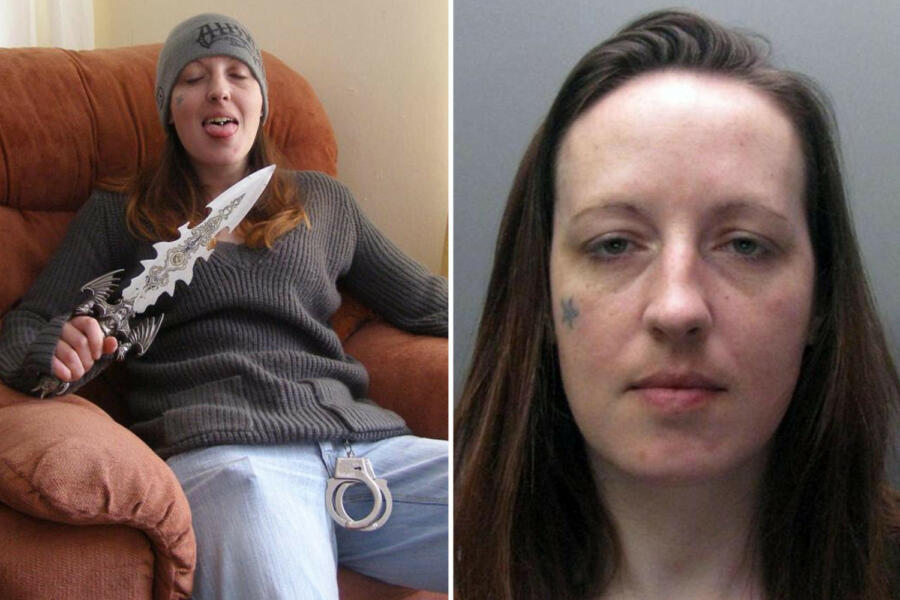 Joanna Dennehy led a difficult life. At the age of 16, she ran away with her lover, John Treanor, who was then 21 years old. Dennehy, who was 17 at the time of her pregnancy, was enraged because she didn't want kids. Dennehy started drinking, taking drugs, and cutting herself soon after her daughter was born. August 1982 saw the birth of Dennehy in St. Albans, Hertfordshire.
According to the reports, Treanor stated that her first instinct was to get stoned when the patient left the hospital.
She became pregnant once more in 2005 despite her actions. Then, Treanor broke up with her and got the kids out of the dangerous situation she had made for them all. She appeared to be a menace to his family, was cheating on him, and self-harming.
Even though he was unaware of how far Dennehy would go, his intuition proved to be right. She moved to Peterborough after he departed, where she met Gary "Stretch" Richards, who fell in love with her despite her issues.
Her reported use of sex to pay for her addictions may have fueled her loathing of males. Joanna Dennehy's issues weren't made public until February 2012, when she was 29 years old.
The 10-day killing spree by Joanna Dennehy started a little more than a year after her incarceration. After being detained for stealing, Dennehy was later checked into a hospital for psychiatric care. She was given diagnosed with obsessive-compulsive syndrome and anti-social syndrome at this time.
10-day Murder Spree By Joanna Dennehy Was Violent
Lukasz Slaboszewski, 31, was the victim of the first of Joanna Dennehy's heinous murders. Only days before Dennehy resolved to assassinate him, the two of them had met in Peterborough. After sharing drinks, she led him to a different home owned by her landlord and had him wear a blindfold.
Slaboszewski reportedly informed his buddies he was going to meet the woman he believed to be his new girlfriend, according to CambridgeshireLive. Joanna Dennehy, on the other hand, stabbed him in the chest. Then, she kept him in a dumpster until she picked up her next victim.
Joanna Dennehy murdered John Chapman, 56, one of her housemates, in the same way, ten days after she killed Slaboszewski. Then, a few hours later, she killed their landlord, Kevin Lee, 48, with whom she had been having an affair. She talked Lee into donning a black sequin dress before killing him.
Her associates are involved in disposing of the bodies. Leslie Layton, 36, and Gary "Stretch" Richards, 47, accompanied Dennehy as he carried the victims and dumped them in ditches, even forcing Lee into a sexual position to further humiliate him.
A Glimpse Of Another Encounter 
In search of additional people for Dennehy to murder, the group travelled west across the nation to the town of Hereford on their way back from disposing of her last two victims. For me to have fun, I need you. I want my pleasure," Dennehy stated to Richards as they were driving.
When they arrived in Hereford, they encountered John Rogers and Robin Bereza, two guys, strolling their dogs. Before stabbing Rogers more than 40 times, Dennehy hit Bereza in the shoulder and chest. Thanks to prompt medical assistance, these two could only be saved and identified during her trial.
Joanna Dennehy later claimed that she only killed men because, as a mother, she didn't want to kill any other women, particularly those carrying children. Yet, she reasoned that murdering males may be fun. She later admitted to a therapist that she "acquired a taste for it" after Slaboszewski and started to crave more murder.
How Joanna Dennehy Maintained Her Name In The Public Eye
Joanna Dennehy appeared to make the most of her incarceration by falling in love again with her cellmate Hayley Palmer. Palmer's family opposed her attempt at the marriage in 2018 because they feared Dennehy would endanger Palmer. In an unsuccessful suicide pact that same year, the couple attempted suicide.
Another love affair with a different inmate followed. Even after Palmer's release, Dennehy and Palmer were back together as of May 2021, and they still wanted to wed.
In addition, it is alleged that Dennehy, who will spend the rest of her life in prison, had written letters to men while she was there to attract victims.
Wrap Up
2019 saw Dennehy's relocation to Low Newton Prison, the same facility housing English serial killer Rose West, the only woman currently alive who has been given a life sentence in the nation. Until Dennehy threatened to kill her, prison guards shifted her to a safer location west of the facility.
Being one of the terrifying serial killers due to her lack of remorse, enjoyment from murdering, and method of murder, Joanna Dennehy's lack of humanity reveals a true monster.
Also read: Clark Olofsson: The Swedish Criminal Who Inspired the Stockholm Syndrome!