The showbiz world is always full of surprises. Every now and then, you will hear some other gossip related to your favorite stars. Often we do not verify the sources and start believing what we hear; however, when we see it with our own eyes, it leaves us with no other option but to believe it.
By now, you must have already guessed what we are hinting at. Yes, the famous celebrity Katie Holmes made out with the mystery man Bobby Wooten III during her New York City date. This shocked you as well, right? Well, Yes, you can indeed call it a PDA alert! So would you like to know more about the gossip in detail? Stay with us until the end, as we will share all the relevant information regarding the incident!
A Short Bio on Katie Holmes
Many of you already know that Katie Holmes is actually the ex-wife of the world-famous actor Tom Cruise. On December 18th, 1978, the American actress was born in Toledo, Ohio, in the United States. Therefore, she is presently 43 years old. Holmes made her feature film debut in 1997 with a supporting role in Ang Lee's The Ice Storm. After this, she also did several big-budget and small-scale projects. However, her role as Joey Potter in Dawson's Creek brought her international fame and recognition.
Besides films, Holmes also made a Broadway theatre debut in a 2008 production of Arthur Miller's "All My Sons." At the same time, she also portrayed Jacqueline Kennedy in the television miniseries "The Kennedys." Later on, she reprised the role in The Kennedys: After Camelot in 2017.
It was Katie Holmes' marriage to actor Tom Cruise in 2006 that caused a stir among the public. However, when the couple announced their separation in 2012, it led to much media attention. Holmes also shares a daughter with Cruise. After her divorce from Tom Cruise, she had dated several other celebrities; however, this time, her relationship with the mystery man Bobby Wooten III has again brought her life into the spotlight. Let us know some more details regarding her current relationship.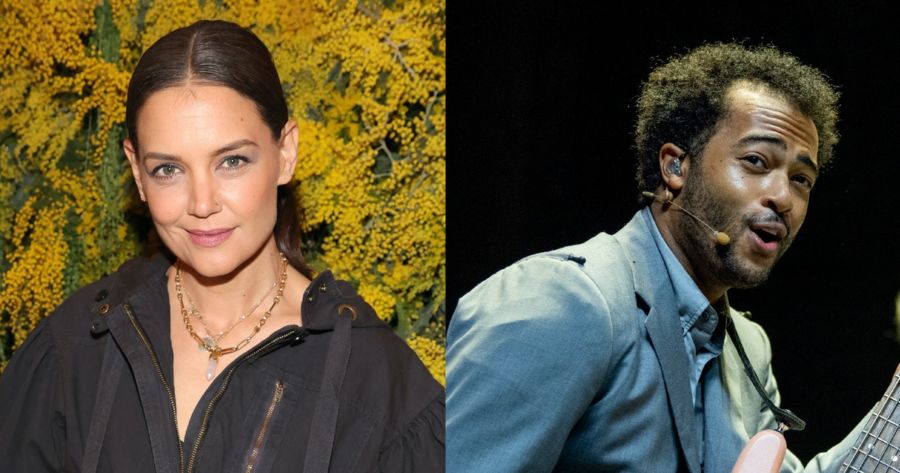 Who is The Mystery Man She is Dating?
It is not surprising that many of you might be hearing the name of Bobby Wooten III for the first time with regard to Katie Holmes. As per the sources, Katie Holmes' present boyfriend Bobby Wooten III is a composer, producer, and instrumentalist. What is more interesting is that he is self-taught. In an interview, the musician shared that he learned piano under the guidance of his grandfather. However, he taught himself bass.
He also shared that he counts his father and grandfather as his influences in the same interview. It was his grandfather who started the Wooden Choral Ensemble in 1949. At the same time, Wooten's dad made pop music and played the keyboard in Marcus Miller's band. So Yes, music runs in his blood. Besides his dad and grandfather, Wooten mentioned that everyone in his family is highly talented.
Wooten is not just a musician; he has made it a point to share his talent through teaching with his extensive knowledge of music. Therefore, he is an adjunct instructor at the NYU Tisch School of Arts. Needless to say, he has also performed with superstars like Jennifer Lopez, David Byrne, and others.
What is highly relevant here is that he has a few things that are pretty similar to his present partner Katie Holmes. Firstly, they have the Midwest in common. Apart from that, Holmes also grew up in Toledo, Ohio, whereas Wooten was born in New Jersey but raised in Chicago. At the same time, both of them are Broadway performers. It is as if fate brought them together in a relationship.
Also read: Here is The List of 8 Richest Actors of Hollywood
Katie Holmes & Bobby Wooten III Are Not Hiding Their Relationship From Public
If you are an active user of social media platforms, you must have already seen that the Dawson's Creek actress was spotted making out with her new beau. To be more specific, the lovebirds shared a kiss while on a break from their bike ride in the Big Apple. Holmes was wearing a striped T-shirt, green jacket, and sunglass as she got cozy with the musician.
On the other hand, Wooten wore a navy jacket, khakis, and a crossbody bag as he kissed the Batman Begins actress on Mother's Day. As per the sources, Holmes' 16-year-old daughter, whom she shares with her ex-husband Tom Cruise, was not there with the couple for the romantic outing.
In fact, last month, the celebrity couple sparked dating speculation when fans saw them kissing and holding hands in New York on April 27. Paparazzi captured the duo wandering around Central Park and enjoying a day at the Guggenheim Museum nearly one year after Holmes split from chef Emilio Vitolo Jr. You can well understand that both Katie and Bobby are not shying away from the camera and enjoying their date.
Have A Look at Holmes' Previous Relationships
If you are a fan of the beautiful Katie Holmes, you will know that she was in several relationships after her divorce from Tom Cruise. Ahead of her romance with Vitolo, Holmes was in a long-term relationship with Jamie Foxx. In fact, Holmes dated the Ray star from 2013 to 2019. After that, the Coda actress also had an affair with Vitolo in September 2020.
However, two months later, things took a different turn. As per the sources, at the time, Holmes felt very blessed to be with a down-to-earth, kindhearted companion. Holmes was such a person who wasn't affected by fame and put happiness and traditional values first. Despite their seemingly instant connection, in April 2021, the duo was taking "space" from one another. One month later, we realized that the relationship had "fizzled" and was over for good.
Needless to say, the couple figured out they were better off as friends. According to an insider, "there's no drama that went down with the breakup, and in fact, they're still friends." The insider also added that "Katie and Emilio really enjoyed their time together — it just simply didn't work out. She's focusing on being a mom and her upcoming projects."
Ending Note
So as we conclude, we can say that Katie Holmes and Bobby Wooten III are presently enjoying a blissful moment in their relationship. Katie has already handled a lot of break-ups in her life, so it must have been very difficult for her. We sincerely hope that the couple remains happy and thinks of settling down later on.
Also read: Who is Ulrika Jonsson with Now?