Evelyn Mchale had one last wish that no one sees her dead body. She wanted to leave her body in the same condition as before her jump from the 86th-floor observatory deck of the Empire State Building. Weird right?
Evelyn McHale never understood this unusual wish of hers.
Robert Wiles, a photography student, dashed across the street and took the picture that would go viral four minutes after her body hit the curb-parked United Nations limousine.
The Pictures That Stood Out to The World
In the student's photograph, Evelyn McHale can be seen lying cradled in a jumble of bent steel, appearing almost at rest and possibly sleeping. Her left-hand clutches her pearl necklace as it lays on her chest, her feet crossed at the ankles. The picture appears to have been staged when viewed devoid of context. The truth, however, is much more sinister, despite the image gaining worldwide notoriety.
The image, which has made headlines since it was taken on May 1, 1947, has been dubbed "the most beautiful suicide" by Time magazine.
Know About Evelyn McHale?
Nothing much is known about Evelyn McHale's life, despite her death being infamous.
Evelyn McHale, the eighth of Helen and Vincent's eight children, was born on September 20, 1923, in Berkeley, California. After her parents separated in about 1930, the entire family relocated to New York to live with their father, Vincent.
Evelyn served in the Women's Army Corps as a high school student stationed in Jefferson City, Missouri. She moved to Baldwin, New York, where she now resides with her brother and sister-in-law. She continued to reside there up until her passing.
She was employed by the Manhattan Kitab Engraving Studio on Pearl Street as a bookkeeper. She met Barry Rhodes, a college student and ex-member of the US Army Air Force, there. Barry Rhodes is now her fiancé. According to rumors, Barry Rhodes and Evelyn McHale planned to wed in June 1947 at Barry's brother's home in Troy, New York. Yet the big day never arrived.
Said As "The Most Beautiful Suicide"
Less is known about what exactly happened before Evelyn McHale committed suicide.
Rhodes stated that everything was OK when she left after seeing him in Pennsylvania the day before she passed away.
On the morning of her passing, she made her way to the Empire State Building's observation deck, took off her coat, hung it up neatly, and wrote a brief message that was later discovered next to the coat. Evelyn McHale then leaped from the 86th-floor observatory. She fell and landed atop a parked car.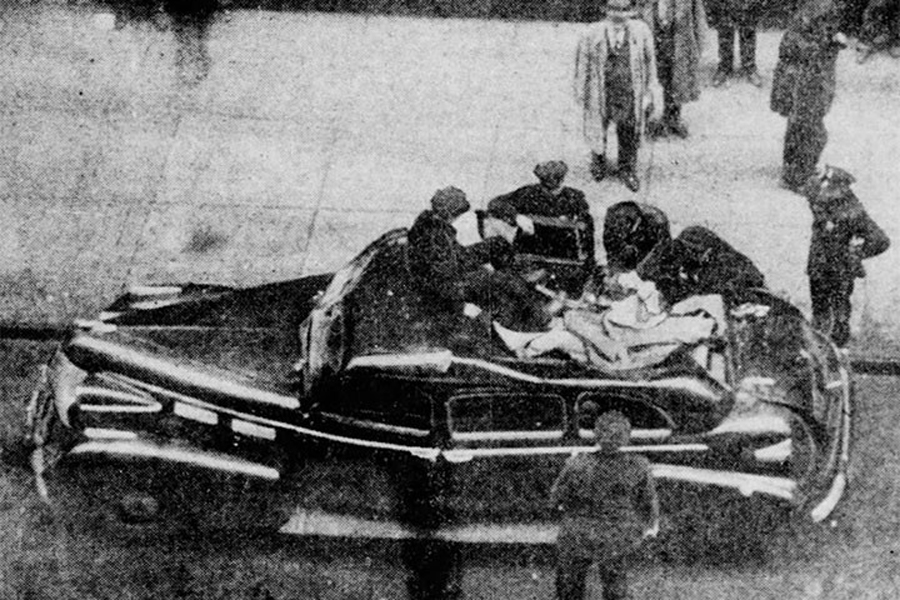 According to the authorities, she jumped while a security guard was about 10 feet away.
A detective came across a note that begged to have her body cremated but didn't explain why she had done it.
The note said, "I don't want anyone to see any part of me, inside or outside of my family." "Would you be able to cremate my body? Please, for the love of God, spare neither you nor my family any memorial or funeral services for me. In June, my fiancé proposed to me. I don't believe I would make a very good wife for anyone. I have too many of my mother's tendencies, tell my father. Without me, he will do better.
Her desires cremated her body, and there was no funeral for her.
The Legacy of The The Suicide Picture of Evelyn McHale
Yet, the image has persisted for over 70 years and is still acknowledged as one of the best pictures ever taken.
Robert Wiles' photograph of her body on the automobile has "been compared to Malcolm Wilde Browne's portrait of the soul of Vietnamese Buddhist monk Thch Qung c who burnt himself alive at a major Saigon traffic crossroads on June 11, 1963," and is recognized as one of the best images in history.
Ending Up
"Technically rich, visually captivating, and downright stunning," said Time's Ben Cosgrove of the image. He claimed that rather than seeming to be dead, her body appeared to be "sleeping, or napping," and it appeared as though she was "daydreaming about her beau" while she lay there.
This was what we knew about Evelyn Mchale and the most beautiful suicide. Stay tuned for more intriguing posts and information!
Also read: The Hidden Story Behind the Suicide of Porn Star, August Ames