Lamorne Morris is a popular actor well known for his appearance as Winston Bishop in New Girl. His professional life is successful. Here you can know about his personal life. He was in a relationship with the actress Nasim Pedrad. Still, there is no clarity whether they were in a relationship or just a rumor. The actors shared that they are friends. But many people could identify chemistry between the two. Before her, he was in several relationships but this one is different. Lamorne Morris and Nasim Pedrad look great together. But first, know some details about Lamorne Morris.
Why is Lamorne Morris famous? 
Morris is thirty-eight years old. He is from the South Side of Chicago. Before coming to acting he worked as a server. At first, he got the chance to appear in commercials like Taco Bell, Twix, Miller Lite, and more. Then his breakthrough role came as Winston Bishop in the series New Girl on Fox. He also appeared in the films like Barbershop: The Next Cut, The Christmas Chronicles, Jumanji: The Next Level, Yesterday, Desperados, and more. In 2021, it was revealed that Morris will come to Night Shift.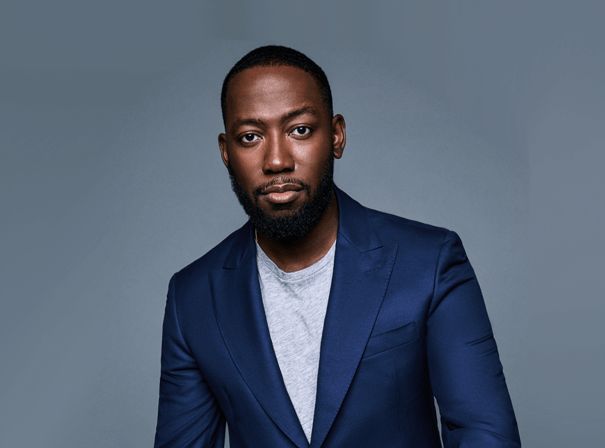 Who are the family members of Lamorne Morris? 
As a teenager, Morris spent his time in the western suburb of Glen Ellyn. He attended Glenbard South High School. His mother worked in the United States Postal Service. Also, he has a brother named Devon. In his class, he was the clown and always went to detention.
Then he went to the College of DuPage where he was a theater major. He got the Chris Farley Memorial Acting Scholarship. He was a member of the Outreach And Diversity Ensemble of Second City. Then he worked as a server in Ed Debevic's. It is a diner where the servers act rude to the diners.
Is Lamorne Morris married? 
Morris is not married. He likes to keep his life private from the media. Mostly he likes to keep his romantic relationships low-key. That is why there are not many pictures of him available on social media. At the moment he is single and enjoying his status.
Are Lamorne Morris and Nasim Pedrad dating?
Lamorne was rumored to be dating co-actor Nasim Pedrad in 2018. Many thought that she was Lamorne Morris' girlfriend. But they never shared publicly whether they were dating or not. They mentioned that they are just friends and nothing more than that. Morris met Nasim Pedrad when they were acting in the Fox show titled New Girl. They also appeared as a couple in the film Desperados. This sparked the dating rumors.
On the screen, they were an outstanding couple. But people thought that they looked good off the screen as well. One user on Instagram asked them to date in real life. Similarly, Morris received lots of pleas from his fans to start dating Pedrad. But unfortunately, this duo is not dating in real life. 
Morris cleared the air by telling his fans that he and Pedrad were just friends. Many people say that Morris is not ready to date because he has not completely healed from his breakup with an ex-girlfriend.
You may also read: What Happened to AT&T Girl 'Lily'
Who is the ex-girlfriend of Lamorne Morris?
Morris had a public relationship with a woman named Erin Lim. She is the co-host of E!. But Morris has never talked about it openly. Many people came to know about their relationship as they spotted them together in many places. One time Lim posted a picture of Morris on her Twitter account in 2016. They also went to their first red carpet appearance during the Emmy Awards in 2017.
But they were together for two years but after that, they broke up. Now Lim is married to Joshua Rhoades who is a creative director at The Last Adam. It took time for Morris to heal but eventually, he started to enjoy his single status.
Friendship with Chadwick Boseman
Lamorne Morris was a close friend of the late actor, Chadwick Boseman. He was like a mentor and brother to him. Boseman helped Morris whenever he needed it. In an interview after Boseman passed away, Morris shared about his relationship with him. He shared that Boseman helped him professionally as well as personally. When he moved to New York he met Chadwick Boseman and came to know him.
The late actor coached him for his auditions for New Girl. It is the project that defined the career, Morris. It seems that the late actor also helped him to pay rent because he had no money at that time.  He made one of his friends stay with Morris so he could share the rent. 
Morris sought acting advice from Boseman when he was acting in Selma. He understood the character of Boseman as an intense guy. He was very skilled in the art of acting. Also, he is the one who taught Morris to take the auditions seriously. So Morris learned about work ethics from Boseman.
Lamorne is allergic to cats
Lamorne has a cat allergy. So he is afraid to be near them. In the set of New Girl, he was sneezing repeatedly as he came in contact with cats. So this is one fact about him that no one knows.
What is the networth of Lamorne Morris? 
In the beginning, Lamorne Morris had small roles in movies and films. But at the moment he is one of the sought-after stars. He is a major part of popular projects like Woke, Human Discoveries, and New Girl. That is why Morris is earning well. Also in 2021 he was part of TV series like No Activity, Unwanted, and Call Me Cat. His net worth is $4 million.
Further, he is also involved in many real estate projects. He spent $3.11 million for building a house in Tarzana, San Fernando Valley. Then he remodeled this house with a basketball theme. His Spanish home has over six bedrooms and he also owns a house in Chicago. Also, he has a shoe collection of over 100 pairs of LeBron James.
Conclusion 
Lamorne Morris is a good actor. He is doing well in his career and personal life. Also, he has an account on Instagram.
You may also read: Who is Sebastian Stan Dating – Is He with Alejandra Onieva?