Mark Winger killed his wife? Is it true? Given the circumstances, it is difficult for people to comprehend the brutality of the murder on August 29, 1995. Most cruelly, a husband killed his wife. Their journey began with a romantic relationship and concluded in death and sobs. So, where did it all start?
Mark and Donnah Winger's Relationship Story
When Donnah, the oldest of three sisters, met Mark Winger, she immediately fell in love with him. In 1989, the couple tied the knot. While Mark worked as a nuclear engineer, Donnah became an operating room technician. Everything was fine when they moved to Springfield, Illinois.
But Donnah desired a kid to complete her lonely life. So when she learned she couldn't get pregnant, she was heartbroken.
Fortunately for Donnah, the hospital called to tell her about an adolescent who wanted to give up her child for adoption.
They quickly brought the infant home after everything went smoothly. The pair relished their time together and their new parental responsibilities. Additionally, Deann Schultz and Donnah met there. Later on, she would become her closest friend.
How Did Donnah Winger Die?
People claimed that Mark and Donnah had a perfect life and that nothing could have predicted a tragic outcome. On August 29, 1995, the horrifying news of a murder at the Mark Winger residence was first revealed through a frantic 911 call.
Mark Winger reportedly called 911 to report that his wife was being killed. He claimed to have shot the individual as well. When detectives arrived on the scene, they found the first victim, Donnah Winger, clinging to life after getting struck multiple times with a hammer.
A white man with two gunshot wounds to the head was the second victim inside the residence. Nevertheless, amazingly, when the cops arrived, he was still alive.
Sadly, Donnah Winger succumbed to her head wounds and passed away soon after getting to the hospital.
What Investigators Found Out About The Case?
As soon as investigators arrived at the scene of the crime, they started gathering evidence. One of the detectives working the case, Cox took the male victim's identity out of his pocket before things got out of control. He identified the individual as Roger Harrington.
Strangest of all, Mark claimed to know the male topic and that he was harassing his wife. Mark added that while using the treadmill, he heard a noise that led him to walk upstairs.
He added that he continued to hear noises and then decided to grab his revolver. Harrington was swinging a hammer at Mark's wife when he shot him with the handgun.
Based on Mark's description, every aspect of the case made sense. It was quite possible that Harrington snapped, grabbed whatever was there, and used it on Donnah Winger. Cox, the person in charge of the investigation, even knew Harrington was apt to become angry. Police determined that Mark acted in self-defense in this manner; the matter, therefore, closed after 48 hours.
Who is Mark Winger's Second Wife?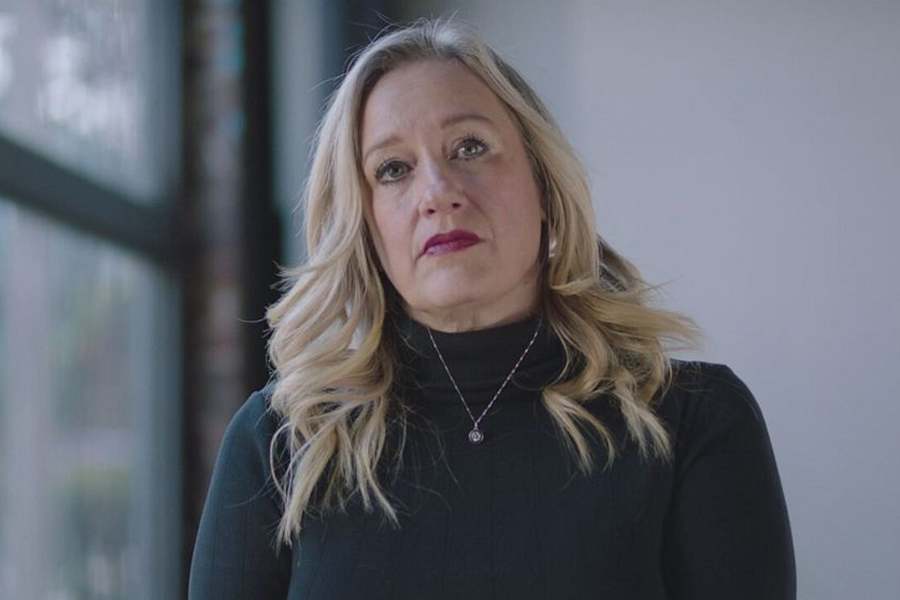 Mark Winger hired a babysitter to help him care for the kids after his wife passed away. However, the new nanny, Rebecca, and Mark began dating after a few months. As their relationship began, they tied the knot in Hawaii in a small ceremony.
Mark decided to move and start over after the marriage. But regrettably, the circumstances left Mark and Donnah's family members deeply estranged. Due to the situation's severity, Mark once told Donnah's mother that Bailey would never call her grandmother.
The Shocking Twist in The Murder Case
However, detectives would reconsider the case after a shocking finding in 1999. DeAnn Schultz, a close friend of Donnah's, told the police of having an affair with Mark in the presence of Donnah. Additionally, she claimed that he told her something that offended her.
Mark Winger also told DeAnn that he wanted Harrington to stay at his place. This came about when she learned of her wife's appalling driving experience returning to Springfield from the airport.
The positions of the bodies did not fit Mark's description, according to police who examined the crime scene photographs. And that is how they began to accuse him of killing his wife.
In addition, Roger's former employer engaged a blood-spatter expert to examine the crime scene's blood splatter. Additionally, police discovered a bank deposit paper with Mark's name, address, and time in Roger's car.
The facts led the authorities to the conclusion that Mark set up the meeting at his house. Further, he enticed Roger there so he would be held responsible for the victim's death. On August 23, 2001, cops took him into custody and charged him with two murders.
What Happened to Donnah and Mark Winger's Child?
Donnah died, leaving a lovely child behind. Rebecca, Mark's former nanny, is now his wife. She assisted Mark in taking care of his child. Mark has three more kids, two girls, and a boy.
Following Mark's conviction for the murder of his wife, Rebecca, his second wife, relocated to Louisville, Kentucky, with the four kids changing their names. She did so to keep their identities secret.
Where Is Mark Winger Today: On an End!
Where did Mark Winger end up? People well praised Mark for her heroic deed in 1995 in attempting to save his wife's life. However, many people were shocked to learn that he was the murderer in this instance.
When the matter got to trial, the prosecution won. As a result, in May 2002, the jury convicted Mark guilty of first-degree murder. Further, he got a life sentence without the possibility of parole.
The plan for Mark's murder for hire was foiled while he was in prison. When DeAnn testified against him in court, he intended to hire someone to kill her. And that was not where things ended. In 2007, Mark received a second sentence of 35 years in prison for soliciting murder after the matter went through the legal system and the jury deliberated.
Also read: The Brutal Act: Marcus Wesson Killed Nine of His Children