Naturally, beards grow in scanty stubbles when they emerge at first, and fill in with time. To ascertain whether or not you have patchy beards, you must have grown out your beards for at least two to six months. Ideally, your facial hair should have grown fully by then. So it becomes clear that you have patchy beards if the scanty growth pattern persists. Now, it's time to dive into the core of this post. Read on as we explore the tips that could potentially improve the quality of your beard:
1. Use Beard Balms
Beard balms have proven to be very useful to men with patchy beards as they can thicken and add volume to your facial hair. You can also use them to manipulate longer hair strands to cover up bald spots. WiseBarber's good beard balms review could point you in the right direction of the beard balm you need.
2. Have a Healthy Beard Routine
A healthy beard routine looks like: cleansing your facial hair daily, exfoliating your face (especially the regions with facial hair) at least once a week. You should also use a good beard oil to moisturize and massage your beards. Altogether, you may experience increased beard growth once you develop a healthy facial hair routine. 
3. Improve Your Lifestyle
Dihydrotestosterone (DHT), a byproduct of testosterone, directly determines the rate and quality of beard growth. Therefore, men who secrete less of this hormone will experience thin, sparse facial hair. The leading causes of such hormonal imbalance include lack of exercise, poor dieting, smoking, and stress.
If you want to improve the appearance of your beards, you might want to make some lifestyle changes. Replace your go-to junk with more whole foods, drink more water, exercise more.
4. Get Creative with Your Beard Styling
When you realize you have patchy beards, observe the beard pattern of the men in your family. If it's a common trait, then patchy beards might run in the blood. Hence, you have to make do with what you have. Clearly, not all men can get rid of the patchy pattern in which their facial hair grows. However, you could try styles such as the Goatee Beard, Chin Strap Beard, and the Stubble Beard to make the most out of your facial hair. 
Men like Keanu Reeves and Kendrick Sampson have patchy beards and are still considered handsome in pop culture. If they can make it work, so can you!
5. Consult with a Medical Professional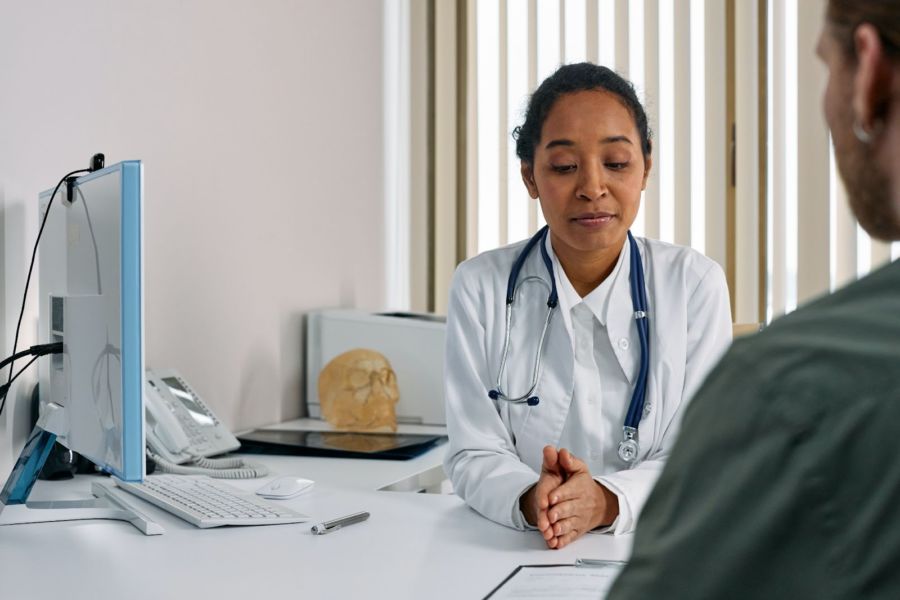 A chronic inflammatory reaction known as spot baldness can hinder hair growth in specific areas on your face. It can be caused by a host of unrelated things such as a new medication you might be taking, tooth ailments and stress. It could also be due to traumatic events such as cuts and burns in your cheek and chin areas. 
There's also folliculitis, a hair follicle inflammation caused by bacteria. The infection damages your hair follicles, causing hair loss in those areas.
If you have already incorporated all the other tips on the list there's still no improvement, should see a medical professional. Your beards could be patchy due to some medical ailment, injury, or infection as seen above.
Conclusion
At the end of the day, patchy beards are not like defects that need fixing (unless there's an underlying medical cause). Let go of whatever standard you have concerning how facial hair should or shouldn't look, and start learning to work with what you have.
Also read: Difference Between A Dutch Braid and A French Braid