US employers use job boards to promote their vacancies among the applicants. If you want to find a job this way, get ready to spend a couple of hours searching every day because there are a huge number of vacancies, and it takes time to understand if a particular job is right for you. Each site has its own advantages. Some contain detailed information about the company, some provide jobseekers with more convenient search options, and some focus on vacancies in specific industries.
Indeed is the largest aggregator of vacancies from sites around the world. During the search, you can view millions of offers collected from thousands of sites, both direct employers and recruiting services. Reviews of employees about their companies are also published. However, if your search was unsuccessful, you can also try these Indeed.com alternatives to find the job of your dream:
1. Lensa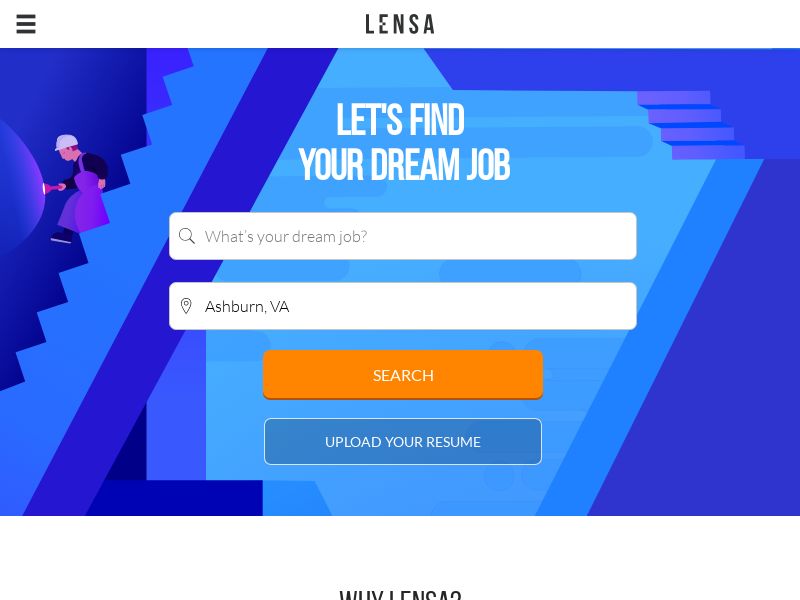 Lensa is an AI-based online search aggregator with тгьукщгі available vacancies specifically tailored to your needs and competencies. Having specified your location and job title, you can search for thousands of ads from promising employees. Additionally, you can use filters to search for positions in a particular company, indicate a specific industry, or even the values of the potential employer. What kind of values are we talking about? Here are some examples:
salary and benefits;
professional growth;
culture and values;
recognition and support.
Interestingly, the value-based choice usually brings the best results to the jobseekers. Indeed, when you and your potential employer share the same values, a positive outcome is almost guaranteed. You can also upload your CV and wait until the potential employers get in touch.
2. CareerBuilder
This message board is used by over 90% of Fortune 500 companies. It has over 25 million unique visitors per month. It is not necessary to register here to search for a job, but we advise you to do so. Registered users can view an online record of their job search history, track submitted applications, and use other site features. Search by job title, skill, city, state, zip code, etc.
You can also use the advanced search by location, college degree, full or part-time employment, salary range, industry, job category, and date the job was posted. This site also provides personalized career tests. They give you customized tools to help you take a close look at your career trajectory.
Also read: Letter of Resignation: Why You Should Write One When You Quit The Job
3. Freelancer
The platform claims to connect over 54 million employers and freelancers worldwide from over 247 countries, regions, and territories. It is a perfect platform for those who prefer a remote job and who wish to rather remain independent contractors than stick to one particular company. This website is highly appreciated by IT specialists of various scopes. But by completing some one-time assignments, you can get a permanent job proposal. Working on the platform is free.
However, there are also membership packages (basic, plus, pro and premier) designed to help you earn more: increase the number of bids per month, have more skill slots, gain access to better projects, issue external invoices, etc.
4. LinkedIn
Almost everyone has heard about LinkedIn. Over 90% of recruiters search for candidates on this platform, with over 50 million companies listed. Create a profile with keywords and phrases designed to grab the attention of employers. Tell in detail about your skills and goals, about your experience. Let people know you're available by turning on the "Open To Work" feature. Join professional LinkedIn groups.
This will help you expand your network, showcase your expertise, and, possibly, connect you with organizations you want to work for soon. Search for an appropriate position using the Jobs icon. Once you've applied all the filters, you can turn on the job alerts.
5. Craigslist
Unlike Indeed and CareerBuilder, which focus all of their services on the job market, Craigslist is a community-based job board that provides services with a wide range of categories, including events, housing, personal contacts, and items for sale. Click "Jobs" to search by keyword, or select a job type from the category list on the right side of the page. You can search by specific job titles, skills you'd like to use, certifications, the software you know, etc.
Closing Remarks
Companies are gradually moving away from traditional hiring strategies that require a lot of time and money. These strategies are still in use, but they have significant drawbacks compared to a well-formed social recruiting strategy. Facebook and LinkedIn are the most popular sources for hiring remote professionals.
However, if you are looking for a classic office job, it is better to search via Lensa or CareerBuilder, which have already proved their effectiveness on the job market. Try different strategies for finding a decent vacancy and share the results with us in the comments.
Also read: Tips and Tricks To Handle The Situation of Getting Fired