What is a Skinwalker is question lurks around the world for many years. Some of the ancient stories still creeps people today. One such myth is about the Skinwalkers. People believe who could transform themselves into animals. There is nothing that proves this story true. Also, no human can transform into a four-legged animal. However, the story about the Skinwalkers rises from native America. American lore is famous for its unusual stories which not scientifically true.
Folkloric stories about Skinwalkers have existed for many years. Many think that the Skinwalkers are not only fictional characters, but they also live in the real world. These are stories that make people believing in them curious. In modern times, the rise of Skinwalker stories is from the Sherman ranch. It is an ordinary ranch within the perimeters of Utah. However, many think they exist. This ranch sparks new mysteries and sightings of unusual creatures. However, you may have to know the complete details.
Let us see more about the prevalent myths, stories and What is a Skinwalker.
In the year 1996, the stories about Skinwalker creates buzz all around the world. Many news articles featured the encounter and sightings of this creature. A family living in Utah experienced unusual things. It is the time when many were creating myths about UFOs and crop circles. Such an unusual and intriguing story distracts people from the most important things going on in the world.
Likewise, the rumours about Skinwalker did the same thing to people by grabbing everyone's attention. The couple living in Utah speaks about their encounter with UFO and crop circles. They even suspected that the disappearance of their cattle and livestock has something to do with the Skinwalker. They believe all this after encountering a strange wolf-like creature in their fields. Let us see more about the Sherman family and their side of the story about What is a Skinwalker. 
A glimpse of the background of Sherman Ranch
Utah is a location that is known for its unusual sightings. This place has many rumours about UFOs, aliens and other paranormal activities in this place. However, no witnesses can provide proper evidence for their sightings. Still, Utah is a place that is home to the Sherman family, who owns a ranch there. In 1970 there were many controversies about flying UFOs in that place. 
Sherman's family bought a ranch in Utah. After 18 months of moving into the ranch, they have a strange story to tell to the world. The story of Terry Sherman and his encounter with Skinwalker remains untrue. There is no evidence to prove his story true. One late night Terry Sherman was walking his dog in his field. He says about his encounter with a wolf. However, he believes that it is no ordinary wolf due to its huge size.
He sees a wolf three times bigger and also its red glowing eyes. Encounter with this creature was terrifying for him. Still, humans always tend to exaggerate things when they find themselves in danger.
 It may have been a wild wolf or a bear which may have scared the man. However, without any more delay, Sherman thought to sell the ranch for the safety of his family. This story spreads like a wildfire and people connect this creature with Skinwalker. Once again What is a Skinwalker question goes trending from this incident.
The Skinwalkers, who are they
Many have a curiosity to know what is a Skinwalker. The meaning term Skinwalker means that goes on all four. The ancient tribes such as the Apache, Pueblo and Hopi have their story about the Skinwalker. These myths say that Skinwalker is a medicine man with evil powers.
The Skinwalker is a term that comes from Navajo yee naaldlooshii. Itmeans that these creatures go on all four. There are many legends of ancient times that believe in such animals. They have many weird stories about these creatures. Plus, many religions also tell a different story about the Skinwalkers. However, religions say that these Skinwalkers are medicine men. Also, people at that time believed in black magic. They think that these Skinwalkers are medicine men turned evil.
Moreover, the power of Skinwalkers differs for every religion. These are creatures that have both human and animalistic traits. These Skinwalker's stories are taboo from ancient days. Many even think that anyone can turn into a Skinwalker. These are traditional stories that have no room in the modern world. They are just stories that do not have a factual basis.
The reasons why Skinwalker story scary people
American folkloric stories are often frightening. They include strange creatures and animals that make people linger. However, when it comes to Skinwalker, appearance is what scares many. People over the ages have predicted many versions of this creature. There are numerous controversies about how this creature is a half human and half animal. Some even believe that they can shift shapes.
Sherman's he also says what scares people. Whether his sighting is real or fake is still questionable. But, the half human and half animal appearance of the Skinwalker is what scares people. Also, how these myth stories relate to people creates terror among them. To know the actual truth, if they are real or not, continue to read more.
The reputation of unusual incidents in the Utah ranch
Utah County, after the report of Sherman, did some investigation. During the research, they find some crucial details about the case. For over 50 years, information about unusual creatures has affected the cops. Knapp and Kelleher have more than 100 such cases. In most of the events, they say about missing cattle and sightings of strange things.
They even talk about a creature with glowing eyes on their ranch. For all these cases, the investigators approach only scientific help. There is no usual way to deal with these reports, so they seek to use experts. The creature with red eyes just disappeared after hearing a bullet sound.
The several numbers of such sightings clearly show no sign of a Skinwalker or any such creature but that of wild animals. Utah is countryside. It sums up an answer to all the weird sightings. Further, the evidence is what makes all this more difficult. There is no proper evidence by any of the witnesses. The lack of evidence does affect this report. Let us see what experts say about the Skinwalker ranch.
The truth rules out the mystery about Skinwalkers
Robert Shaffer is an expert with valid points about the Skinwalkers. He says that the story of Skinwalker is just illusionary. Also, after many years of reaching the NIDS, they cannot retrieve any evidence about it. Further, they even suspect that Sherman's Skinwalkers story is just fake or they saw some other animal on the ranch. Before the Sherman family, a couple owned the farm.
For sixty years, the couple before Sherman have lived their lives. Plus, they say there are no mysterious incidents that ever happened there. The experts think that Sherman did have the idea of selling their ranch. Also, a strange story would undoubtedly raise the price of this ranch. It happened because a scientific research group got the Sherman ranch for a reasonable price. Also, after purchase, the team change the name to Skinwalker ranch.
Different owners who have purchased the Skinwalker ranch
After Terry Sherman, the Skinwalker ranch goes to Robert Bigelow. Robert also reports seeing weird sightings on the farm, so he sells it to Adamantium real estate. After purchasing the ranch, they did not allow people near it. Electrical wires were fetched all around the place. Later on, owners start to use the farm for recreational purposes. 
It was a place for movies, internet content, television shows and much more. After a typhoon, Brandon Fugal purchased the ranch. After Terry Sherman, many individuals lived on the farm and did not see anything unusual. The ranch remains in Utah, but the story about Skinwalker roaming around the ranch faded.
The story of a Skinwalker that earns money in movies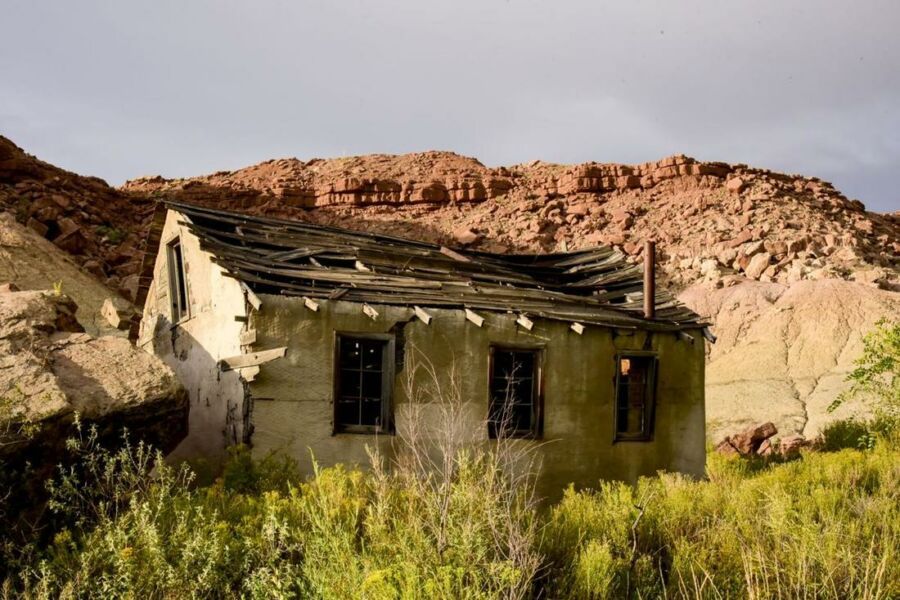 Scary and mysterious stories often earn well when it's made into movies. Many movies feature the story of Skinwalker. The Outsider is a TV show that tells a frightening and thrilling story about the creature. History channel has come up with another mystery story that features a Skinwalker plot. These are horror stories that only give the thrill that people expect.
All these stories travel around the countryside and weird sightings of the creature. Starting from Sherman and many writers say about the wolf-like creature staring directly. However, in any of these incidents, there are no proper traces or marks that point to the existence of such creatures. The story of Skinwalker remains just a myth still this day.
How movies portray the Skinwalker?
Movies want to create thrill for the audience by putting a scary appearance on the creature. Due to this, they take some of the hints about the creature from real incidents. They portray these as half animal and half human. Also, having wolf like a face and a human-like height is another trait of this creature shown in movies.
Plus, the scary noise of the creature and foul chemical-like smell in its presence are some of the other things added to this character. A virtually scary image is what the creators of Skinwalkers shows are aiming for.
The story of Skinwalker may not be real but people like to look on to it. They want to get behind this mystery to have their moment of thrill in life. The intriguing details and stories of Skinwalker in reality just remains a myth.
From the scientific proof, it is clear that Skinwalkers do not exist. They are fake stories from ancient days to amuse people about strange creatures. There is no proof of Skinwalkers' footprints or their existence anywhere. If you want to know the details about Skinwalker, the above article can help you.
Also read: Who is Teresa Fidalgo, and What is The Truth of Her Ghost Story?