Hi, adventure lovers! We have an amazing story for you today. We are going to acquaint you with the weirdest and unique places around the world. If traveling means exploring unexpected and unique then here is a list for you. This loss tells you about the rare and weird places around the world, and exploring them is surely a lifetime experience.
Check the list out and tell us what you feel about them or if you have been there already
1. The Giant's Causeway, Northern Ireland
The place looks like a hill range with about 37,000 polygon columns. They are the outcome of a volcanic eruption million years ago. They are so geometrically perfect that locals believe it is a work of some giant.
2. The Tianzi Mountains, China
In China, there are limestone peaks covered with plantations. This spellbinding view looks like a whole other world on earth.
Also read: 5 Places In India Where Indians Are Not Allowed To Visit
3. Socotra Island, Yemen
When this seems like an alien's work. These trees aren't found anywhere else in the world. They seem to challenge gravity like anything.
4. Goblin Valley State Park, USA
If you give them a close look you will understand why it is called a Goblin Valley. These sandstone peaks are balancing for years, be it rain or the wind they bear them all.
5. The Catacombs, Paris
Now, that's too weird plus creepy! This cave-like place is actually made of skulls and bones. Yes, human skulls!
Also read: 7 Extremely Hot Places in The World Where You Will Be Begging For Cold Weather
6. The hand in the Desert, Chile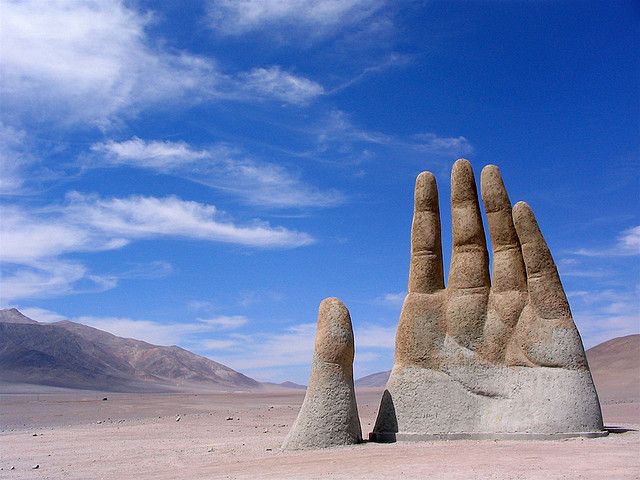 This weird hand coming out of the desert might look scary. It is actually an artwork by the sculptor Mario Irarrazabal. According to the artist, this huge hand coming out of the sand stands for loneliness. Well, sure it is.
7. Lake Hillier, Western Australia
Because of being high in salinity and pink bacteria is has turned pink. But it sure attracts tourists and photographers across the world.
8. Thor's Well, Oregon, USA
This looks not weird but amazing and of course unique. Water rushes down into a sinkhole and then come back with force. Nature's science is too enigmatic to understand sometimes
Also read: 7 Most Haunted Places Around The World